YouTube is, by far, is one of the most popular and most visited websites all over the world for years. It's a huge platform that has billions of users. YouTube has also become a platform for regular YouTubers to become superstars. In this post, we'll get to know the top YouTubers by subscriber count.
Top 25 YouTubers By Subscriber Count
YouTube has videos on almost every topic you could think of—from nursery rhymes to tutorial videos of all kinds. People of all ages flock to the platform and spend hours and hours watching various videos. 
If you're on YouTube, you know how critical subscribers are. Your subscribers spend more time watching your videos than your unsubscribed viewers, and they could help make your channel known to others.
Are you wondering who is the world's no. 1 YouTuber? Let's get to know the top YouTubers by subscriber count who rose to stardom on the platform and are continually gaining fame as being among the "top YouTubers 2020" and onwards.
T-Series
Subscribers: 177M
First on the list is the Indian-based record label and film production channel, T-Series, which is also one of the top YouTubers in India. The channel's content is a collection of films, music videos, clips, and trailers from their very own creative output. T-Series took this spot from PewdiePie, and only time could tell if the latter could reclaim it. So, if asked which YouTuber has most 2020 subscribers? You already know the answer.
PewDiePie
Subscribers: 109M
If you're wondering who has highest subscribers on YouTube 2019, it's PewDiePie. Felix Arvid Ulf Kjellberg or popularly known as PewDiePie is an individual YouTuber who focuses on gaming, including reactions and live streams of himself playing. PewDiePie used to appear on his wife Marzia's YouTube channel (which is now inactive). Currently, he's one of the most famous YouTubers and was often featured in Time Magazine in the previous years. 
Cocomelon – Nursery Rhymes
Subscribers: 108M
From gaming and music, we're now under the genre of nursery rhymes and children's songs. Cocomelon-Nursery Rhymes shows how much young kids watch YouTube videos today. Parents use the channel to entertain their kids, which isn't always a good thing by the way.  
SET India
Subscribers: 99.7M
Landing on the fourth spot is Sony Entertainment India, abbreviated as SET India. This channel is owned by Sony and is run by the Indian TV channel with the same name. SET India features full TV show episodes, episode clips, teaser trailers, and all that you'd expect from a TV channel.
Kids Diana Show
Subscribers: 76.2M
Another one of the successful kids' channels on this list. Kids Diana Show is focused on a little girl named Diana, hence the channel's name, and her videos often feature her life and what it's like to be a child. Her content includes challenges, trips, children's activities, and the children's favorite—toy unboxing. Kids these days just like to watch other kids playing with their toys. And YouTube is a great platform to entertain children and gain subscribers at the same time.   
WWE
Subscribers: 75M
World Wrestling Entertainment, commonly known as WWE, is the most famous sports channel on YouTube. The channel features full matches, recaps of recent matches, and numerous footage from their archives—interviews and classic fights included.
Like Nastya
Subscribers: 72M
Another children's vlog and the one with the most number of YouTube subscriptions in the Russian Federation. The channel is run by Nastya's parents, and it features Nastya and her parents playing with toys, playing pretend, going on trips, singing songs, and recreating TV shows and film scenes. Aside from the main account, Nastya's parents also upload content on the Like Nastya Show, which has over 31 million subscribers.
5-Minute Crafts
Subscribers: 71.7M
5-Minute Crafts is a DIY channel that covers a vast scope of subjects. It's the most subscribed channel under the DIY category. 5-Minute Crafts offers craft videos, useful life hacks, and various content for kids and parents. It started its channel way back in 2016 and is going from strength to strength because of its diverse viewers.
Zee Music Company
Subscribers: 70.5M
Aside from T-Series, Zee Music Company is another Indian YouTube sensation that focuses on music. The channel features music videos, mostly from television shows and films. It claims to aggregate 220,000 hours of video content.
Vlad and Niki
Subscribers: 64.4M
Kids are starting to take over YouTube, and this list is proof because on our tenth spot is yet another children's channel. Vlad and Niki features two brothers playing and doing usual children's activities. The channel just started in 2018 and has already bagged a spot in YouTube's A-list channels. It also seals the list of top 10 YouTubers by subscriber count.  
Canal KondZilla
Subscribers: 63.7M
Canal Kondzilla is a music channel owned by Konrad Cunha Dantas. Dantas is simultaneously a music video producer and owner of KondZilla Records. His channel features his music videos and behind-the-scenes footage. Regardless of its funk ostentação genre, Canal KondZilla gained popularity over time and translated well to YouTube. 
Justin Bieber
Subscribers: 61.9M
Bagging the 12th spot is the then-child sensation who's now a pop-music icon, Justin Bieber. It only makes sense that Bieber is a part of this list because he was first discovered on YouTube. Like any other famous musician's channel, his content includes promotions, interviews, behind-the-scenes footage, and music videos. 
Blackpink 
Subscribers: 59.3M
The first K-pop group in the listing is none other than Blackpink—one of the biggest pop acts in the entire world. Their channel has 59.2 million subscribers and features music videos, tours, concerts, behind-the-scenes, interviews, and other general content. Two of its members, Rosé and Jennie, have already created their personal YouTube channels with millions of subscribers as well. 
Zee TV
Subscribers: 57.4M
Another TV channel on the list is Zee TV. Pretty much like all other TV channels on YouTube, Zee's content includes promos, celebrity interviews, trailers, and program clips. It's in line with the leading Indian company, Zee Entertainment Enterprises. 
MrBeast
Subscribers: 55.8M
MrBeast pioneered a genre of YouTube videos that spotlight expensive stunts. After gaining over 50 million subscribers, the 22-year-old YouTube star started giving away money to strangers. His subscribers continuously grew as he created other YouTube channels, namely MrBeast Gaming and MrBeast Shorts. 
Dude Perfect
Subscribers: 55.7M
Next is a group of five guys from the US who started a sports entertainment channel with their basketball trick shot videos. Today, Dude Perfect's channel features various content, including lasers, drones, and trick shots; though sports is still its main focus. The twins, Coby and Cory Cotton, are the founder and the most popular members of the group.    
Big Hit Labels 
Subscribers: 52.4M
Recently, K-pop has grown to be very popular across the world. So, don't be surprised if you see them mentioned more than once in this list. Big Hit Labels is run by Big Hit Entertainment, the company that manages the most famous K-pop boy band today, the BTS. The channel's subscribers are rapidly soaring over time. 
Marshmello
Subscribers: 52M
Another musician present on this list goes by the name Marshmello. He's a producer and DJ from the US who is known worldwide. His channel features the typical musician content, plus a drum tutorial and cooking video. What a way to keep his 52 million subscribers entertained!
Goldmines Telefilms
Subscribers: 51.2M
The Goldmines Telefilms YouTube channel is owned and managed by Goldmines Telefilms, a media production company based in India. Like SET India, Goldmines posts entertaining Indian films and dubbed movies. 
Movieclips
Subscribers: 51M
As its channel name suggests, Movieclips features clips from movies. From popular blockbuster films to classic ones, you can find a wide choice of scenes here. They claim to have the largest collection of licensed clips on the internet alongside their large pool of 51 million subscribers. 
Shemaroo Filmi Gaane
Subscribers: 49.9M
Handled by Shemaroo Entertainment Ltd. from India, the Shemaroo Filmi Gaane channel features Bollywood songs and music, particularly songs from hit movies. Shemaroo is the 6th Indian YouTube channel on our list—way to go India!
If you're curious about how to advertise and get conversions on YouTube easily, check this Ocast review. 
Sony Sab
Subscribers: 47.7M
Formerly known as SAB TV, Sony Sab is owned by Sony Pictures Networks and focuses primarily on creating Indian comedic content. The channel is known to be the 8th most-watched channel on YouTube and its subscribers' count is strongly competing with the other Indian film channels on this list.  
Ariana Grande
Subscribers: 47.5M
The once child star from Nickelodeon is now hitting the charts as part of the top 25 YouTubers by subscriber count. Ariana Grande's content is, as we always say of musician's accounts, mostly music videos, interviews, behind the scenes, live performances, and covers. The pop star is known for her sexy videos and women empowerment songs.  
Ed Sheeran
Subscribers: 47.1M
The English red-head Ed Sheeran has bagged a spot with a subscriber count of over 40 million and counting. His channel is filled with music videos, live streams, and clips about himself. He's also tagged as one of the best singer-songwriters of the decade. It's no surprise Ed Sheeran made it to the top 25. 
EminemMusic
Subscribers: 46.9M
Last, but most definitely not the least on our list is the world-famous rapper from the US—Eminem. He's just another proof, among the many, that YouTube is a prolific ground for musicians and musician wannabes. In his channel, you can find music videos, interviews, snippets from his career, and movie trailers he's involved with.
These top 25 YouTubers by subscriber count are on the topmost tiers of the top 100 YouTubers. However, it doesn't mean that the remaining 75 channels aren't worth-subscribing. 
How Do I Increase My YouTube Subscriber Count?
If you have a YouTube channel and are interested in increasing your subscriber count, or you might just be plain curious of how the listed accounts made it this far, take note of the following tips:
Create informative but engaging content.
If you want people to flock to your channel, you must think of unique, informative, and engaging content that would draw them. If your channel isn't engaging, then expect that only a few people would take a second look.
Publish content frequently and consistently. 
If you have an idle channel that barely uploads new content, the chances of losing subscribers are highly possible. According to a study by Social Media Examiner, channels that create and publish content once or more in a week perform better than those who don't.
Optimize your YouTube content. 
When you optimize your videos, you're helping your rank go higher on the platform. Read "YouTube SEO: How to Optimize YouTube Videos for Search" to learn how to increase your visibility based on YouTube's algorithm.  
Produce high-quality videos.
Do you like to watch videos with poor audio and video quality? No, right? You're not alone because that's just how people are in general. Don't settle for less. So, make sure to produce high-quality videos without compromising the content. 
Engage with your audience. 
This tip is crucial since it is what makes your audience stay. If your audience would feel like you trust them and you want them to be a part of your journey, they would be loyal to your account and would ask others to subscribe to your channel as well. Word of mouth is always the strongest form of networking. 
Anyone can be a YouTube star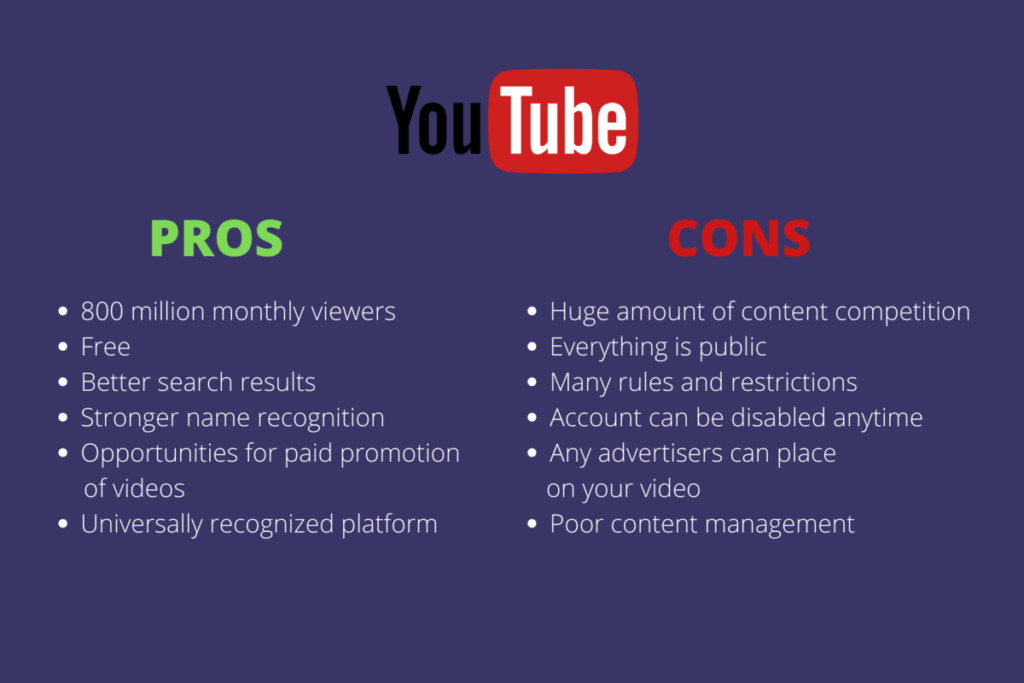 Going full-time and investing on YouTube is something that requires creativity, determination, passion, and patience. These channels didn't become YouTube millionaires overnight. They had to go through difficulties and challenges to get to where they are now. So, let this list be a reminder for you not to stop reaching for the stars and to work with passion and drive. 
To get started, read this Gen.video review and get the best out of social media marketing and video content production.