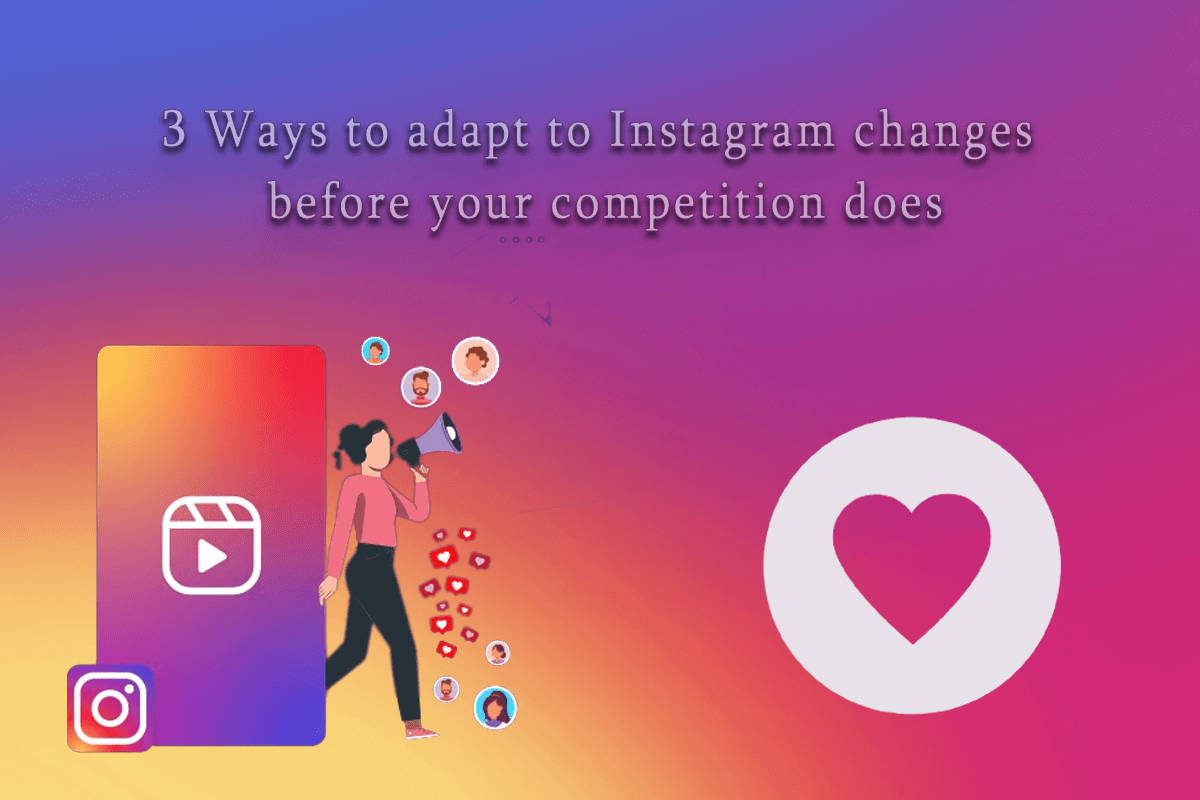 8 Ways to Adapt to Instagram Changes Before Your Competitor Does
Instagram is an ever-evolving social media application. This visual-centric platform updates the working algorithm and rolls out new features frequently to provide a seamless user experience while beating the competition.
8 Ways to Adapt to Instagram Changes
Whether you're an individual, content creator, or brand marketer, keeping up-to-date with Instagram changes and optimizing your strategies is crucial. So, you can stay ahead of the competition, enhance engagement, expand followers, and accomplish your goals without any hindrance. Furthermore, you shall avail the support of Trollishly to amplify your exposure and strengthen your Instagram presence.
But how can you keep up with all the changes happening on Instagram and adapt to them before your competitors? No idea? That's okay! This article will assist you in discovering Instagram changes earlier and amaze your audience with appealing content.
Why It's Crucial to Adapt to Instagram Updates?
Adapting to Instagram changes is essential because it enables users to stay relevant and competitive on the platform. No matter how long you have been on Instagram, being unaware of the updates and continuing with the same strategies may impact your growth. There are chances to fall behind your competitors and lose engagement with your audience. So let us discuss some significant reasons to discover Instagram changes now.
#1 Stick to the Instagram Algorithm
As everyone knows, there is no golden formula to succeed on Instagram. But understanding the application and its working algorithm helps create platform-based content. As you stick to the algorithm, it may recommend your content to more audiences than you expect.
#2 Shine Out from the Crowd
Social media experts recommend to be an early bird that catches Instagram updates as soon as possible. Then, please choose the one that resonates with your niche and consider them in your current content strategies. This will definitely help you to differentiate yourself from competitors and attract more followers organically.
#3 Reap the Rewards of the Latest Features
Instagram applications always come up with excellent features. Taking advantage of brand-new features and creating content engages your audience and excites them more than ever before. Therefore, it will be beneficial for content creators, influencers, and brands to garner good results and attain the objectives in a better way.
#4 Enhance Reach & Engagement
While all Instagram users share regular content, creating and uploading content in different formats with the hottest feature makes all the difference. This dramatically helps maximize reach and engagement and grow your profile to a great extent.
#5 Elevate Your Success Rate
Adapting to Instagram changes earlier portrays that you're a forward-thinking and innovative person or brand among your audience. It also represents how you always look for ways to engage with your followers and potential audiences in different ways. As a result, you will attract more followers and get better engagement on the platform.
#6 Save Your Time & Effort
Imagine you are following a no longer effective strategy on the Instagram platform; your efforts and resources may go in vain. But when you grab the latest update and tweak the necessary changes in your plan to keep moving forward.
How to Stay Informed About Instagram Changes & Adapt Them ASAP?
Before you can adapt to Instagram changes, you'll need to know about the latest developments in the platform. Below are some methods for doing just that.
1. Follow Official Instagram Accounts
One of the simplest ways to stay informed about Instagram is to follow official Instagram accounts. For instance, search and stay connected with profiles like Instagram, CEO, and other officials.
Network with influencers and industry experts as they have early access to features and updates. So you can sneak peek into changes that will reflect on Instagram now or in the future.
2. Spend Time to Stay Up-to-Date
Amidst your busy schedule, it may be overwhelming to keep up with the constantly changing Instagram updates regularly. However, you should spend valuable time getting the updates if you really want to be successful.
Instead of searching for information in a single day, practice the habit of checking industry-related news, newsletter, blogs, and other digital platforms. Therefore, you come to know about any changes that may happen on Instagram and be prepared for them.
3. Stay Active on Popular Social Media
Instagram is one of the incredible social media channels. But remember that it is a part of the social media landscape. Apart from this photo-sharing platform, there is a plethora of social media out there.
Concentrating on a single platform is a good idea. However, establish your presence across multiple platforms like Facebook, TikTok, and YouTube to analyze the trend. For instance, most of the trends are born on TikTok so that you can predict the current trends and get ready to include them in your Instagram content. Implementing the updates earlier than your competitors positions your profile on the platform for sure.
4. Join Online Communities
Search for online communities with like-minded people who discuss Instagram's evolution. You can get information and insights about social media changes, trends, and features here. Also, build your Instagram community or join hands with existing communities to know the possibilities of changes in the respective platform.
5. Watch Out for App Updates
If you get a notification of the Instagram update, be the first to upgrade your application and analyze the changes made. Whenever there is an update for the app, it may be a clue that something new has arrived on the Instagram platform.
6. Make Use of Beta Versions
Most of the time, Instagram tests a specific feature with a limited number of users before rolling it out to the public. When you take advantage of the beta version of Instagram, you can experience the new features before anyone and prepare yourself for the change.
7. Never Compromise on Quality
In fact, Instagram constantly evolves with new updates. It doesn't mean that everything will change. Remember that the fundamentals of the app remain the same, but some features or in-app resources may change.
Quality over quantity matters! So create high-quality content, including eye-catching images or high-resolution videos, captivating captions, relevant hashtags, and a call to action in all the posts you share on your Instagram profile. Irrespective of niche, your content should be in such a way that it gives value to your audience. In addition, you shall buy instagram likes to boost your engagement rate and make your content viral-worthy instantly.
8. Analyze Insights Regularly
The Analytics tool is a boon for Instagram users to understand your target audience, their previous behavior on the app, and the content they would like to consume. Take a look at the content that has performed well and gather insights to optimize your content later. If any trends performed well in recent times, determine what works well and share similar content in the near future.
The Bottom Line
Instagram never fails to surprise us! It often releases updates and features to maximize the potential of the platform. So make sure to stay informed about Instagram changes and create customized strategies accordingly.
By utilizing these simple yet effective strategies outlined in this article, you can stay ahead of the curve and make the most out of the platform. So, what are you waiting for? Start adapting today!
Thanks for reading! Do you find this article beneficial for your Instagram growth? Feel free to share it with your friends who would be interested.