In the world of influencer marketing, there are only two ways to make your campaign stand out from the competition: put forth more money or create something better than what's already out there. Modash strives to be that better solution. With the tool, businesses can gain access to influencers from various platforms, including Instagram, YouTube, and TikTok. To find out more about this tool, read on in this Modash review guide.
Modash Review: Why Modash is the Best Influencer Marketing Software
In today's rapidly changing digital marketing industry, influencer marketing has become one of the most effective and cost-efficient ways to reach your target audience on social media. However, due to the high demand from marketers and influencers, there are still plenty of challenges when managing relationships between both parties and ensuring consistent results. 
That's where Modash comes in. Whether you're an agency or influencer with your own social media account, or just a small business looking for new means of promoting your brand, Modash can make sure you get the most out of every campaign you run. In this Modash review, we'll look at why it could be the best software for your influencer marketing projects.
What is Modash?
To start with our Modash review, let's get to know the software first.
Modash is an influencer marketing tool designed to help brands and businesses connect with the right influencers for their campaigns. It provides an easy-to-use platform that enables you to find, analyze, and manage your social media accounts. With the tool, you can have access to a vast database of content creators who can promote your products or services.
Using the Modash engagement tool also allows you to track engagement metrics, such as follower count, post frequency, reach, and impressions on individual posts. Additionally, you can use the software's advanced filters to narrow down your search for the perfect influencer.
The best part? Modash offers detailed analytics on each account so you can make informed decisions about which accounts are best suited to maximizing your brand visibility and reaching target audiences.
How Does Modash Work?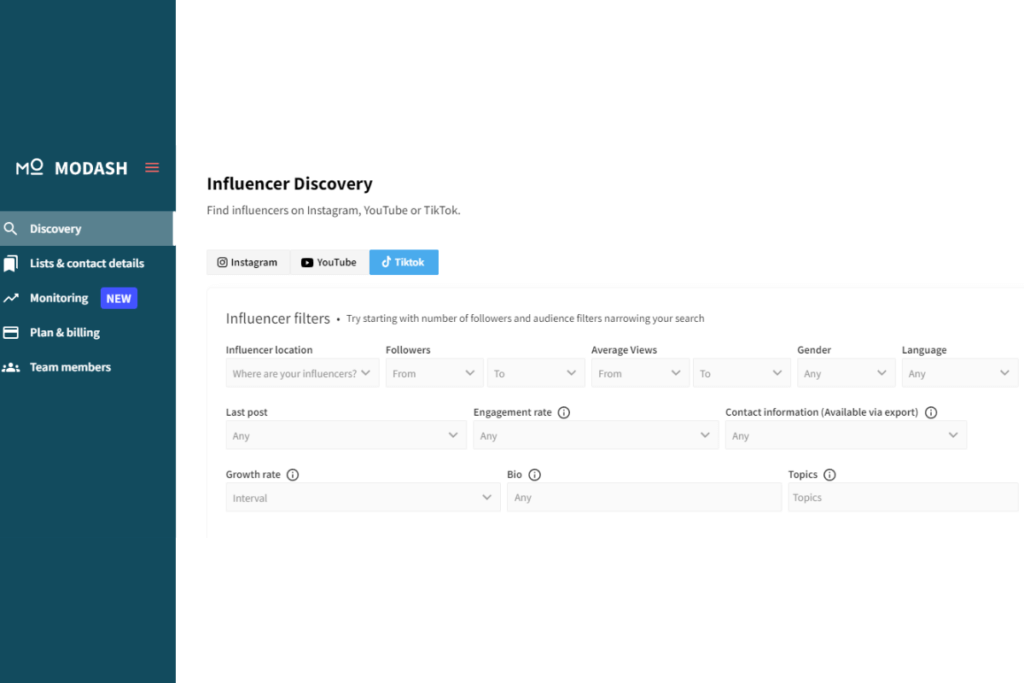 The Modash Instagram tool works by first having users set up custom campaigns based on their specific goals. Once the campaign is in place, the software uses its powerful search engine to find the right influencers for your brand.
Using real-time analytics and metrics, Modash can then track performance and provide detailed reports so you know exactly how your campaigns are performing. This allows you to make adjustments or tweak strategies as needed to maximize results from your influencer marketing efforts.
Additionally, the tool offers payment processing solutions so you can pay influencers quickly and easily.
What are the Benefits of Using Modash?
What sets Modash apart from other influencer marketing tools? What are the benefits of using it over another tool? Let's take a look at 10 reasons in this Modash review that make it the influencer marketing tool to use in 2022 and beyond:
It's affordable
Maybe you're asking: is Modash free? Well, it's not. However, it offers an affordable solution with a variety of features and functionalities that make it easy to get started with your influencer marketing campaigns. 
It also has a powerful platform with end-to-end automation capabilities that allow businesses to easily manage their campaigns from start to finish. Plus, Modash's user-friendly interface makes it simple for anyone to quickly set up and launch their campaigns without any technical knowledge or experience.
Modash pricing starts at $109 per month. If you want to avail of higher customized limits and more advanced features, you can opt for its Enterprise plan at $1,000 per month. 
If in case you find the Modash subscription plans a bit pricey, you may also opt for a cheaper Modash alternative, such as the tool in this Capssion review.
You can find influencers in any niche
If you're looking to reach a target audiences with your message, having access to influencers in any niche is essential. Whether it's beauty bloggers or professional athletes, Modash enables you to quickly and accurately identify the right influencer for your campaign. This makes the process of finding an appropriate match easier than ever before.
There are millions of influencers on Modash
It has been estimated that on Modash, there are over 1 million influencers from across the world—giving businesses and organizations access to an unprecedented number of potential partners.
The wide selection of influencers means that customers of all types—from B2B and B2C companies to nonprofits—can quickly find the right partner for their campaigns. This makes it possible to create highly targeted campaigns that reach the audience that are most likely to respond positively.
You can contact influencers directly through the platform
Modash allows users to contact influencers directly on the platform, saving time and money while ensuring positive results. By simply clicking on its direct messaging feature, you can send messages directly to influencers without having to worry about being filtered out by spam filters. This ensures that your message reaches its intended recipient quickly and accurately.
If you're looking for an alternative platform where you can manage all your social media messages in one dashboard, you may check this MobileMonkey review. 
Modash has a built-in payment system
One of the many benefits of using Modash is that it has a built-in payment system. This means you don't have to handle payments manually or spend time searching for the best tools to manage payments. With the tool's built-in payment system, transactions are handled automatically and securely—giving you more time to focus on other aspects of your campaign.
The built-in payment system also helps make sure that both clients and influencers are paid quickly and accurately, eliminating any potential issues with missed payments or incorrect amounts due. Thanks to automated invoicing and tracking, business owners can rest assured knowing their invoices are sent out promptly and collected efficiently.
You can track your progress and results
With Modash's intuitive dashboard, tracking progress and results is easy. You can review engagement levels—likes, shares, and comments—on each campaign post across all platforms. You can also measure ROI for each promotion and compare performance over time.
Additionally, Modash gives you an insight into how far-reaching individual posts are so you can identify high-performing content for further investment. All this data helps you make informed decisions about which influencers are providing the best return on investment for your brand.
There's a ton of data on each influencer
Modash provides detailed information about every influencer it has in its database—from their interests to their followers per platform, audience demographics, and engagement levels. This allows you to get insights into which influencers are best suited for your campaigns and how you can reach your target audiences effectively.
With Modash's comprehensive influencer data, you can make informed decisions when choosing an influencer or creating a partnership strategy that'll maximize reach and engagement for your campaign message.
You may ask: how do you calculate the influencer's engagement rate? The process is simple. You just need to take the total number of engagements (likes, comments, shares) on each post and divide it by the total number of followers they have. This will give you their average engagement rate, which can be further broken down by individual posts or campaigns.
You can filter influencers by engagement rate, followers, and other metrics
With its suite of advanced features, Modash can help you filter influencers through different metrics, including engagement rate and followers. The tool will make it easier for you to find the right influencers for your campaigns.
Not only does it enable you to filter by these important metrics, but it also provides insights into different influencer demographics so you can better target your audience. With this comprehensive approach, you can quickly identify the ideal partners for your campaign without sacrificing quality or wasting time researching potential candidates manually.
You can find nano-influencers on Modash
Modash can help you connect with the perfect nano-influencers for your brand. You have the option to create campaigns and reach out to potential partners by filling out a form on their website.
For example, if you're looking for someone who posts content about veganism, Modash can present you a list of all nano-influencers in this category who have reached over 10K followers on Instagram. From there, all you need to do is filter through their profiles and select which ones would be most suitable for your company.
There's excellent customer support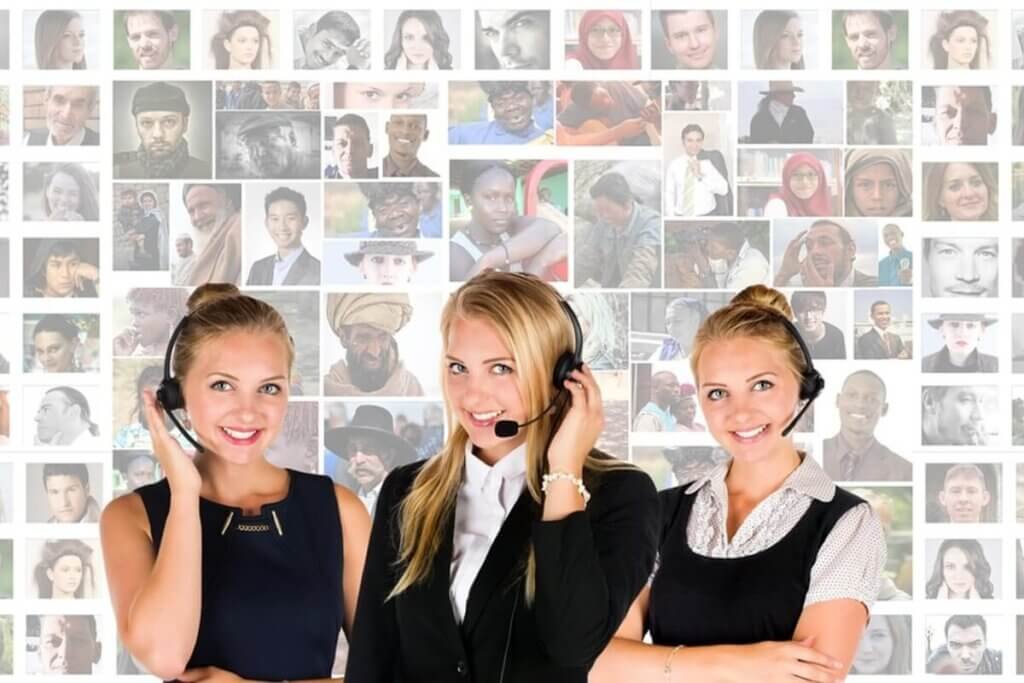 Thanks to Modash's dedicated team of customer service representatives, any issues or queries can be resolved quickly and efficiently. Based on several Modash reviews, the team is on hand 24/7 to answer any questions you may have about the platform or its features. Plus, you can expect prompt responses from the team whenever you need help.
This superior customer service means that brands don't have to worry about being stuck with a problem without an answer. The tech-savvy team at Modash is always available to provide advice and offer solutions in a timely manner—making it easier for companies to get the most out of this tool.
How Can I Get Started with Modash?
Of course, our Modash review won't be complete if you won't know how to utilize the tool for your business needs. If you're new to using Modash for your influencer marketing needs, here are a few steps to help get you started:
Sign up for an account
First, sign up for a Modash account by creating an account through its official website. This will give you access to the platform and all its features at no cost for 14 days. 
Connect your social media accounts
After signing up for a Modash account, you can now connect your social media accounts (TikTok, YouTube, or Instagram) to the platform. Doing so will make it easier for you to find the right influencer for your brand.
Create a project and choose your campaign parameters
The most important step in getting started with Modash is creating a project in which you can add all the details of your campaign, such as budget and target audience demographic. You can also specify which social media platforms should be included in the search results.
Select your influencers
Once you've created a project, you can start searching for influencers on your platform. You can look for specific influencers or relevant hashtags that'll bring up hundreds of names.
Set up your payment method
To set up your payment method, click on the "Payment Settings" tab in the navigation bar. From there, you'll be taken to a page where you can add or update your credit card information.
You'll also need to specify what currency you want to use for payments—US Dollars or Euros. Once all of this information has been entered and saved, all payments associated with Modash will be made through that payment method.
Analyze your results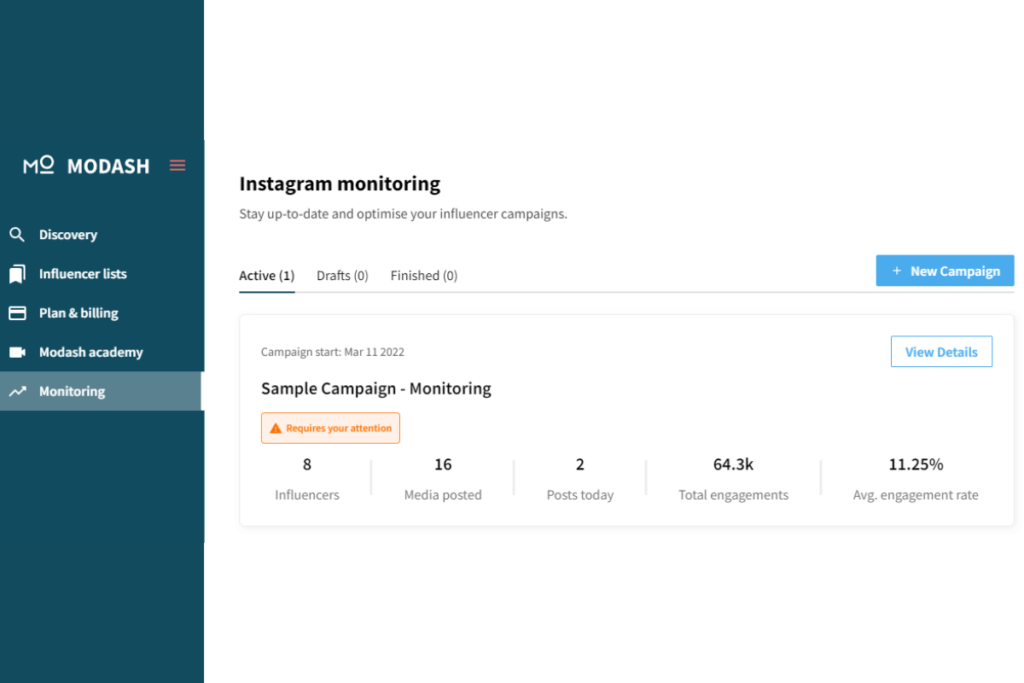 When you're all set up and ready to get started with your influencer campaigns through Modash, don't forget to analyze your results. Doing so helps determine what works best for your brand in terms of budget allocation and content type. This will enable you to focus on the strategies that are most effective in reaching goals like lead generation or increased engagement rates.
Can Instagram Detect Fake Followers?
With Instagram's large user base comes a potential problem: fake followers. Now, how can you tell if followers are fake? Fake followers are accounts created by bots or other automated processes that are used to make an account look more popular than it really is. So the question is, can Instagram detect fake followers?
The short answer is yes—Instagram actively monitors and detects suspicious activity on its platform and has tools in place to weed out fake followers. For example, it has algorithms that identify high levels of engagement from accounts that don't post any original content or have very few friends or followings of their own.
Modash also offers a powerful tool that can help users accurately determine whether their followers are real people with genuine interests in their content or merely bots created by digital marketers hoping to inflate their numbers.
The Modash fake followers detection tool works by analyzing each account associated with a given profile and checking for telltale signs, such as unusually low activity levels, suspiciously high follower/following ratios, and accounts that have been inactive for weeks or months at a time.
Modash Review Takeaways
Modash is an impressive influencer marketing software that offers a wide range of features and tools that help businesses maximize their ROI. It provides a comprehensive suite of analytics, insights, and reporting options to help marketers better understand their influencer campaigns.
Additionally, it offers various pricing plans to accommodate different budgets and needs. Overall, Modash is a powerful tool that can help businesses create and manage successful influencer marketing campaigns with ease.
If you want to optimize your digital strategy, consider using Modash now, but keep in mind that you have to take your business needs into account before signing that dotted line. And if you want to make your influencer marketing platform work for you, read this guide: "Influencer Upgrade: How to Make Your Influencer Marketing Platform Work For You."