How to Make Instagram Highlight Covers (With Samples)
Sharing is caring!
Undoubtedly, Instagram has been the go-to platform for creators and entrepreneurs for promoting their brands. So today we're going to talk about Instagram Highlights, or more specifically, how to make Instagram highlight covers. We'll also show you which apps you could utilize for free and then teach you how you could post your highlights without posting them on your stories. 
In this post, you will also learn how to make Instagram Highlight covers in the most efficient way, and show you how to make the most out of your valuable profile space. Each highlight must have its purpose and contribute to the end result you are aiming for. Is it getting more traffic to your site? Getting more sales, or perhaps building an audience? You can only accomplish such if you come off as a trusted and reputable brand. 
How to Make Instagram Highlight Covers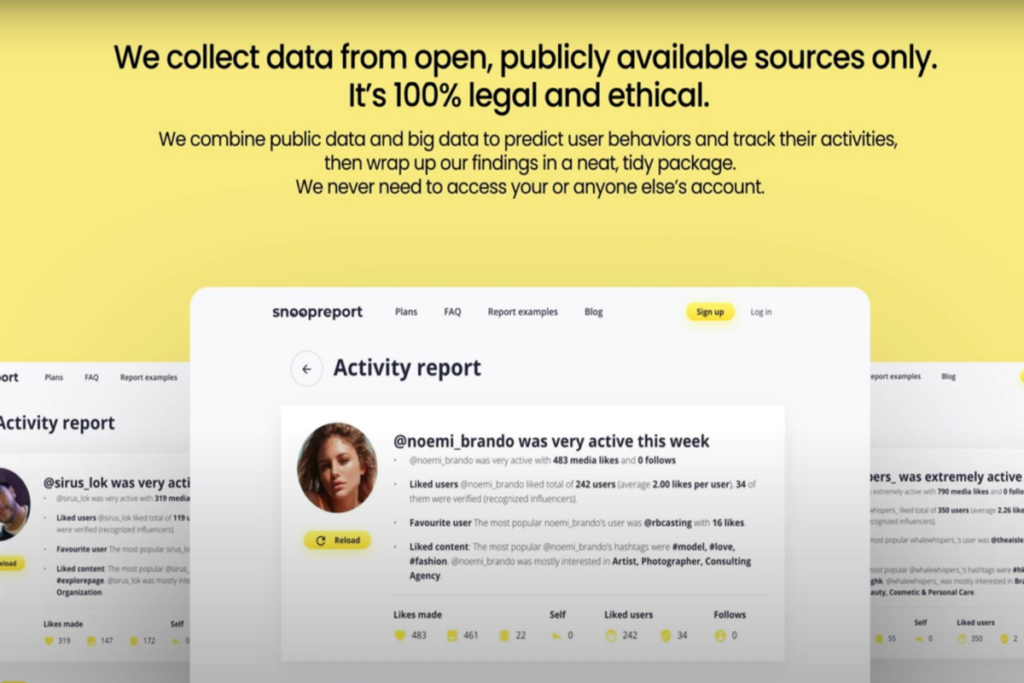 Instagram stories are insanely popular, however, they only last for 24 hours, and then they disappear. If you are a creator, influencer, or business owner, there is a need for you to showcase your archived IG stories so you can create a story highlight.
This will pop up under your Instagram Bio, and for you to have an attention-grabbing profile you need to customize your Instagram Highlight covers. This will serve as a thumbnail for your archived stories. It is the best and fastest way for people to know you and learn what you or your brand is all about. 
By doing this, your Instagram feed will look 10x more appealing at first glance. This will lead to more followers as well as profile visits. Speaking of boosting engagement, know how social media management software can do this for you in our SmarterQueue review. So if you're ready to learn how to make Instagram Highlight covers, let's dive in!
How to Make Instagram Highlight Covers Using Canva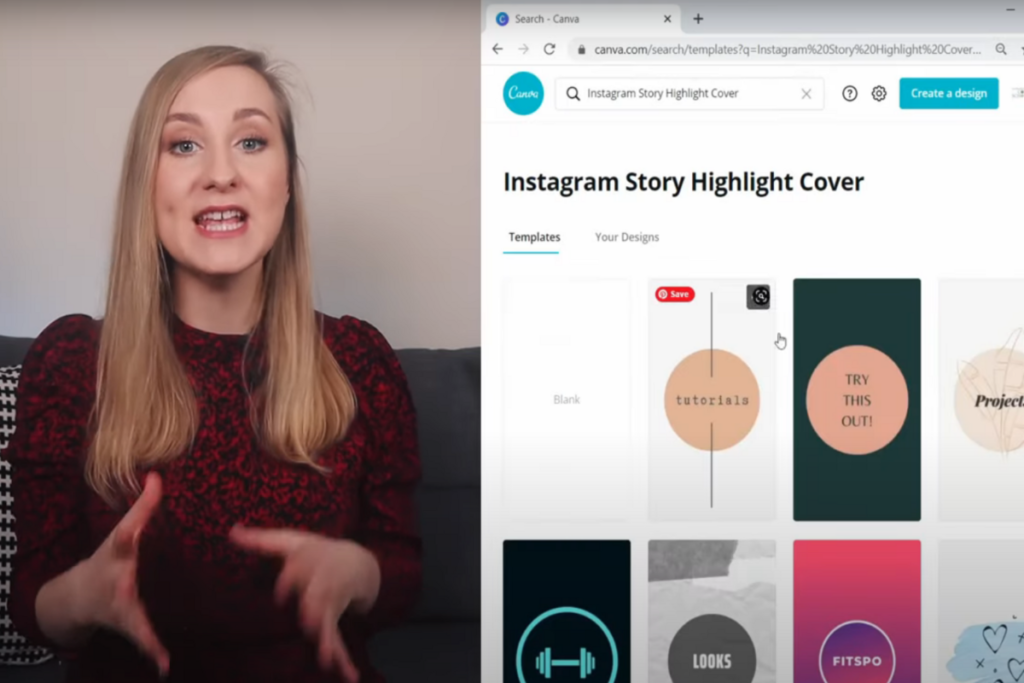 Here are some quick tips before we get into creating the covers. The first one is being consistent with the color you are using for every highlight. This may be the primary color of your brand, or the color you're also using in your profile picture. You need to learn how to match your feed with your color. The second tip is that the name and cover of the Highlight should be related to one another in some way so it's easier for viewers to make a connection. It also makes for better memory recall.
Download Canva
What app can I use to make Instagram Highlight covers? Canva by far proves to be the best choice for beginners who don't really know much about graphic design. So let's say you're going to create an Instagram Highlight for your YouTube stories that will be posted on your account. First, download Canva through the Play Store because you will need it for creating the cover for your Highlight. Register and Sign in. There is a paid version but you can make amazing Highlight covers using its free version. 
Next, you will see the option for 'Instagram Story. In case you don't see it right away you can click on 'See All' or click on the + sign. Now you can add your Instagram story here. Initially, you will see a plain white background where you will create the cover for your Highlight.
Go to 'Illustration' then select a shape. If you can't find it, you can type it. For now, let's go for the round shape. Keep the color of the circle according to your liking. Next, click on the + sign then click on 'Illustration.' 
Add An Illustration
When adding an illustration, make sure that it matches your title and the story content. Because you're making it based on YouTube, you can search 'YouTube' and see the logos of YouTube pop up. You can make it bigger or smaller if you like. Once you get it right, click on the top right corner, then click on 'Save as…'. Download it using JPG or PNG format. Download.
Now go to Instagram, create a Highlight, then set it up as a cover. To create a new Highlight, Click on 'Next'. You can also add a border, switch colors, or use multiple colors. Feel free to follow where your creativity may lead you. However, if you don't feel like designing the cover of the Highlight from scratch, you can also use many of the pre-made covers available on Canva.
To create a new story, open Canva. Click on the 'Instagram' story and the + sign. Then click on the 'Template' option. Choose a template made by Canva for your Highlight cover. Search 'Highlight.' You will see many highlights pop up that you can choose from. Have fun exploring all of them. So it's totally up to you if you wish to create it from scratch or utilize the pre-made ones if you're still starting out.
How to Make Instagram Highlight Covers Using Snappa
How do you get Highlight icons on Instagram? We're about to show you that on this next free app you can use for creating Highlight covers. Creating an Instagram Highlight cover photo will be discussed as well as cover photo sizing with various icons and backgrounds. All these you can use for your own profile. So, where can I get Instagram Highlight covers apart from Canva that's also free but easy to use, you ask? It's called the Snappa app.
Reminders Before Getting Started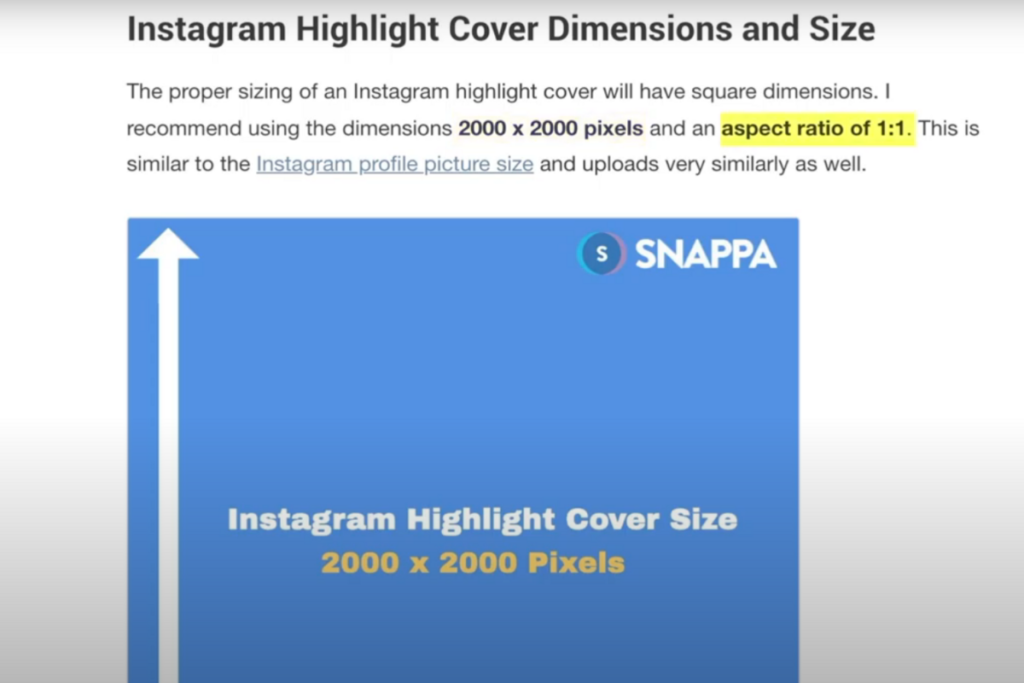 If you want to get the best Instagram Highlight cover you need to get the correct photo size. In this way your image is optimized for the platform's guidelines and will display properly on your profile. The recommended size is 2000 x 2000 pixels or an aspect ratio of 1:1. A lot of users mistakenly believe that their story Highlight has to be the same dimensions as their Instagram Story and must be uploaded as a Story. This is not the case. 
Now Instagram allows its users to upload a cover photo using their phone's camera roll. And because Instagram covers display as a circle, a square is much easier to design with. Snappa makes it super easy to create a free Instagram Highlight cover. Speaking of super easy Instagram tips and tricks, see how influencer marketing software can help curate the most powerful content for your brand in our Capssion review.
Once you're inside Snappa add the dimensions for your Highlight cover. Add 2000 x 2000 pixels, then click 'Create.' Once your canvas is open you can start designing. The key is to keep things simple and straightforward. Take HubSpot for example. It has a simple icon in the middle representing the title, plus, it uses a plain and simple background. So with that design principle in mind, you can go ahead and recreate those Instagram Highlight covers in Snappa. 
Creating the Highlight Cover
Begin by navigating the Backgrounds tab found in the top left. This is where you can choose from a wide variety of photos from the Snappa image library. You can pick a simple pattern background, or if you want, upload your own image. Users can even choose a colored background. You do this by clicking the Color Picker. Once you have the color that you like click on it, or add a hex code of your choice. You can also click on the Color Picker to choose the custom color to suit your needs.
Adding the Icon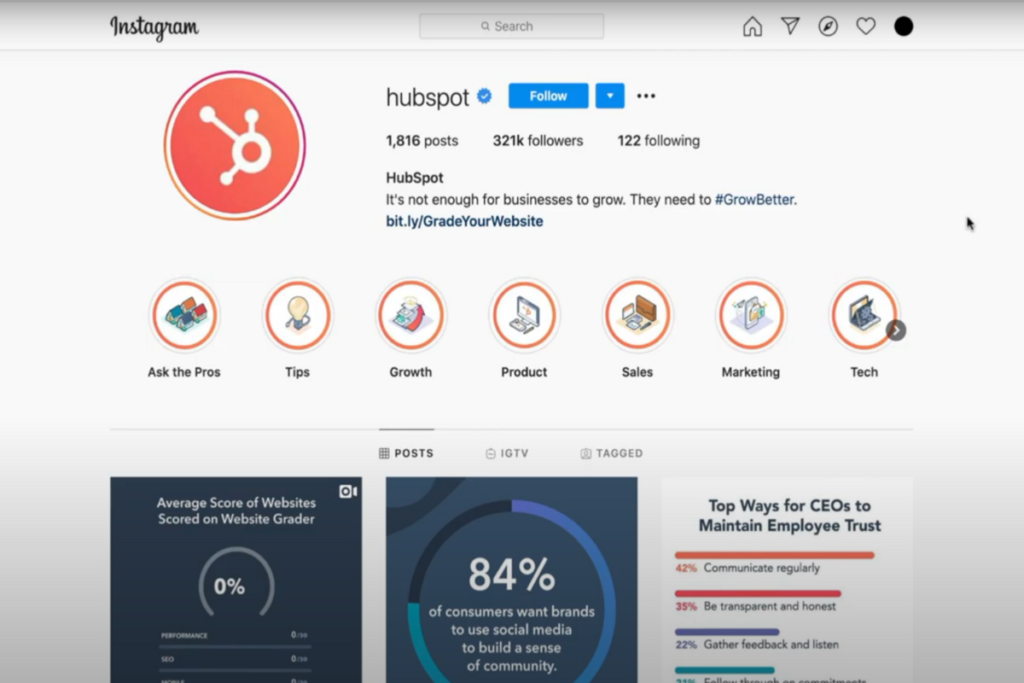 The next thing you're going to do is add an icon relevant to your story. Say, for instance, you will create a Story Highlight to promote your YouTube channel. 
Go to the Graphics tab, then the Icons tab. Then search for YouTube. When you find an icon like that one scroll down then click on it. Once it's added to the center of your canvas click on it again. Then navigate to the Color Fill and change to the color of your choice.
From here, you could also drag the corners to reposition it to where you want it to be. In HubSpot's Highlight cover you can see that it has an orange border background. You can also apply this to your own. To do this, navigate the Shapes tab, once it's open, navigate to the circle without color fill. Click on it. 
When it appears on your canvas click on it again. Resize by dragging the corners, and try to reposition it to make sure it's in the center of your graphic. Now, go to your Color Picker for your border, and not the fill. Try changing it from black to white. You can also increase the size of the border from 10 and make it 30 so it will look thicker.
Saving and Modifying
When you're satisfied with your Instagram Highlight cover you can now rename it and save it to Snappa. In this way, it will be easy for you to make modifications in the future. Also, download this as a Retina JPG so you can have the best possible quality. After downloading the image to your computer, you can now send it to your phone. Then upload it directly on your Instagram. 
Using Hand-Drawn Illustrations
You can also use hand-drawn illustrations on a colored background, something that can also easily be done on Snappa. To do this navigate to the Background tab on the top left, go to the colored background and choose the color of your choice.
Now, you can add hand-drawn illustrations to it. Navigate to the Graphics tab, then go to the Vectors tab. From there, choose from a selection of neat hand-drawn illustrations. Some of them are pretty cool Highlights cover for Instagram in black. So if you're into Black Instagram Highlight covers free of charge, Snappa is your go-to app.  
Once you have chosen the illustration you like, click on it and it will appear on your canvas. Click on it again to resize to your liking, rotate and reposition it to where you want it to be. You can also change your color fill to your preferred color. Now you have an awesome Instagram Highlight cover that will look stunning on your profile.
Using Icons for Your Highlight Cover
This final example we're going to take up also works very well and can be created using Snappa. What you do is use the text within your images, but where your title is supposed to be, you can use icons instead. Again, you can change the colored background to fit your branding on your feed.
First, navigate to the Backgrounds tab once again. Go to the Color Panel and click on the Color Picker. Choose the color that you like. Next, you will add text by navigating to the Text tab. Then click 'Add a Heading.' When it pops up in your canvas, type the text that you want. Type in YouTube once more. 
When you have your text, navigate to the left side panel to choose and change the font style that you want. You can also increase or decrease the size of your font, adjust and reposition it to the center. Finally, click on the Color Picker. This time, try changing the font color from black to white. When you're happy with your Highlight cover photo you can now rename it. 
Don't forget to save it on Snappa so you can easily make modifications. You can even make duplicate copies for making other Instagram Highlight covers using the same design. Finally, download it as a Retina JPG to get the best quality.
Adding Your Highlight Cover
To do this, tap on an existing story Highlight. Once in, click on the three dots that say 'More.' From there, click Edit Highlight. Once inside, you will find an Edit Cover under the photo. Now either choose the stories within your archived Highlight or tap on the little image icon to upload your own. Once the one you like is perfectly centered, click Done. Now you have a new Instagram Story Highlight cover. 
Adding a Highlight Cover Without Posting
Can you add a highlight cover on Instagram without posting? If you don't want to clog other people's feeds with your Highlights, which can feel spammy at times, you'll need to learn to add your Highlight covers without posting. Here's how to do this. 
Go to Instagram. On your profile, tap on the + sign icon then choose 'Story' on your pop-up window. Take a video or photo or upload it from your gallery. Do this by selecting 'Your Story.' Then enter your story and click on the three horizontal lines and press 'Delete.' Confirm your action. Now you have to wait for 24 hours. 
After 24 hours, go to your profile and press the three horizontal lines. Select 'Settings.' Click 'Account' and select 'Recently Deleted.' Click on the history you have deleted after 24 hours or more have passed. Click the three horizontal dots and select 'Restore.' Confirm the action. 
Go back to your profile and click on the three horizontal lines and press 'Archive.' Tap on your restored story and choose 'Highlight' found in the bottom right corner. Decide which Highlights you wish to include then confirm. Now you can see your story within these Highlights. 
Make Instagram Highlight Covers with Ease
Undoubtedly, Instagram Highlights serve as an incredible resource for you and your followers, regardless if you're a creator, influencer, or entrepreneur. This library of stories living on your page can be utilized as a reference for you or your brand. Thus, learning to create awesome Highlight covers with ease is just as important. For more Instagram tips and tricks, read our article 171 Short Instagram Captions That Will Get You Noticed.