What are YouTube Shorts and why are they extremely popular these days? These are YouTube's versions of TikToks. They are short, vertical videos that last up to 60 seconds and can get fairly addictive.
So the next question is, why should you learn how to make YouTube Shorts? Because over the last couple of months it has pulled over 5 trillion views, and this information came from no other than the CEO of YouTube herself, Susan Wojcicki. So if you're a brand new YouTuber who wishes to grow your channel from scratch, this is the easiest and quickest way to do it.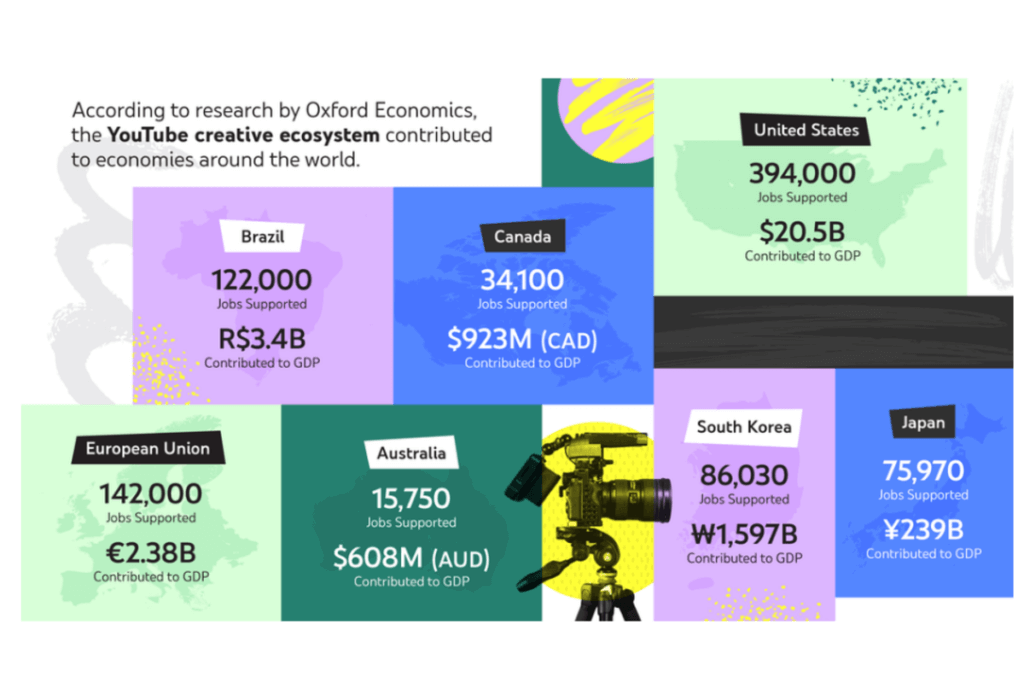 How to Make YouTube Shorts
Today is a unique time for everyone as the world has adapted to changes that were not even imaginable before the pandemic. And along the way, there has been incredible growth in the YouTube community where creators used their platform to entertain, inform, earn a living, and shape society in meaningful ways.
YouTube is focused on growing its platform in the years ahead with its key priorities namely: improving the creator economy, innovation, supporting creators' work, as well as protecting the YouTube community.
These days, more and more people are creating YouTube content than ever before. This is proven by the momentum shown across the platform, including YouTube Shorts. Not only do creators help people learn and be entertained, but they are also significantly making a huge impact on the global economy. YouTube channels all over the world that are making over $10,000 a year are up 40% year after year.
Furthermore, YouTube's creative realm has supported over 800,000 jobs in 2020 in the US, South Korea, Japan, Canada, Brazil, Australia, and the EU combined. If these are not enough reasons for you to learn how to make YouTube Shorts, what are they?
Finding YouTube Shorts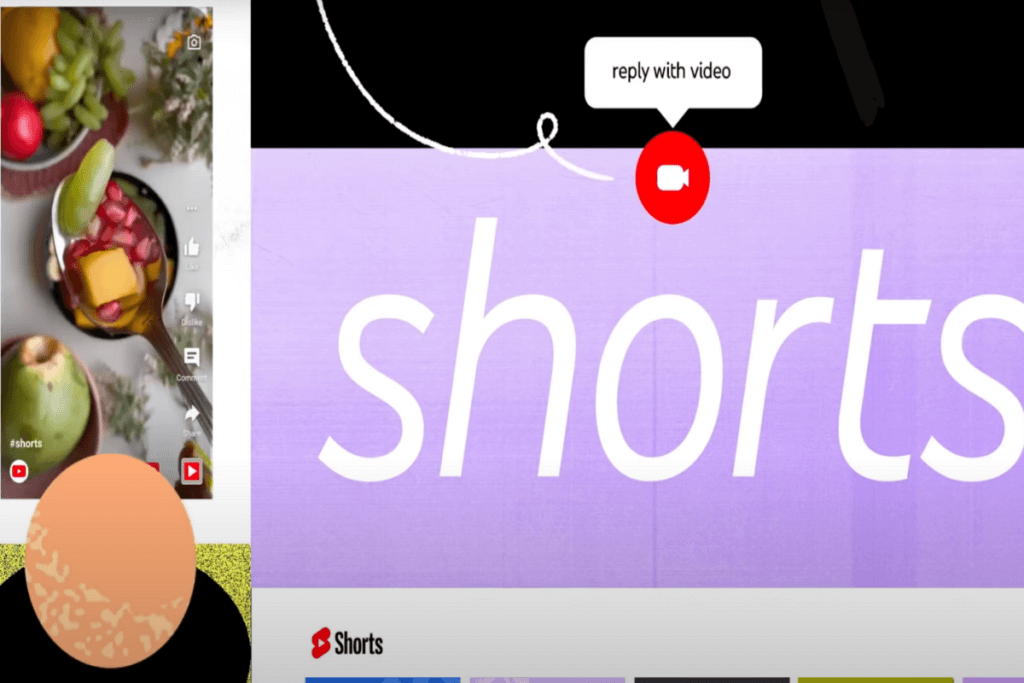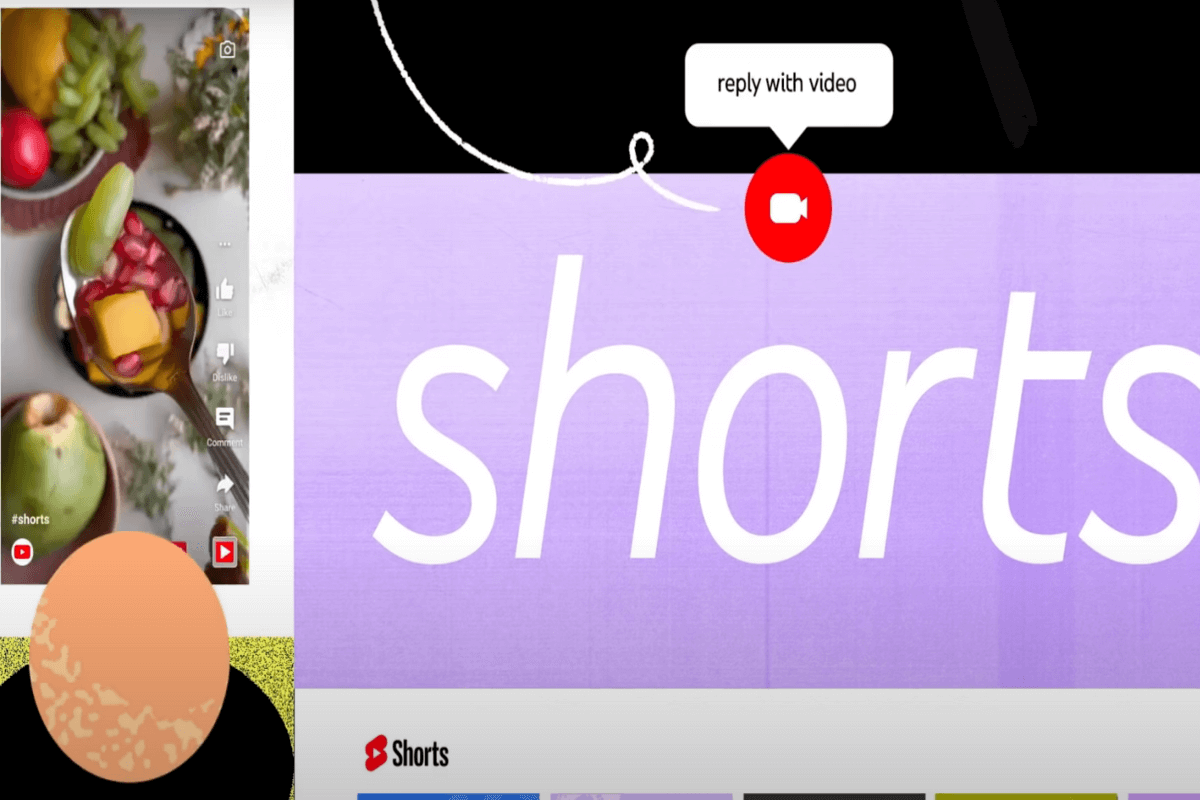 The first thing you need to do is learn how to enable YouTube Shorts. First, head over to your YouTube app on your mobile device. Scroll down a bit and soon you'll see Shorts. Right on the Home Page, you have several to choose from. You can also find a dedicated area down the bottom of your screen. And if you go over to Subscriptions it shows the content of the channels you are subscribed to, it will also be there front and center.
On your desktop, you will have a very similar experience. On the Home Page, you have a regular YouTube video showing up, but you don't need to scroll down very far before you see the Shorts. Then again you have quick access to Shorts on the left side of your screen. On your desktop, you will have the ability to like, dislike, add comments, and view the creator's channel. There is also a Subscribe button on the bottom right corner so Shorts is a good way to make people subscribe to your YouTube channel as well.
Heading over to the top right, you will see the three dots where you will be able to see the video's description, stop YouTube from recommending this channel for you, report it, and also send YouTube some feedback. The channel name and link are also visible at the bottom left corner of your screen. To move between different Shorts, just scroll or swipe up depending on what device you are using. That's exactly how it is designed, for viewers to quickly go through various pieces of content.
How to Upload YouTube Shorts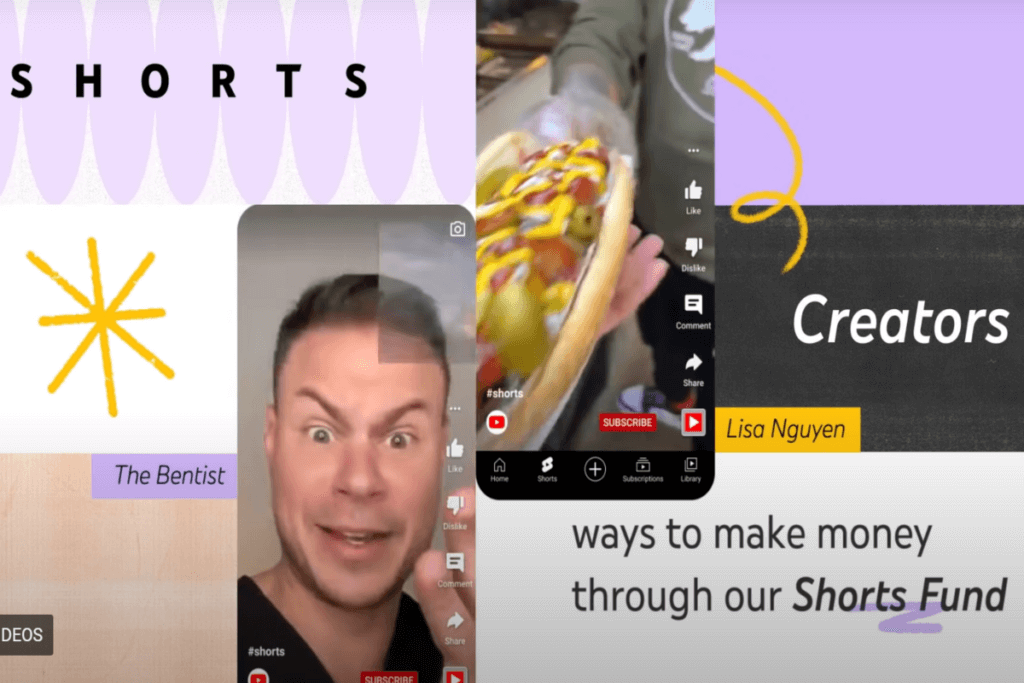 There is no YouTube Shorts app, per se. You can find it inside the YouTube app itself. So now we're going to go through how you can create and upload your own Shorts from scratch. Here's how you can do this on your phone.
Open up the YouTube app then go down to the plus sign down the middle, then up to Create a Short. Now you'll find yourself on camera. Next, you will need to specify if you're going to make a 15-second or 60-second video. You have the liberty of switching between your front and back camera.
Filters
There are also filters and effects you can add. So if you wish to have some Face zoom effect or Big head, you're free to do just that.
Video Speed
You can also control your video speed. The default speed is 1x, which is the normal speed. It can be adjusted to slower or faster speeds, and a countdown timer can also be added. There are choices of 3,10, or 20 seconds, depending on the time you need to set your camera up, run, or position, then it will automatically start the recording for you.
Green Screen Effect
There is also a Green Screen effect you can add if you want to cut yourself, wish to react to something, or put something on your background. Once selected, on your bottom screen, you will see different videos or images to choose from that you can put behind you. Afterwhich you can press done and you're out of there.
Beauty Filter
A beauty filter is also available if you want to freshen up your look, retouch, smoothen out your face, etc. Filters are also available just like on Instagram so you can change the look and feel of your videos. Then go ahead and choose Done.
Lighting Adjustment
Down the bottom arrow, press on that to see the Lighting adjustment. You want to boost your lighting a little bit if where you're filming is a dark area.
Start Recording
To start recording all you need to do is press the red button. Once you start talking you will see the little progress bar on top. If you set it up to a 15-second short then it will only fill up to 15 seconds. Afterwhich it will pause. You can just press the record button once again since you can create multiple clips and just pick up from where you left off, to fill up that 15 or 60-second gap.
Making Mistakes
If you wish to undo it you're free to do so with the undo button you can see at the bottom. You can also redo it if you change your mind and decide that you like the clip after all.
Adding Music
Adding music to your Shorts is also possible by tapping on the Add Sound button on top. Then you will get access to tons of commercial music or sound effects you can use for your video. Just remember that you are only limited to 15 seconds of use. So choose one to add to your video.
Start Preview
Press the tick button on your lower right so you can check out the preview of your video. You can swap out the music tracks any time you like. There's also that option to adjust that track and pick the exact 15-second chunk you would like to use, you can do that as well. Then click Done once you've found the bit that you like.
Adding Text
Then you can start adding text and click Done. You can move the text around, adjust its size, or rotate it. Adding a voiceover is also easy to do. Just press Voiceover so you can tap, hold, and record directly into your app.
Volume Control
Going to Volume you can adjust your original volume levels for your YouTube Shorts, as well as the volume levels of the music you have chosen for your video. You can lower that down so you can hear yourself speaking and it won't drown out your voice. Press the x button to go back.
Timeline View
Another powerful feature is the Timeline view. When you press down Timeline you will discover your very own cutdown video editing tool. You can have your main video layer on the bottom, your video track above it, plus another layer for your text. You can make adjustments to your text so it will just show up in areas that you want, or add more text right then and there. Then there are also filters which basically have the same features we talked about earlier. When you're done just click Next. Now you're ready to upload and release your YouTube Shorts video.
Upload Your Shorts
Give it a title just like you would a regular YouTube video, however, you're only allowed 100 characters for it. Then set it if you wish it to be Public, Unlisted, or Private. If you want to schedule its release you can only specify the date and time you wish to do so. Speaking of scheduling and releasing social media posts, don't forget to get the best social media management software that suits your needs and budget. Know more about this in our Circleboom review.
Then specify if it's made for kids or not, and you can also add an age restriction based on the type of content you are creating. You also choose how you will handle the comments on your video. You can either Allow all comments, Hold potentially inappropriate comments for review, Hold all comments for review, or Disable comments totally. If you're just starting out you can just leave it to its Default settings unless there is a need to change it. Then click UPLOAD SHORT and it's up on your channel.
Can You Turn YouTube Videos Into Shorts?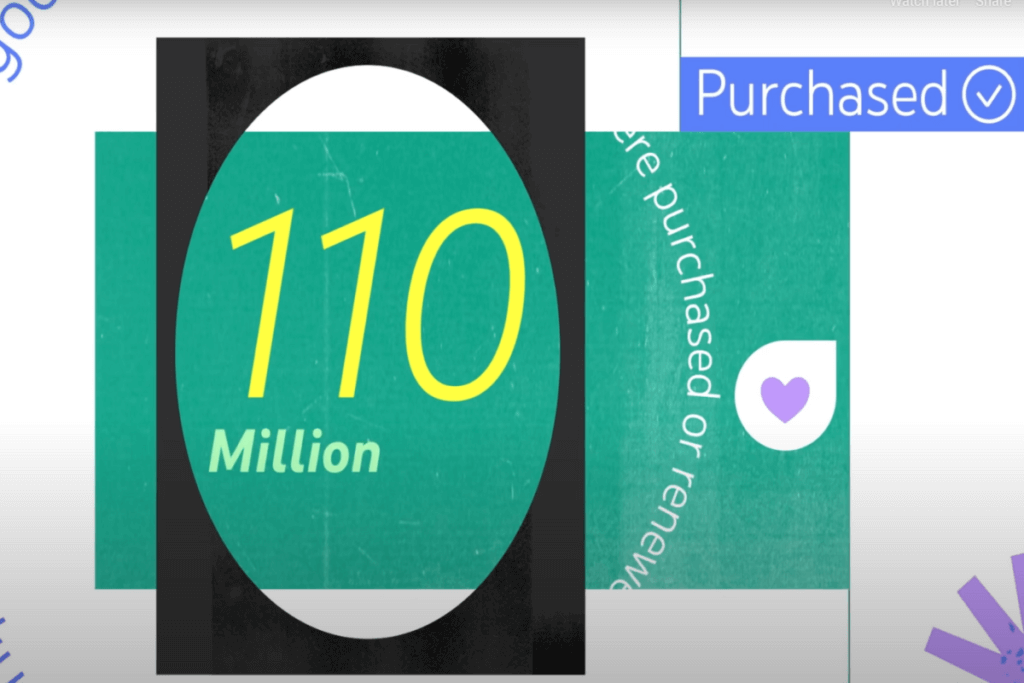 Absolutely. So this is how to make YouTube Shorts from regular videos. Just head out to your channel and pick out one of your videos. When you load your video you can see the Create Shorts button. Pressing on it will allow you to edit it into a Short. This option is only available to you since it's your video. You can choose to only use a soundbite from this particular video, which you can enable anybody to do for your videos. You can also cut a 15-second segment from your video, and even use a Green screen effect if you want to react to it.
To do this open the YouTube Shorts creation area, grab the circle, and find the area of your video you wish to turn into a Short. It doesn't have to be 15 seconds, you can grab the handle and adjust the length to your liking. You can also reformat it from being a widescreen video and turn it into a vertical format. Hit Next. Now you can add your Text, Voiceover, Timeline, and Filters. Then you can hit Next and just post it out.
That's how you do it if it's your video. But what if it's not? Find a video you like, and tap on it as if you are going to watch it. Then click on the Create Shorts button again. But because this video is not yours, there are three options you can choose from. You can add just a 15-second snippet from just the sound of the video, you can add a 5-second cut as a segment from the video including the video itself, and finally, you can add yourself as a Green screen effect.
How to Make YouTube Shorts Viral
This is the easiest time to grow on YouTube so these are the things you should do if you want your videos to go viral and blow up like other creators in your niche.
Choose the Right Topics for Your Content
Implement Shorter Content
Go For Topics Viewers Are Interested In
Add Visuals and Get Rid of Blank Space
Titles and Thumbnails Must Be Optimized
Don't Come Up With Your Own Titles From Scratch
And make life easier, make sure you have social media management software to help you boost engagements, schedule posts, and curate content. Learn more about it in our SmarterQueue review.
Do YouTube Shorts Make Money?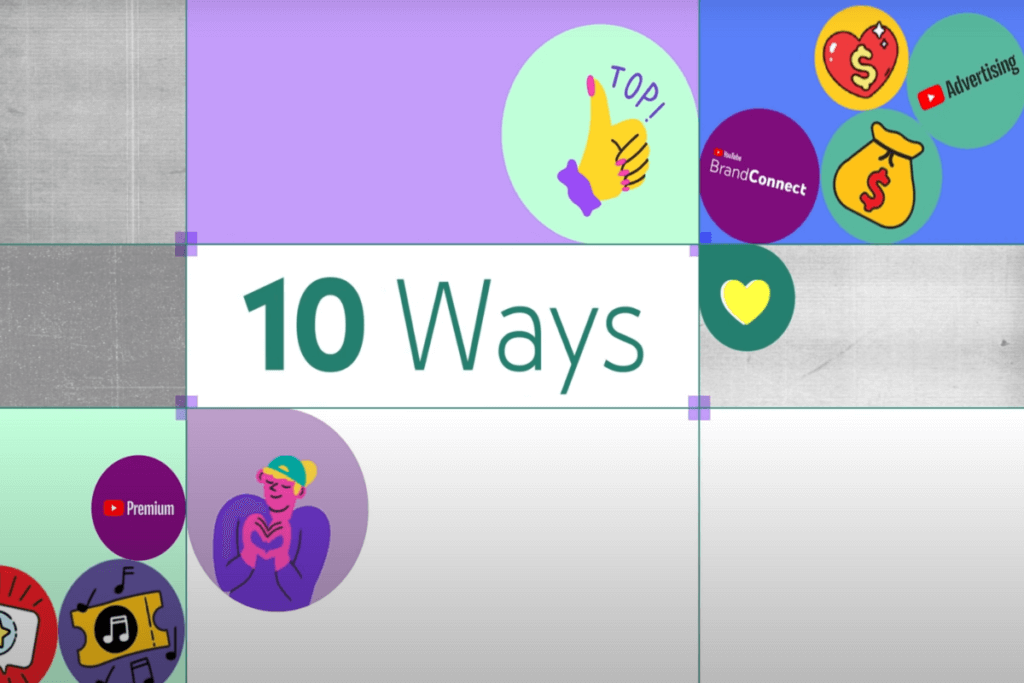 If you are a creator learning how to make YouTube Shorts, isn't this the bottom line of this entire exercise? To make sure your time, effort, and creativity pay off? The thing is, you cannot expect to be an overnight success. Learn all the ropes, do your homework, be patient, and most importantly, be consistent. YouTube has outlined a new monetization program for Shorts Creators which will be released in 2023.
For you to get into the program, you must have 10 million views on your Shorts in the last 90 days. That started on October 1 this year. The ad revenue structure is a bit different from the long-form content. Right now it's 55% for long-form content but for short-form content, it's just 45%. This is because YouTube is going to allow creators to monetize content having licensed music in it. So if you're creating shorts with licensed music there's no need to worry about it because you will still get paid. That 10% wiggle room will go to the actual music creator.
Bear in mind that the Shorts Fund is not limited to creators in the YouTube Partner Program. All creators are eligible for participation as long as they create content for Shorts and adhere to YouTube's Community Guidelines. Eventually, you will not only be making money from this program or from your ad revenues. You will monetize your Shorts from future Brand Deals, Sponsorships, and Community Posts. So what better time to start learning how to make YouTube Shorts than now?
For more tips and tricks on how to optimize your YouTube channel, read our post What is YouTube Shorts and How to use It for Your Business.