Editor's Note: This article was originally published in December 15, 2020 and has been updated for accuracy and comprehensiveness.
Digital marketing tools can make or break the success of your online marketing strategy. They serve as the fundamental foundation of every business' success. While you may have all the materials for your digital marketing, skipping some essential tools might lead to your marketing strategy's downfall. 
Top 10 Digital Marketing Tools in 2022
The competition in the eCommerce world is growing tighter each year. Every business is looking for new ways to excel and outgrow its competitors. Hence, it's imperative to know what are the tools used for digital marketing. 
The market is flooded with digital marketing platforms, but not all of them are created equal. In this article, we'll walk you through some of the best productivity, collaboration, SEO tools, and more, to help you get on top of your digital marketing game. So, if you're wondering what are the top digital marketing tools 2022, here's a handy list for you.  
HubSpot
HubSpot has been a mainstay on the top digital marketing tools list 2022, and it's not surprising why. The company has sustained its growth and remained among the most popular digital marketing software around. If you've ever used HubSpot, you probably know what we're talking about. But if you haven't, here are some things to know about this app.
One advantage of HubSpot is that it offers many options for businesses. It allows for a live chat set-up and offers a web form option that you can use anytime. Moreover, the platform features a pop-up maker tool to help increase brand awareness and audience interaction. 
Basically, HubSpot is an all-in-one solution that allows you to manage your content, analyze site behavior, and track data. It also works with other point solutions you might already have like Typeform and HotJar. 
If you're strained for budget, you can still use HubSpot for free. This makes it one of the better options for startups and small businesses. However, the free option is limited with lesser sophistication and marketing automation. This means putting in more grunt work if you're using the free version. In any case, you can still purchase it. HubSpot's highest fee is $3,200 per month, depending on your plan. 
Google Analytics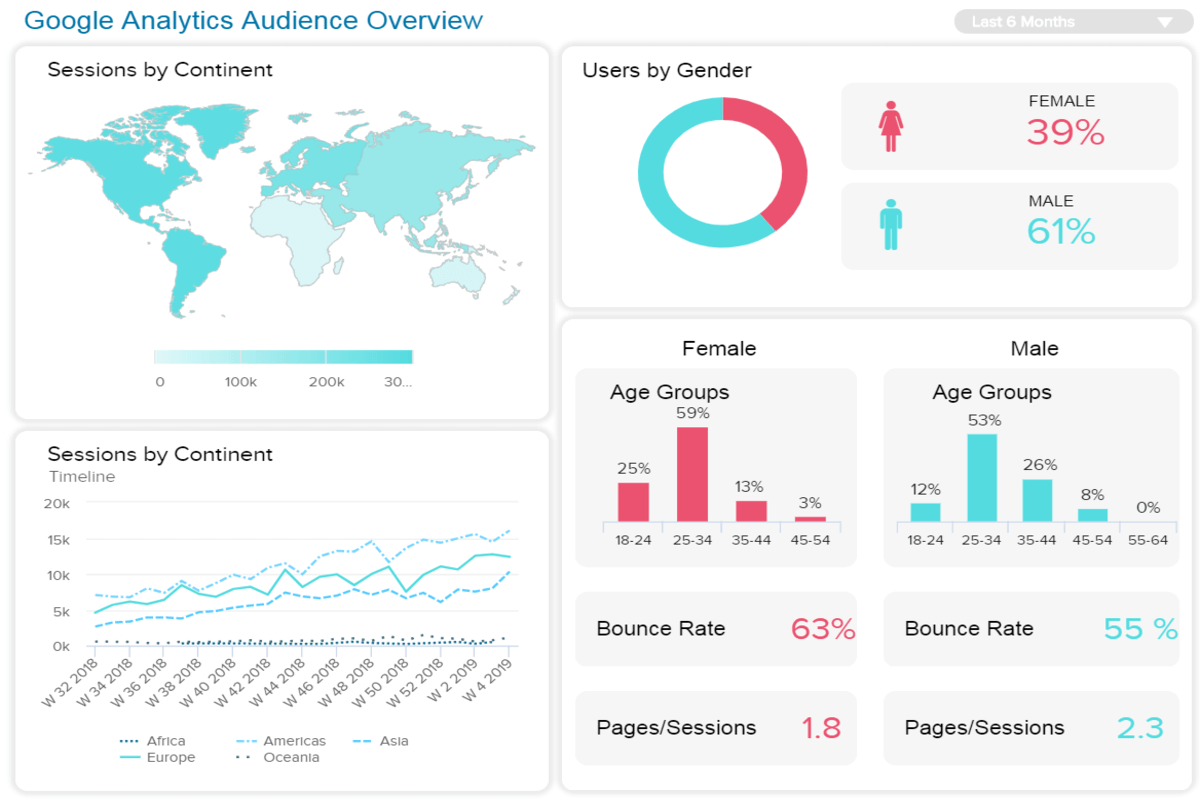 Google Analytics is incredibly popular, so it's not surprising if you've already heard about it. Still, it merits inclusion in the online marketing tools list because it's a top choice for most advertisers. It provides the necessary stats to help you evaluate your ad campaign's performance. 
The software is primarily a website traffic app, which tells you about popularity, visits, and engagements. However, don't discount Google Analytics as a mere traffic tool. This software offers more features that are all advantageous to your business. 
Perhaps you'll note that some of your campaigns are working well—you can use Analytics to examine what you did right and replicate it in your future campaigns. It's also easy to use and even easier to add to your browser. Lastly, Google Analytics is free—which is a plus for anyone who's saving a buck. 
MobileMonkey
MobileMonkey is an advanced chatbot software and messaging platform that helps businesses connect with customers better and improve their marketing strategies. It comes with a unified inbox where you can access all your messages from different social media platforms, such as Facebook, WhatsApp, and Instagram. MobileMonkey also provides web chat and SMS solutions, increasing customer traffic, lead generation, and sales conversion.
The software's most prominent feature is the Omnichat technology. It allows businesses to instantly communicate with clients across multiple channels. Omnichat also offers chatbot builders, chatbot analytics, chatbot blaster, and drip campaigns.
Aside from messaging solutions, MobileMonkey also integrates with various CRM tools to optimize your customer services. These include emails, event platforms, and customized newsletter templates. Moreover, the software helps in reducing lead generation costs while significantly increasing social engagements.
A free trial version is available for MobileMonkey. You can also opt for a free subscription with basic features, such as 1,000/month send credits, 1 user, and chatbot form widget. If you want to increase your send credits, users, and app integrations, you can subscribe to its three other plans: PRO at $19/month, PRO Unicorn at $49/month, and Team at $299/month.
MailChimp
Let's say your problem is with email marketing. It's giving you a headache every time you go over it. Or maybe it's not working as well as it should. 
Moreover, your email marketing seems unorganized, and people aren't responding to it. The worst is your competitors have already established effective email marketing campaigns, but you can't seem to figure out the way out of your woes. 
Look no further; MailChimp is the answer to your problems. 
MailChimp is one of the best tools you can use to implement your email marketing strategy. If you don't have one yet, it's probably best to start working on it now. In fact, many companies use MailChimp for their email marketing strategies. 
One advantage of this digital marketing tool is it's free for new users—at least to a certain extent. If your company has less than 2,000 subscribers and you don't send more than 12,000 emails per month, you're entitled to use MailChimp for free. 
Buffer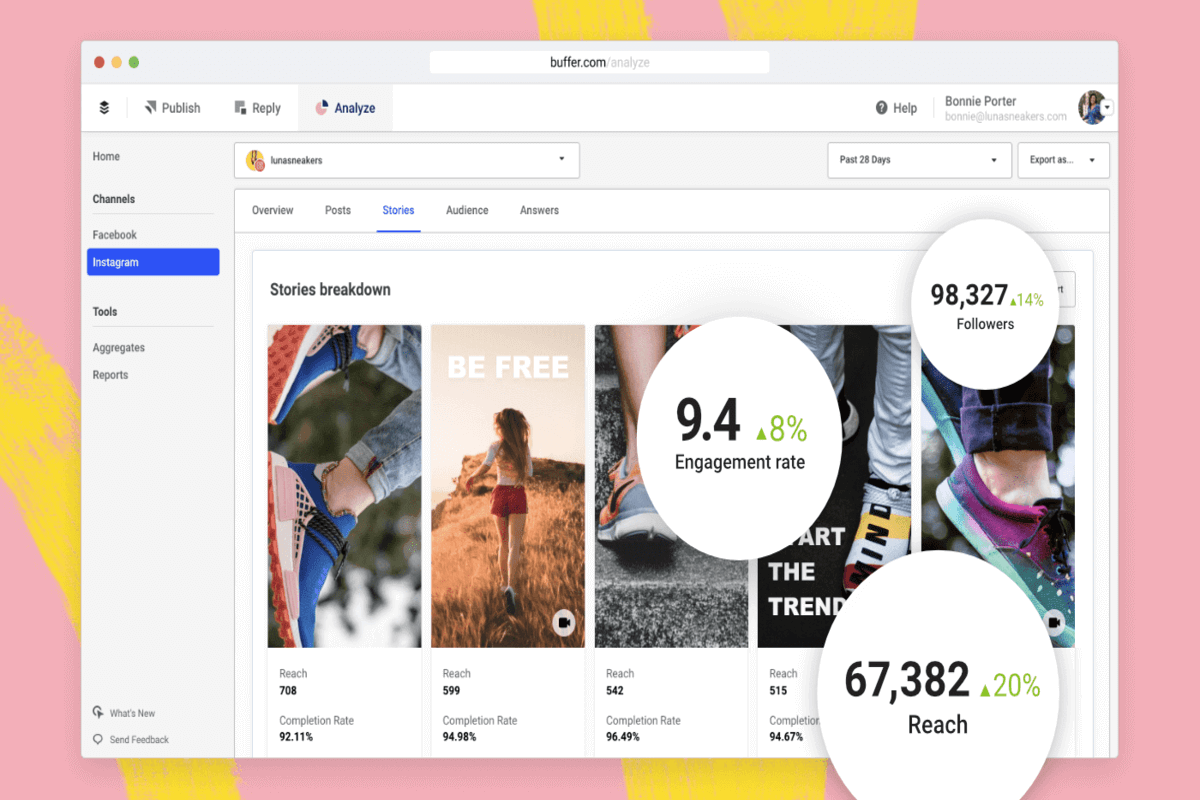 Buffer is a social media management software that has been one of the top choices of digital marketers for years. It features early planning and scheduling of social media posts, social media monitoring and analytics, and multi-accounts management in one place. The software also comes with a simple interface to provide a seamless experience to users. It aids in content and campaign planning through comprehensive analytics reports and suggested strategies.
Some of the social media networks that you can integrate with Buffer are Facebook, Pinterest, Instagram, Twitter, and LinkedIn. Overall, the software helps businesses increase their brand awareness, drive more customer engagements, and take their social media pages to a whole new level.
A free subscription is available with Buffer. It offers basic features, including the integration of three social channels and 10 scheduled posts per social channel. If you want to increase the number of linked social channels and scheduled posts, you can subscribe to Buffer's Essential plan starting at $6/month.
SEMRush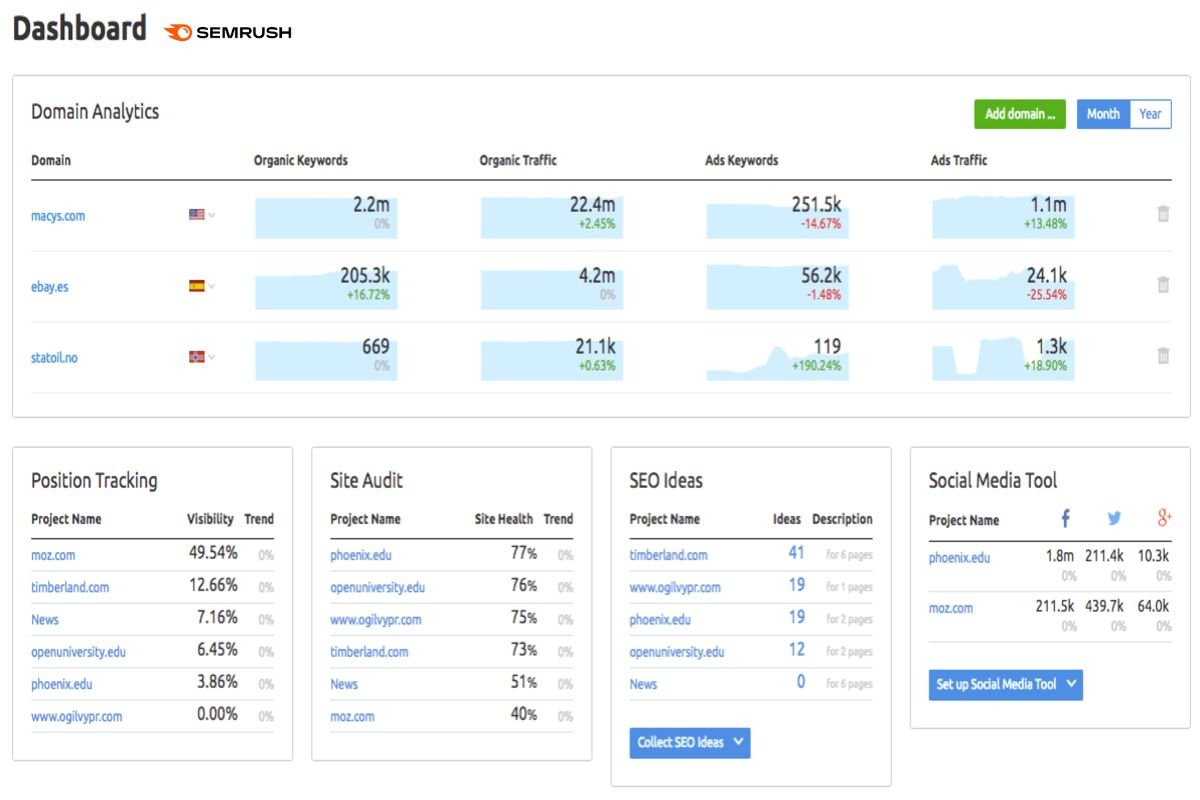 SEMRush is a digital marketing tool and SEO software that helps businesses understand their competitors' strategies, conduct organic advertising and research, and know the best-used keywords in their industry. It also aids in finding potential backlinks, content marketing, social media management, and SEO tracking.
The software comes with reporting and analytics tools to enable users to audit their SEO campaigns. It helps you keep track of your website's performance, check your rankings on search engine results pages, and track the position of your keywords. Moreover, SEMRush offers tons of keyword suggestions and ideas to optimize your blog articles and landing pages.
A free trial is available for SEMRush. Its Pro plan starts at $199.95/month with key features like five projects, 500 keywords to track, and backlink analytics. Guru and Business subscription plans are also available, starting at $229.95/month and $449.95/month, respectively.
Adobe Creative Cloud
Adobe Creative Cloud is a video editing and graphic design software that's highly recommended by digital marketers. It comes with three options: Photoshop, Illustrator, and InDesign. Whether you're a newbie or pro in editing, Adobe offers various editing tools to help beautify your content and deliver your marketing message effectively to audiences.
You can edit images, collaborate with team members, publish print layouts, and manage PDF documents.  The software is also accessible on mobile or desktop. It's a bit more powerful than its online cousin Adobe Online Photo Editor.
Adobe Photoshop allows users to edit text and vector graphics, add text to images in multiple layers, and even create 3D graphics. Meanwhile, Adobe Illustrator is a drawing program based on vector graphics. It's useful for creating complex illustrations, such as icons, logos, and infographics. Lastly, Adobe InDesign is a page layout tool for creating magazines, newspapers, ebooks, brochures, and other print and digital materials.
Adobe Creative Cloud comes with a 7-day free trial and is offered across three pricing plans. The cheapest starts at $19.99/month for students and teachers, and the most expensive subscription is at $79.99/month for businesses.
Ahrefs
If you're concerned about SEO, Ahrefs is one of the top options in the arena. It can punch up your SEO standing and improve your advertising strategies. 
However, Ahrefs isn't free. The lowest pricing starts at $99 and goes up to $399. But it's still relatively cheap if you consider the other options available on the market, which is why it makes sense for a newbie to consider this tool. 
Again, Ahrefs is mostly useful for SEO competitive analysis. This includes knowing who linked to your competitors' pages, how many visits you received, and your marketing statistics. You can also identify weak areas for yourself and top areas for your competitors, allowing you to target SEO areas where you need them most. 
Lastly, Ahrefs allows its subscribers to see traffic on their competitors' websites and who gets the most traffic for a topic. Plus, the interface is great and easy to use. 
Trello 
A common failure among digital marketers is to keep tasks and communications organized. And we all know that it's a whole different game from traditional marketing. You can't personally meet with others, and video conferencing may not work for all organizations. With the pandemic still prevalent worldwide, people are on the lookout for a virtual team meeting place without the hassle of calling or emailing. 
Fortunately, this is Trello's niche. It might sound like a new service, but it's actually quite old. However, the concept remains as relevant and vibrant as ever. 
Trello's main draw is that it allows you and your team to interact with each other online. It's beneficial if you find your system organizationally challenged. 
While email may have been the preferred way of communicating professionally with your team in days past, Trello is becoming a leader in the area. It offers amazing features that aren't available on other services. 
For example, you can share a post on your board and ask your team to weigh on it before publishing. There's no need to individually email the post to your team members, making it convenient and time-saving. 
Trello also allows multiple people to comment on a post. Think Facebook, but for online marketing. You can see your team's input on how it will play out or hear their concerns about it.
Hootsuite
If you're not marketing on social media, you're behind. That's just a fact. Social media is one of the biggest community drivers, and online advertising is becoming more of a necessity than an option. 
With that in mind, social media advertising can be complicated, too. Everything is calibrated to perfection and to ensure ultimate success. So, how do you go about it? Hootsuite is one tool that you can use for social media marketing. 
For example, you can schedule posts on your social media accounts using Hootsuite. And you're not limited to just one platform—you can use the software for up to 30 social media networks! It's great for ensuring that you have a clear and uniform message on all your online brand platforms. 
Regarding communications, Hootsuite offers more than scheduling posts. Say you need to reply to comments across different platforms. There's no need to visit each one individually—the comments will show up on your Hootsuite dashboard, and you can reply to them there. You can also use pre-made responses to make sure that your replies are professional-sounding and uniform. 
Lastly, if you want to try influencer marketing, you can use Hootsuite to identify your brand's top influencers. 
So, what's the best digital marketing tool for your business?
Digital marketing is still worth it in 2022. And to ace the online world, you need to know your strengths and edge over your competitors. Knowing the best digital marketing tool for your business is one thing—using it to your advantage is the most critical part.  Also, you may try your hand at influencer marketing software. You can read our Hashoff review to get you directly started at online collaborations.
If you're already using some of the digital marketing tools and techniques listed here, kudos to you. But if you're still new to them, don't be disheartened. You have to start somewhere at some point. With this handy guide, you'll have a clear idea of what are the best digital marketing tools for your business and how you can utilize them. Also, check out influencer marketing software reviews to get to know other helpful solutions.
If you're specifically venturing into influencer marketing, you can check our post about "Top 20 Influencer Marketing Software Tools in 2020."