What is a WAV, and why would you want to convert YouTube videos into WAV? WAV stands for Waveform Audio File Format, a project jointly developed by Microsoft and IBM. It is an audio file standard for storing digital audio on your PC. The format was originally based on the Resource Interchange File Format (RIFF), a bitstream format for storing audio data in 'chunks.'
Now, why would anyone want to convert YouTube to WAV? Perhaps you have a video with a beautiful soundtrack to go with it, but you don't want to watch the video all the time; you want to listen to its audio. This is where YouTube to WAV converter comes into the picture. And in this post, we will show you ten of the best software you can utilize in 2023.
Top 10 Best YouTube to WAV Software
When you convert YouTube to WAV, you convert a video into a raw, uncompressed audio format for editing or mixing purposes. This type of format stores info about your audio file, including its sample rate, bit rate, track numbers, and audio data. The converter is commonly used when you want to extract music or speech from video files that were uploaded on YouTube.
This format is also your best choice for loops processed with Flash when creating web animations. Frankly, the best audio format for downloading YouTube movies is MP3 since this takes up significantly less space compared to WAV. However, if you want superior sound quality, the WAV file format is still the best way to go.
If you're wondering if it's difficult to convert YouTube to WAV format, it's pretty easy. All you have to do is paste the video link in the search bar, then click on convert. Next, the software will give you options to select the audio format as well as the video quality. There is also some software that let users cut the files specifying their start and end time. With that said, here are 10 of the best YouTube to WAV software you can check out.
YTD Video Downloader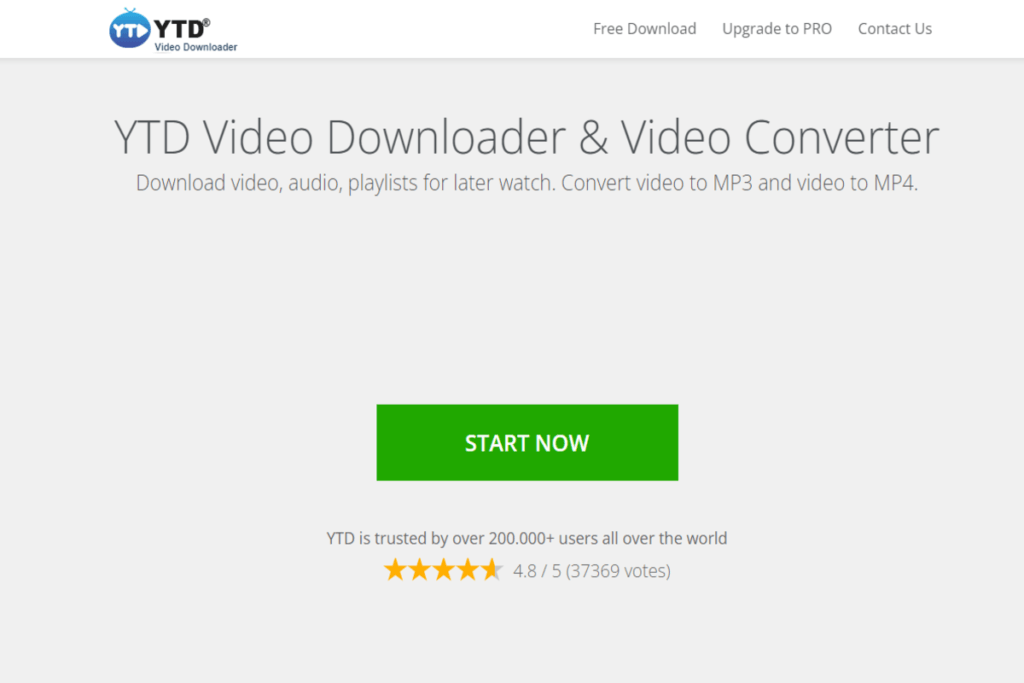 With YTD Video Downloader, you can download entire playlists from streaming sites and convert your videos to 3GP, MP4, MPEG, and even AVI. You can also download 8K, 4K, 2K, High Definition 1080P videos from major video streaming sites and then watch them on your PC or phone. Internet connection failure is not an issue since it has automatic resume and retry features.
This software's interface is super easy and intuitive. Just copy and paste your chosen video URL, then click on the Download button. YTD Downloader gives users ultra-fast download and conversion speeds. Furthermore, YTD Video Downloader PRO lets you download unlimited videos and playlists, which you can access even offline. It has an advanced panel where you can monitor the video downloader and video converter activity. You can also download multiple videos simultaneously.
YTBTO
The YTBTO only takes a few seconds during the conversion process, and your video will be ready in no time. It gives you high-quality WAV formats (720p, 1080p, etc.) and gives you HD-quality file formats free. No registration or subscription is required when using this tool, so it's super convenient.
Unlike many similar and free software that makes you watch annoying ads during the conversion process, this WAV converter lets you download and convert videos without any disturbance. Furthermore, YTBTO is updated regularly to ensure no bugs or viruses during the conversion process for optimum performance.
Wondershare Filmora 9
Wondershare Filmora has a split-screen functionality that allows you to play video and audio simultaneously from a single interface. It has an audio equalizer to ensure tuning follows the requirements. A text editing advanced functionality lets you also mention the text onto your converted video. The program's UI is graphical, which makes it super easy to use, thus generating a 9.5 score from independent reviews based on its functionality. Multiple conversions can also be made simultaneously without worrying about losing quality.
So if you need lossless compression using an easy and efficient operation, then Wondershare Filmora is the way to go. As long as you use quality-embedded service, you can never go wrong.
WinX HD Video Converter Deluxe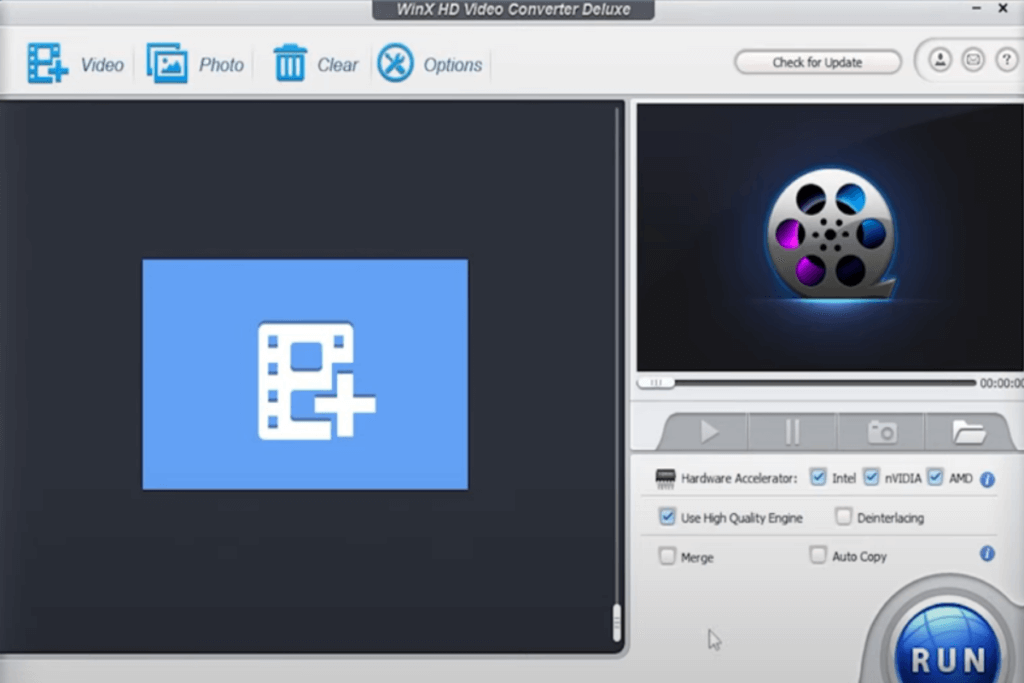 With WinX HD Video Converter Deluxe, you can convert any video format with the perfect speed and quality balance. It can convert videos in batches from specific devices. Some of the most popular video inputs and outputs include AV1, HEVC, M2TS, H.264, MP4, MKV, AVI, WMV, and MP3. It also has the following features:
Transcode HEVC, 4K 60fps mobile videos for any devices
Process UHD, 240fps, slow-mo clip from GoPro/DJI/YI
Compress 4K HDR10, cut long videos shot by DJI, Parrot
Smoothly support high-res uncompressed & raw footage
Convert video in AVCHD, DV&HDV, MPEG2, MOV, etc.
Merge, split, and enhance videos from CCTV, IP/dash cams
Support videos stored in PC, tablet, USB, SSD, HDD, etc.
With this video converter, less is more! Users can trim the video highlights. Just move the 2 markers to select the clip's beginning and end. Cutting the video to shorts is also faster than ever while uploading on your socials, such as YouTube, Facebook, Instagram, and more.
VideoProc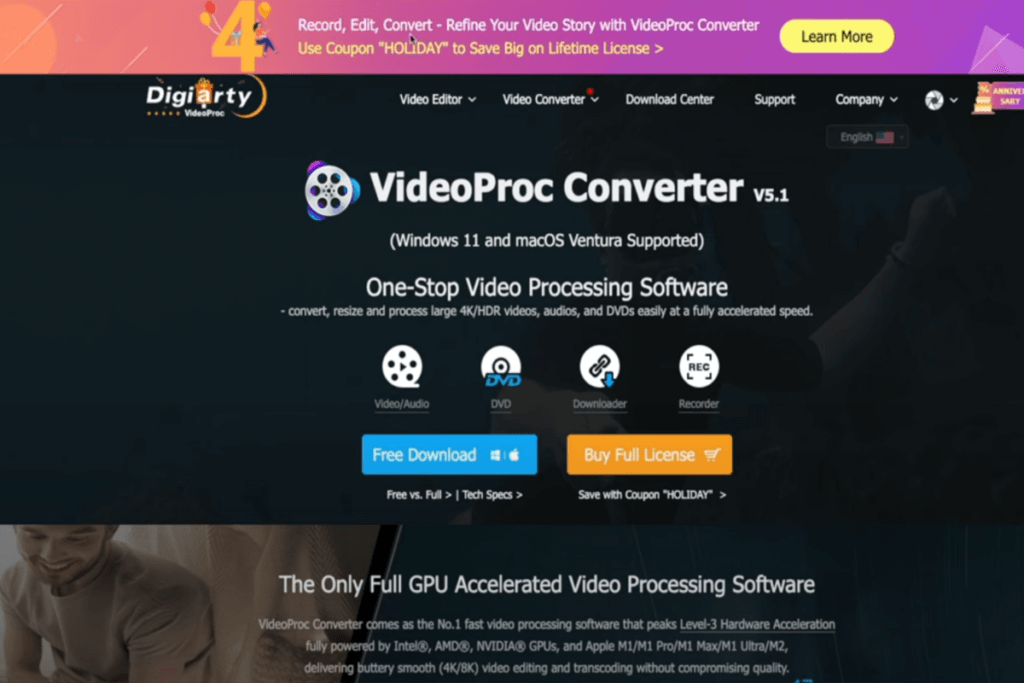 VideoProc is one of the best video processing tools ever found, powered by a Level-3 hardware acceleration. It will accept 4k videos from GoPro, DJI camera, or mobile and will give you different alternatives for converting, resizing, splitting, trimming, cropping, rotating, denoisifying, stabilizing images, and adding effects. When compressing 4K or HD videos, it reduces file size by up to 90% without sacrificing quality.
VideoProc supports batch downloading up to 1000 videos. Now you can get the full channel or playlist. Either record YouTube Live now or allot a time for later. You can also capture computer screens or scenes with your webcam and make a picture-in-picture video for your uploads.
This is your ultimate media solution for multiple purposes. Share on your socials, such as Youtube, Facebook, Instagram, Twitter, Whatsapp, Snapchat, and more. You can also choose to upload to dropbox, email, store in NAS, Google Drive, or transfer to your mobile devices.
SaveTheVideo.Com
SaveTheVideo.Com is totally free since they use ads to cover the costs of running and maintaining the service. It supports many websites, and to check if it is supported, you can check their page for the complete list of sites or search them by name.
It works online. Therefore, all the operating systems are supported, such as Windows, Linux, macOS, Android, and other systems that can connect to the internet and download files. However, they only support modern browsers to ensure users get the best experience. So it's best to download and install the latest version of your favorite browser before using this service.
Users can cut and trim their video and audio files by clicking on the Cut File switch button next to the download button. From there, you can choose the beginning and ending time to cut your file. But don't limit yourself to knowing how to download, convert, or trim your content. Optimize them across all social media platforms using an efficient social media software post scheduler to help you save time while updating your social handles. Read more from our Postcron review.
MiniTool uTube Downloader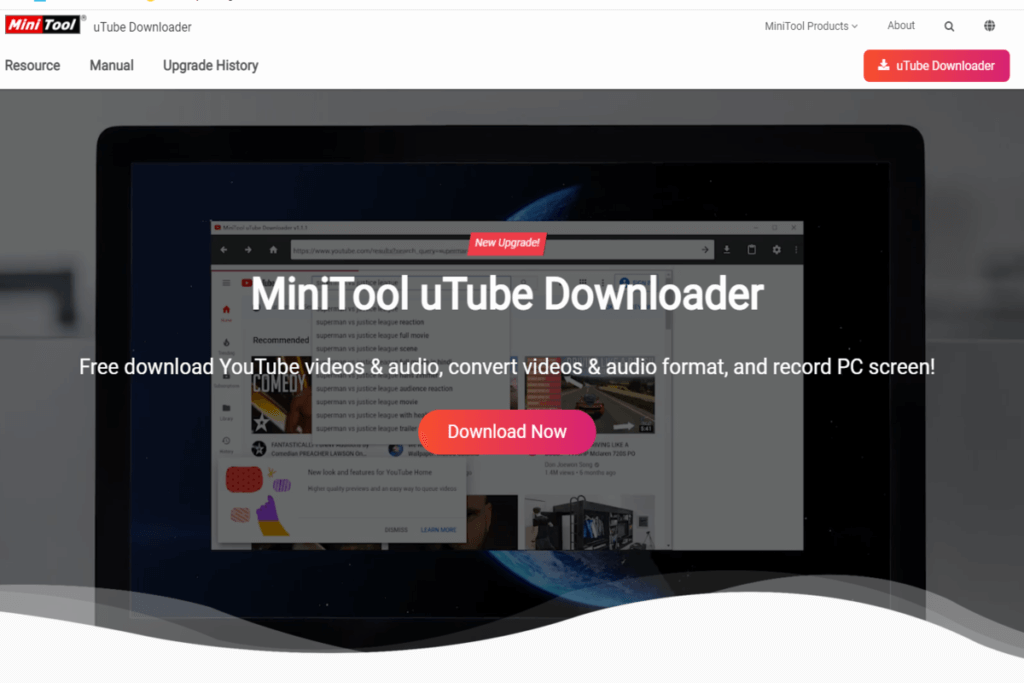 With MiniTool uTube Downloader, you can now download YouTube videos and audio, convert videos and audio format, and even record your PC screen. This is another free, no ads and no bundle YouTube downloader where you can download YouTube audio, videos, and subtitles and convert them to high-quality MP4, WebM, MP3, and WAV.
Record everything that happens on your screen with HD quality. It can support various output formats such as MP4, MKV, AVI, WMV, FLV, MOV, and TS. You can also convert multiple video and audio files in bulk simultaneously. It can support importing all major digital video/audio file formats and lets users edit over 1000 output formats easily.
The software supports Windows 10, Windows 8.1, Windows 8, and Windows 7. Users need Intel Core i5 or better, 2GHz+. For your GPU, you need Intel HD Graphics 5000 or later, NVIDIA GeForce GTX700 or later, and AMD Radeon R5 or later. You need at least 4GB of RAM and at least 1GB of free space for optimum performance.
Leawo Prof. Media
Leawo Prof. Media is your ultimate media solution suite for converting videos, Blu-rays, DVDs, and 4K/UHD Blue-rays. You can also copy 4k UHD Blu-ray/DVD movies and remove Cinavia and other protections. Burn DVD/Blu-ray/4K Blu-ray from videos and images, edit videos, DVDs, Blu-rays, and 4K Blu-ray, together with media editing, media playback, disc menu designer, and other features.
It also includes other bonus features for improved user experience. Now you can retain needed subtitles, audio tracks, and video angles. Users can also determine the burning engine and region according to their preferences. Its attached camera function on its built-in media player lets you take screenshots and save them in PNG, BMP, or JPEG formats.
Leawo Prof. Media can easily decrypt discs using advanced technology and has a multi-lingual program interface including English, Japanese, German, Chinese, Traditional Chinese, Spanish, Russian, French, Dutch, Portuguese, Italian, and Danish. It also comes with NVIDIA CUDA, AMD, APP, and Intel Quick Sync GPU accelerating technologies. This could speed up your disc reading, loading, and processing up to 6X faster.
iTube Go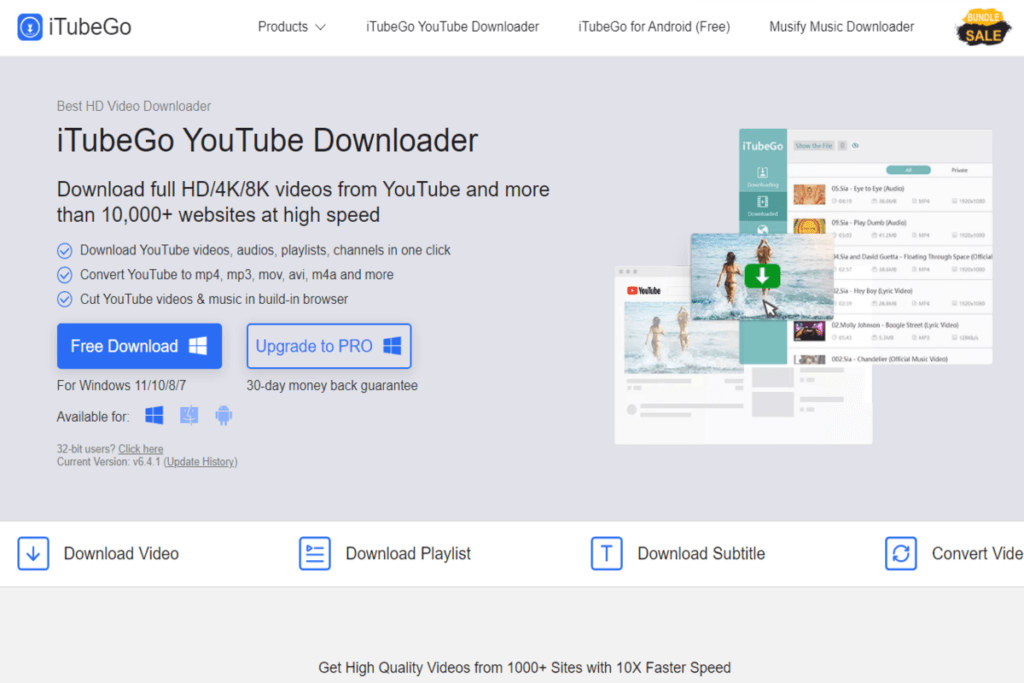 Download music and videos with ease with iTubeGo YouTube Downloader. Now you can download videos from YouTube, Instagram, Facebook, Vimeo, Dailymotion, and more. It gives users various SD and UHD video quality options, including 480p, 720, 1080p, 2K, 4K, 8K, etc. You can also extract audio from video and save it in high-quality 320kbps MP3 format.
Its multithread technology maximizes your bandwidth and CPU to improve download efficiency without affecting your computer's performance. Its turbo-fast mode also gives you a faster download speed. So even if it's a two-hour video, it will only take a couple of minutes.
iTubeGo's built-in browser makes it easier for users to browse video and music sites. Now you can download your favorite videos directly within the website, eliminating the need for copying and pasting video URLs. Moreover, their easy-to-use YouTube Cutter lets you get a part of YouTube videos for your social media channels such as Facebook, Instagram, TikTok, or Whatsapp. Start and end the video's time, click "Cut" to download, then convert it to a video file, mp3, or m4a audio of the given length.
Freemake Video Converter
This is another free video converter tool for extracting videos from DVDs, Blu-ray discs, and other online video platforms. Just paste your video URL or add videos stored in your local drive. Freemake Video Converter also has some of the best tutorials, like converting YouTube videos to iTunes, Converting MP4 to MP3, and How to Cut Videos Fast and Free. The software creates iOS-compatible videos and sends the converted files automatically to iTunes. You can also send DVD videos to iTunes using its free DVD ripper software.
MP4 videos can now be easily saved into audio files or extracted sound from video clips. The program encodes the files with the highest bit rate of up to 320 kbps. How about deleting unwanted video parts from your video files? You can also do this with the Freemake Video Converter, and the process is quick. Just make sure you convert your video file to save the changes.
On Looking for the Best YouTube to WAV Converter
These are just 10 of the best YouTube to WAV converter apps currently available. For those who wish to read more reviews about other alternatives, you can check out resources such as YouTube to WAV converter Reddit. There are many discussions about the impact of this helpful tool, like how it can improve the reach of a podcast of content creators, for instance. Speaking of reach, there's no better time to get social media software to help you schedule and automate your content. To learn which one best suits your needs and budget, check out our Publer review.
Your research needs to go beyond knowing the best apps like YouTube to WAV Converter — there is truly a vast collection of free, helpful apps that will allow you to convert YouTube to WAV. At a time when you can get virtually anything paid or completely free, the trick is finding the perfect balance between the two.
For more tips and tricks on improving and monetizing your content as a creator, check out our post, 7 Tricks to Drive Traffic to Your YouTube Channel.