Influencer marketing has been making an online buzz for more than a decade now. As advertising becomes more digital, marketers are also working hard to elevate their marketing strategies. We all know that influencers or creators play a vital role in influencer marketing programs. However, managing your campaign performance and collaborations may be challenging.
Are influencer marketing software tools the best solution? Let us walk you through the features and benefits of such platforms by presenting the top 20 influencer marketing software tools in 2020 as determined by our experts.
Top 20 Influencer Marketing Software Tools in 2020
There are two main methods of overseeing your influencer campaigns: in-house efforts with the help of digital software or outsourcing an influencer marketing agency. Each of these has its own advantages. In this article, we'll focus on the highly-rated influencer marketing tools and the functions and benefits of each software. We'll also look at some influencer aspects that might be helpful to your brand. But first, let's brief ourselves on what influencer marketing software is all about.
What is Influencer Marketing Software?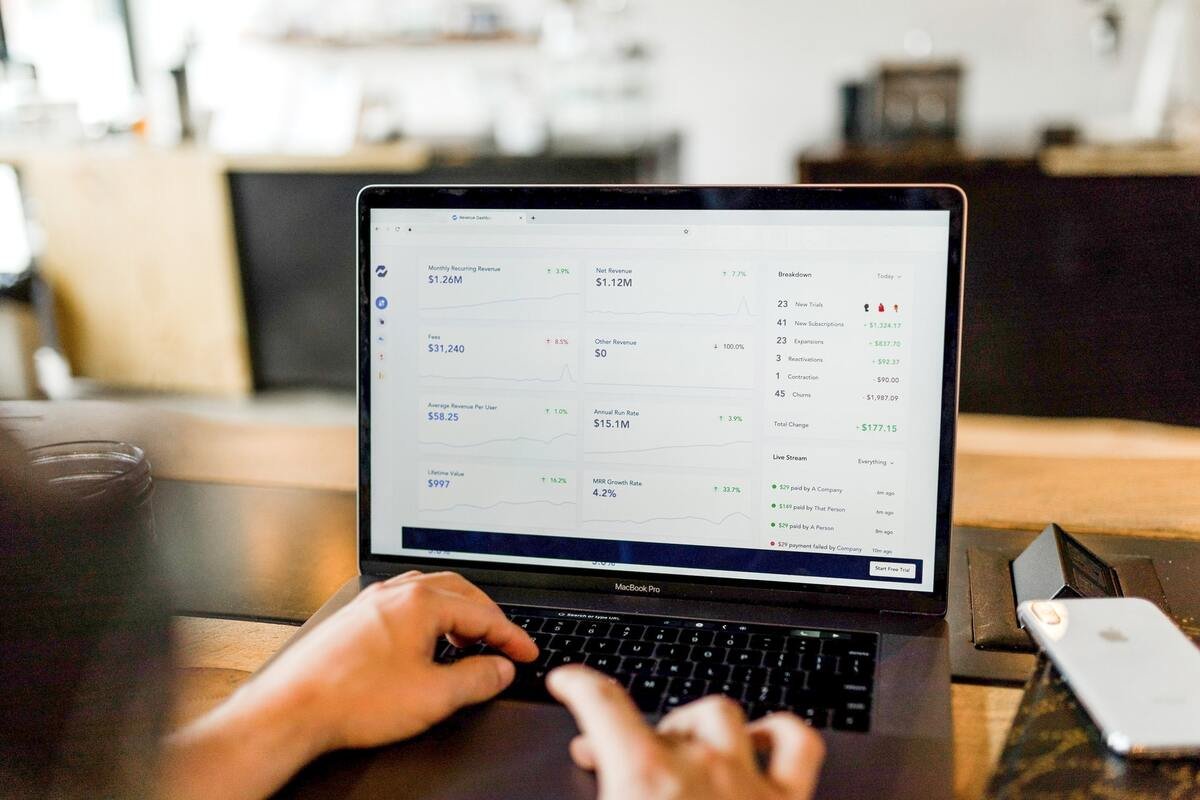 Influencer marketing software or platforms are online tools designed to help brands in their influencer programs and interact with social media creators. These platforms benefit both influencers and businesses by providing connections and campaign management functions. To use the influencer tools, your business needs to sign up for an account.
From there, you can discover and communicate with influencers and filter your searches according to different criteria. Creators can also find your brand on the platform and reach out to you. Apart from connection, influencer marketing platforms also offer third party analytics, influencer marketplaces, and content amplification.
What Companies Use Influencer Marketing?
Influencer marketing is best for any company that wants to be in full control of its marketing strategies and campaigns and wishes to find variations in its in-house promotions. Whether your organization operates in the top niches of influencer marketing, you can always find creative ways to merge influencer campaigns in your advertising strategies and use them to your business' advantage.
Social Media and Influencer Marketing
Which social media channels are most important for influencer marketing? While it's essential to know the trending niches in influencer marketing, businesses should also determine the best social media platforms for influencers.
[visualizer id="1901″] Source: mediakix.com
Facebook may be the largest social media site, but Instagram is considered as the best social media platform for influencer marketing. Instagram provides extreme engagement – it's simple, visual, and attractive to younger generations than other social platforms. According to an Omnicore Agency report, 70% of Gen Z shoppers turn to the site for product discovery, while 69% of marketers plan to create a sole budget for Instagram influencer marketing.
Who are the top 10 Instagram influencers? You can check Influencer Marketing Hub's social media survey to see the top Instagram influencers in 2020. As we all know, the majority of Instagram influencers are celebrities. However, they may not efficiently work for all brands. It depends on your business needs, niche, and focus on promotion.
You can be more specific to achieve desirable results. Say, you're advertising for your new cosmetics collection. You can type on the web: who are the most popular beauty influencers? Or you're looking for creators to promote your hotel. You can search for influential travelers on Instagram through relevant hashtags.
Best Influencer Marketing Software to Boost Your Campaigns
There are more than 100 influencer marketing tools available online, but we've listed the 20 highly-rated software based on reviews, score, popularity, and customer satisfaction. Data are extracted from trusted influencer marketing review sites, including G2 Crowd, GetApp, and Capterra. Read below and see what's best for your marketing campaigns.
Hashtag Paid or #paid
"Things are seamless, easy, and fun when working with Paid."
If you have trouble organizing your campaign, Hashtag Paid is the app for you. Paid has a very organized platform that contains all the information in one place. You can do almost anything on the app – from getting matched with the right creators for your brand to launching creative campaigns and tracking your success. Plus, #paid is safe and easy to use. Not to mention, the price is reasonable – you can choose from three different subscription plans and get a free trial. Lastly, payments on Hashtag Paid are timely, and communication is friendly. The platform has a dedicated and highly responsive account manager who will assist you throughout the entire process.
Entry-Level Price: $299
Tribe Dynamics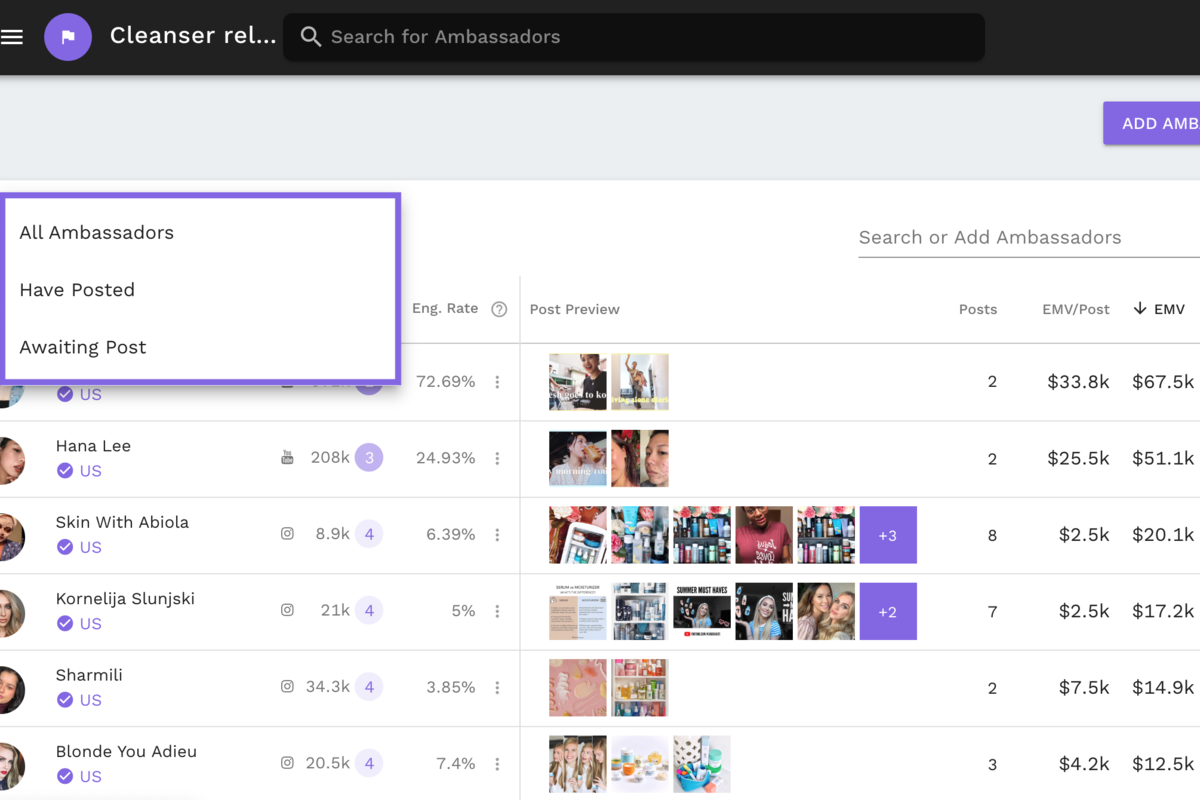 "Saved me a lot of time, and it's a reliable platform to measure and track social media coverage for your brand."
Tribe Dynamics is the perfect platform for optimizing and tracking your campaign performance. The app solves common problems, including relationship management, analytical reporting, engagement strategies, and influencer visibility. With Tribe, you'll be able to track your influencer's performance and campaign ROI. Tribe also provides industry reports that help brands see how their competitors are performing and create new tactics. If you want to stay ahead of the game, choose this platform.
Entry-Level Price: $1,500/month
Dovetale
"Most efficient and user-friendly platform – super helpful and easy to understand."
Dovetale is the most affordable way to optimize and scale your influencer marketing. It helps you efficiently organize your campaign and communicate with influencers. Dovetale's search tools are also easy to use, and you can track your campaign's progress through its helpful analytical tools. The catch? Dovetale proactively sends a video the moment you sign up so you can better understand how the software works. Plus, they have excellent customer service!
Entry-Level Price: $99/month
Mavrck
"Gives the ability to streamline everything needed to construct a successful influencer campaign."
Mavrck is best known for its ease of use, support quality, and easy setup. The software provides an enjoyable experience – from choosing influencers to making negotiations, and execution and payment. Mavrck also provides in-depth statistics and coverage of your campaign performance. It offers an extensive library of social influencers that could be a match for your brand, and the filter/search process is simple and easy. Businesses using Mavrck have reported that they've seen a growth in their followers, and their engagement rate was remarkable.
Entry-Level Price: Contact Mavrck to obtain current pricing or get a custom quote.
GRIN
"Gave our influencer program more professionalism, and we get a lot of requests for partnerships."
GRIN is best designed to create an authentic connection between brands and influencers. It provides in-depth reporting tools and proper revenue attribution that help measure the success of your campaign. The platform is favorable to users who like to create various programs for product launches and maintain strong connections with influencers. If your brand is working on several projects and different creators, this software is the most suitable for you. It keeps everything up-to-date, especially your influencer's activities and performance. Tagging is also available on this platform, so you can avoid mixing up your projects.
Entry-Level Price: Contact GRIN to obtain current pricing or get a custom quote.
Popular Pays
"Popular Pays is the future of marketing!"
Like any influencer marketing platform, Popular Pays enables brands to create campaigns, work with creators, and extract analytical reports all in one place. What makes it distinct is the way you engage with influencers and track your campaign's progress. Users mostly love the direct messaging system of Pop Pays – you can collaborate 1:1 with your chosen influencers and build more authentic relationships. The software also shows the status of your content creation: reaching out to the content creator, product delivered, awaiting content, etc. You can never get lost with Popular Pays, plus you get to enjoy amazing content from the best creators!
Entry-Level Price: Contact Popular Pays to obtain current pricing or get a custom quote.
CreatorIQ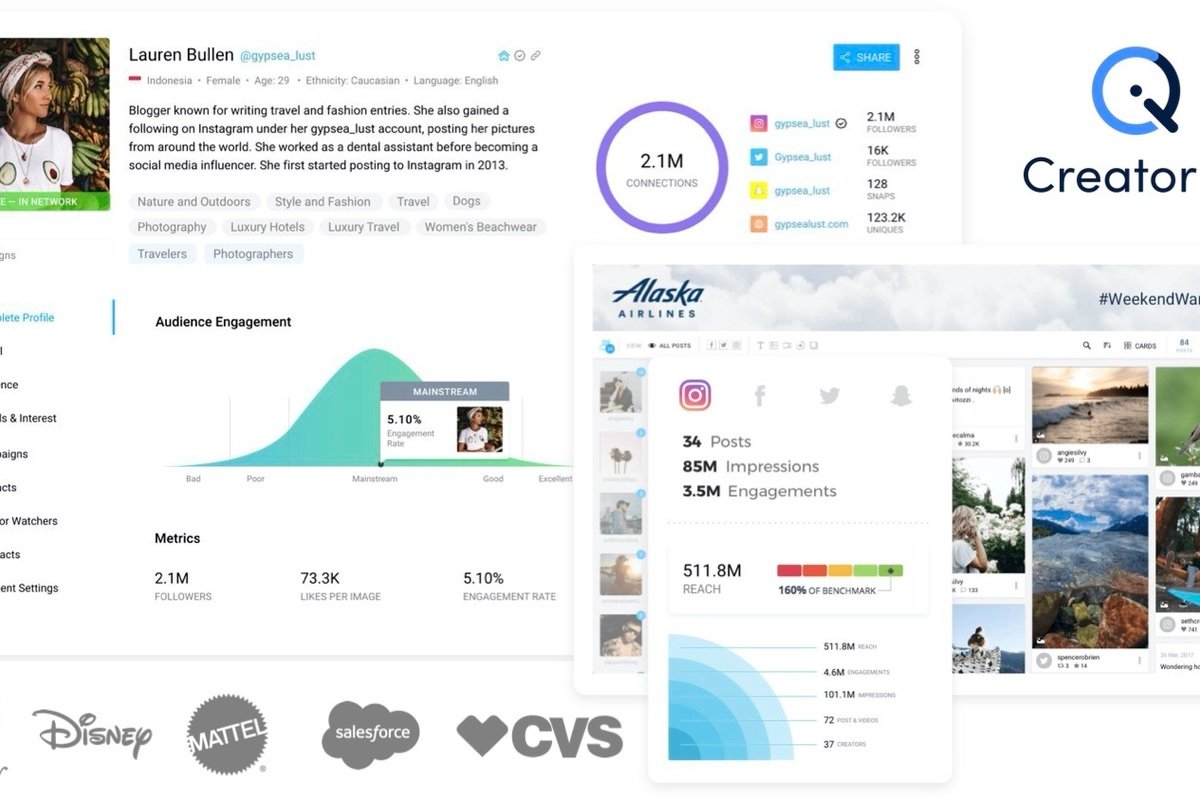 "Simple, modern, visually attractive, and intuitive interface design."
CreatorIQ is the leading influencer tool for global companies like Unilever, AirBnB, Ralph Lauren, Disney, and more. It provides high-quality customer service, excellent metrics and data analysis tools, and an extensive database of creators. CIQ also offers amazing features, including personalized templates, status changes, and mass send-outs. It's an excellent tool for sharing insights with teams and influencer options. What's the best thing about CreatorIQ? It presents not only campaign metrics but also social analytics to help you find the perfect influencer for your brand.
Entry-Level Price: Contact CreatorIQ to obtain current pricing or get a custom quote.
Influencity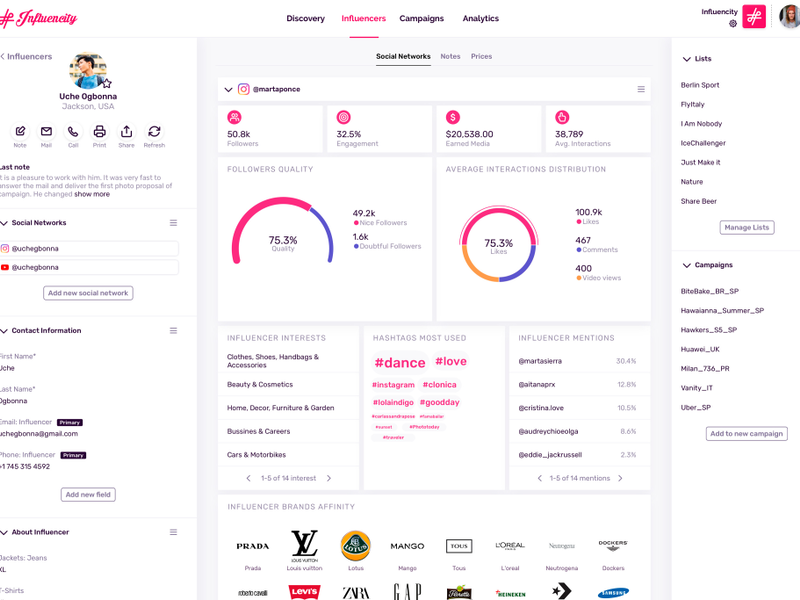 "Very simple tool to use but full of valuable data."
The best feature of Influencity is its accurate and realtime tracking of API data from Instagram. This is exceptionally useful if your brand is focusing on Instagram influencer marketing. You can also easily compare and evaluate creators in Influencity, get them in the loop, and see their data. Above all, the software is a great toolset for influencer follow-up and reporting, and it offers a free trial. If you find it hard working with suitable creators for your campaign, Influencity is all that you need!
Entry-Level Price: Contact Influencity to obtain current pricing or get a custom quote.
Trend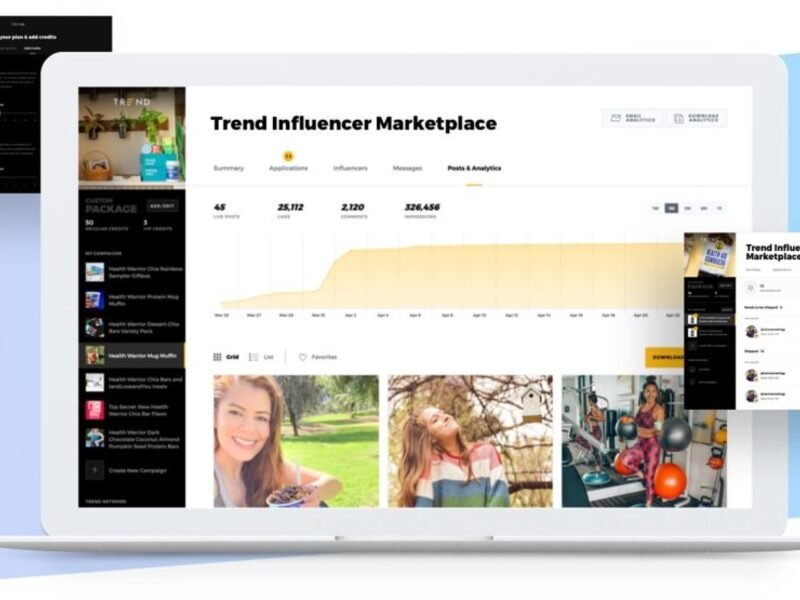 "Easy to use and has a database of great content creators."
If your primary goal is to create high-quality user-generated content, Trend has got you covered. The platform is best known for having responsive and first-rate content creators. All interactions are done within Trend—from reaching out to an influencer, coordinating sponsorship fees and details to keeping track of their posts, etc. Several brands have claimed that they are getting gorgeous content from Trend influencers and fair rights to the marketing material produced. The catch: it's easy to find influencers for your brand, but it's rare to find one that has excellent values. Hop on Trend, and build lasting relationships!
Entry-Level Price: $100/campaign
Cohley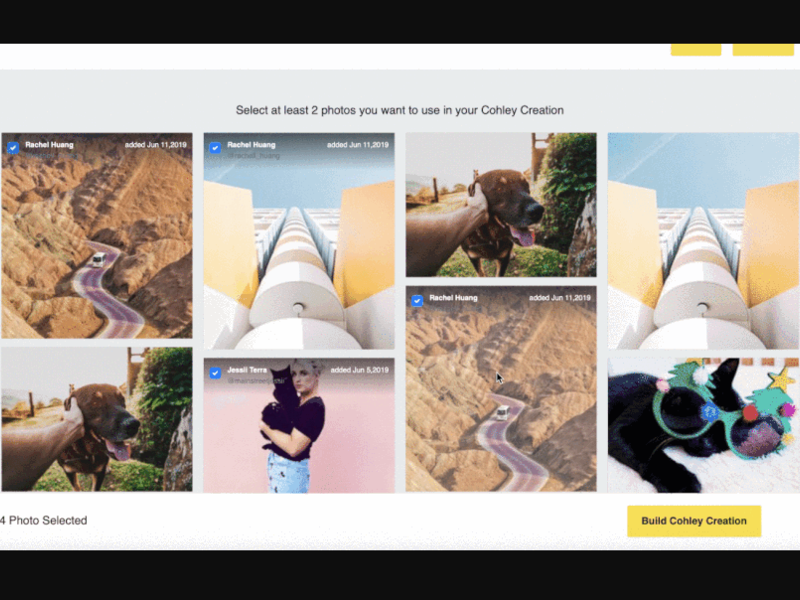 "Makes content curation a breeze – a game-changer for brands!"
Most influencer marketing software assists with campaign and influencer management, but Cohley specializes in content creation. The app helps you scale your content strategies—video, photo, text creation—and improve your digital performance. You get to work with diverse and highly-creative influencers, plus a very responsive team. Cohley also sends important notifications so you can monitor your campaigns without having to check the platform from time to time. Content is an essential asset for a brand, and Cohley exactly knows that.
Entry-Level Price: Contact Cohley to obtain current pricing or get a custom quote.
Captiv8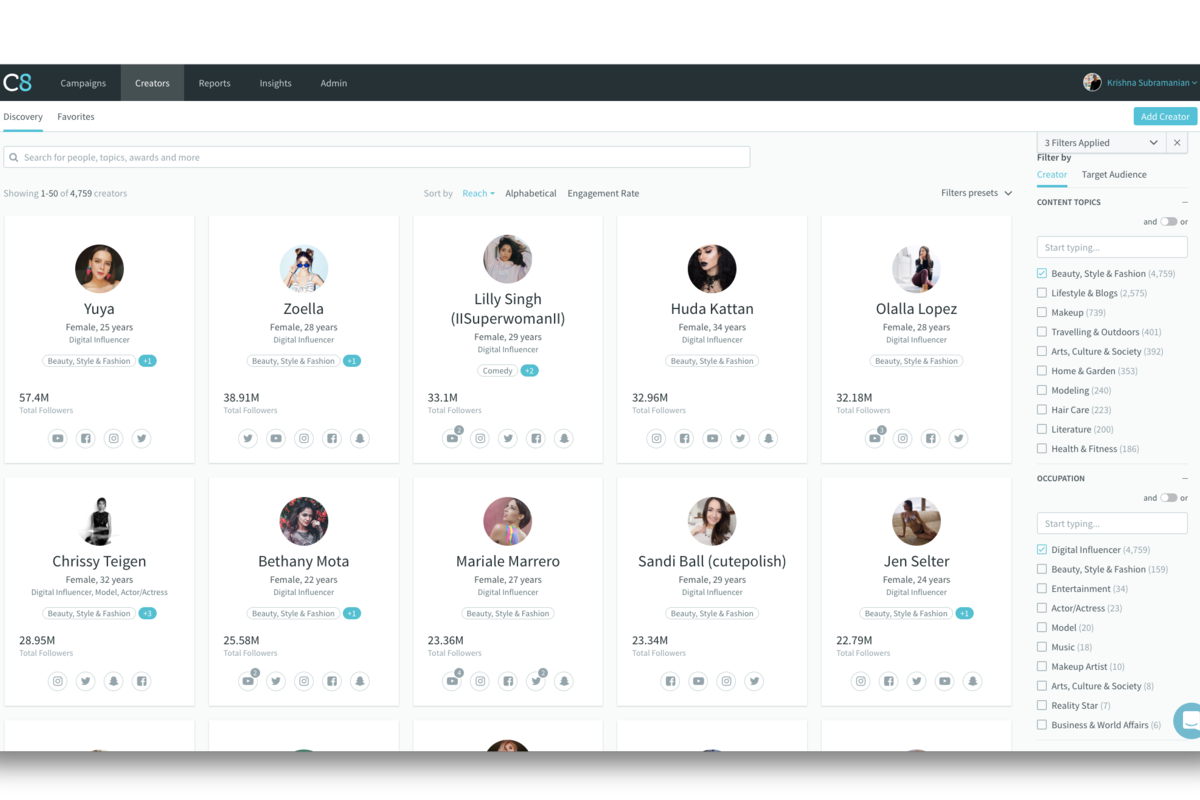 "Love the ease of managing talent lists, updating talent information, and capturing campaign elements."
Captiv8's core feature is its Insights, a social listening tool that connects with real-time audience across different social media platforms. This software is ideal for B2B transactions and for businesses that belong to the health, marketing, and fashion industries. Captiv8's social listening tool allows brands to find specific influencers that match their niches and needs. Just double-tap on a creator's profile, and you'll get a summary of the products they promote or are interested in. Overall, Captiv8 makes the entire workflow intuitive and enables you to promote your posts within the same dashboard on Facebook, Instagram, and other social sites.
Entry-Level Price: Contact Captiv8 to obtain current pricing or get a custom quote.
AspireIQ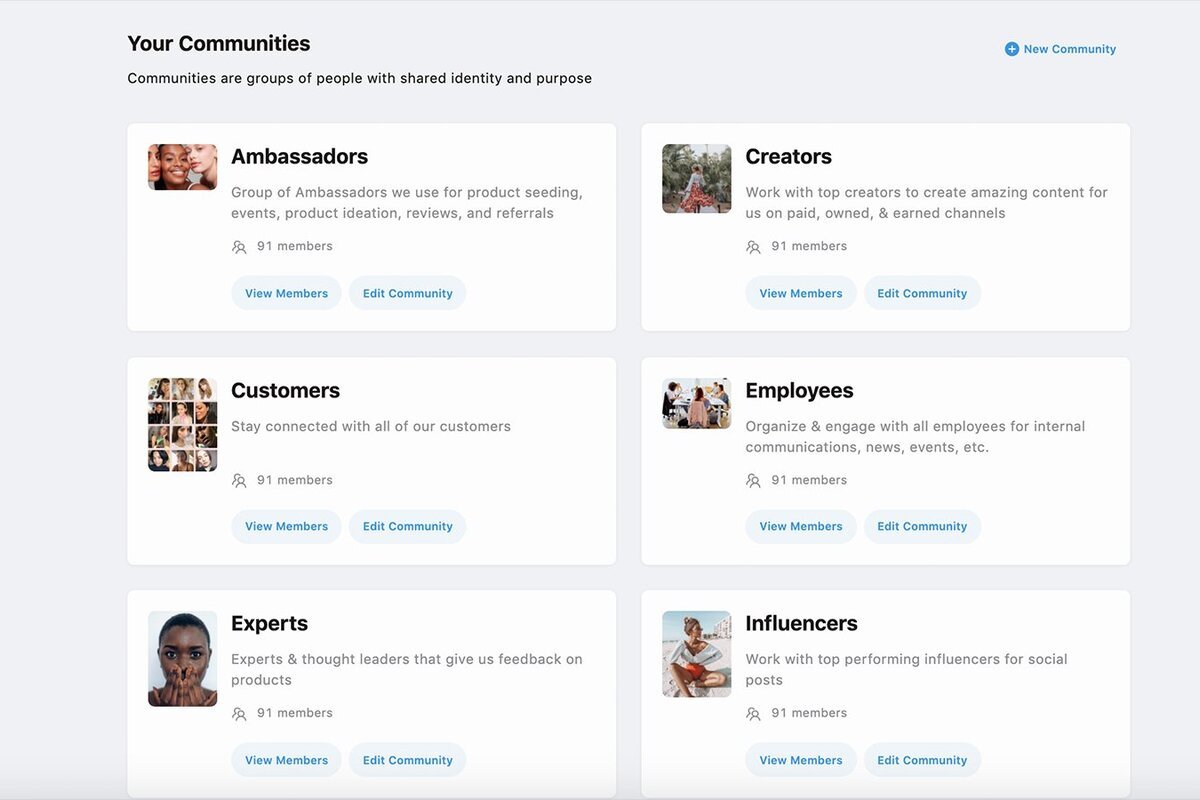 "Inventive and the best influencer management platform out there!"
The best thing about AspireIQ is the ability to connect with influencers inside and outside the platform. Unlike most influencer marketing software, you can outsource creators that are not affiliated with AspireIQ. Some would even say that it's like a dating site for brands to meet influencers. The UX is also a catch—influencers are filtered accordingly, and it's easy to tell where in the campaign process each creator falls. Plus, the campaign creation and data analysis feature come in handy.
Entry-Level Price: Contact AspireIQ to obtain current pricing or get a custom quote.
HYPR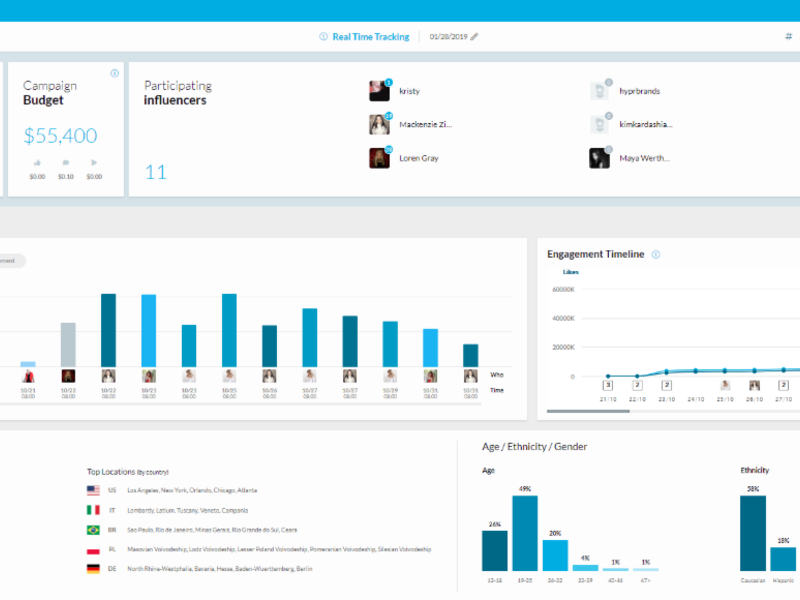 "Scores high for influencer volume and content discovery."
The most significant measurement of a campaign's success is the return-on-investment. HYPR makes sure that your marketing dollars are spent on the audience who matters. The platform currently has more than 30,000 influencers from 100+ countries. Sounds complicated, right? But it's actually super easy. You can sort your searches according to an influencer's audience demographics, location, engagement data, etc. HYPR is powered with AI to help you search for authentic creators and avoid fraud. If your business is very particular with target reaching, consider signing up for HYPR.
Entry-Level Price: Contact HYPR to obtain current pricing or get a custom quote.
Audiense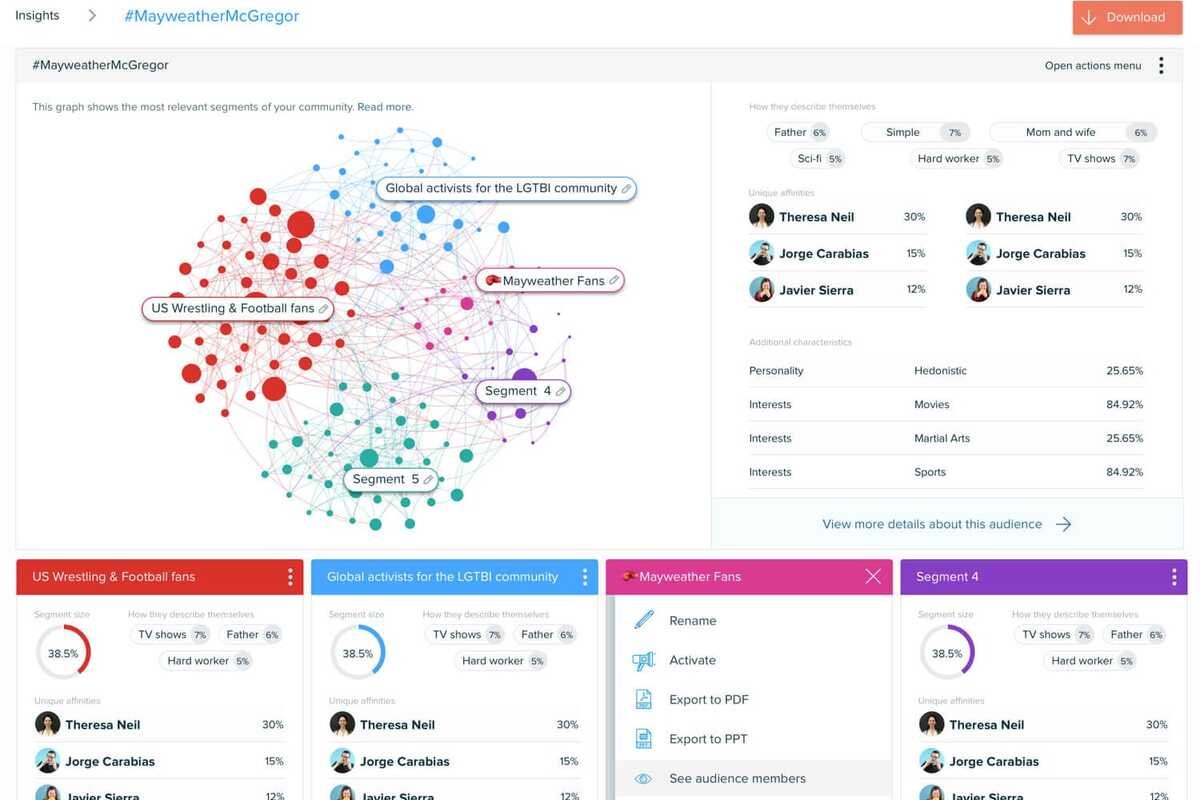 "Hands down, the best software for audience segmentation."
Audiense is the pioneering AI platform, helping marketers develop audience-centric strategies through social consumer segmentation. The app provides insights about your audience and how to engage with them. When you set up an audience, it automatically creates different segments based on your audience's common affinities. Audiense also works best with Twitter, and it has the most powerful search tools. Looking for the best influencer marketing platform where you can get a more targeted influencer and audience profile at the same time? You already know where to sign up to.
Entry-Level Price: $948 (billed annually)
Gatsby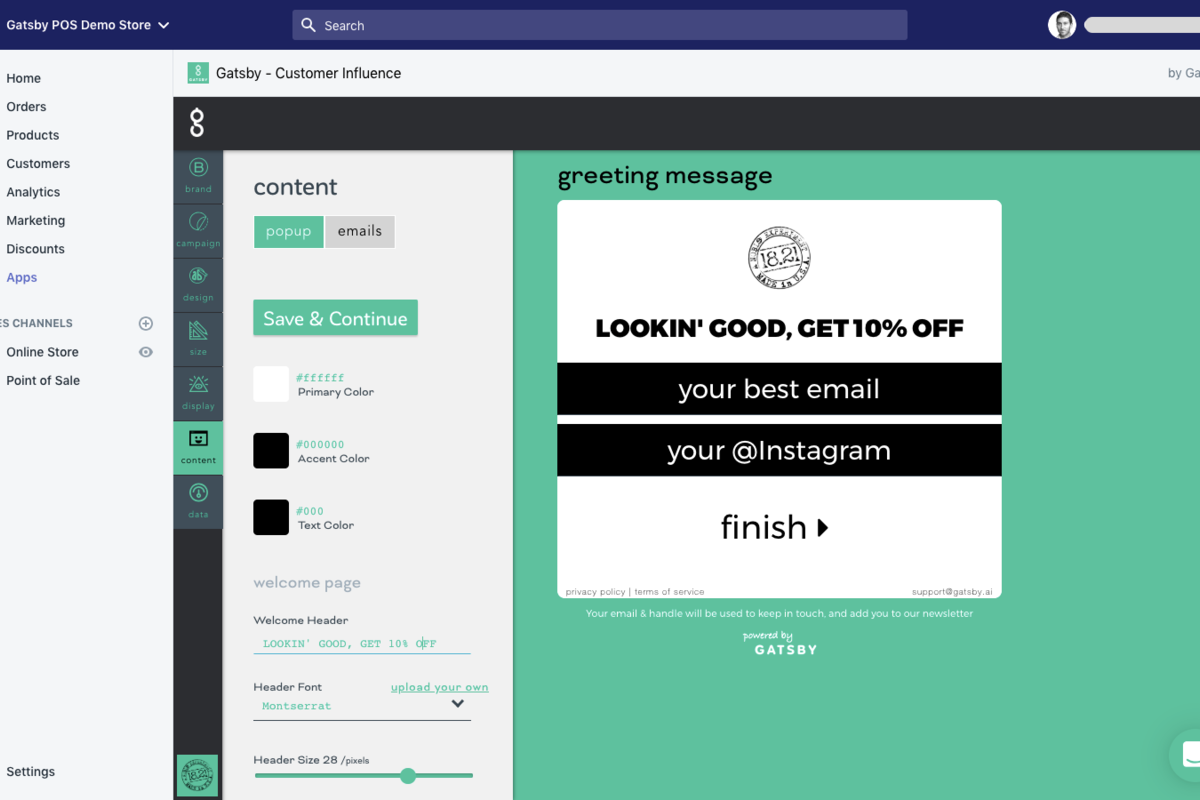 "Great product for turning customers into affiliates."
The typical influencer marketing scenario is you partner with an influencer to promote your products to a target consumer. With Gatsby, it's the other way around. Instead of searching for influencers, you'll study your consumer's profile and, with the software's aid, identify who among them are influencers. Your consumers will now become your affiliates and promote your products to their followers. Isn't that cool? You get someone to advertise your business across social media platforms with lesser effort because your influencers are already patronizing your product. After all, marketing lives for the power of word of mouth.
Entry-Level Price: Contact Gatsby to obtain current pricing or get a custom quote.
Influenster
"Influenster is a star!"
Maybe this time, you've already decided which software to use for your campaign creation, influencer search, or customer targeting. But how about a tool that focuses on reviews and recommendations? Influenster would be the best choice. This influencer marketing software is review-generated—the right products are placed in front of the right people through peer-to-peer recommendations. Influenster has over 12 million reviews on its platform written by authentic trendsetters and educated consumers. Again, the power of word of mouth.
Entry-Level Price: Contact Influenster to learn more about their pricing plans.
Mention
"Effective tool for monitoring and controlling your social networks."
As the term implies, Mention helps brands get exposure when their products are mentioned continuously online. The Listen tool will help you know this. The software also has a Publish feature where you can measure the impact of your PR and marketing activities. What's interesting about Mention is that it's very particular with alerts—you can configure your notification's color based on specific references. In this way, brands can accurately track their progress and will never lose sight of their publications.
Entry-Level Price: $29/month
Linqia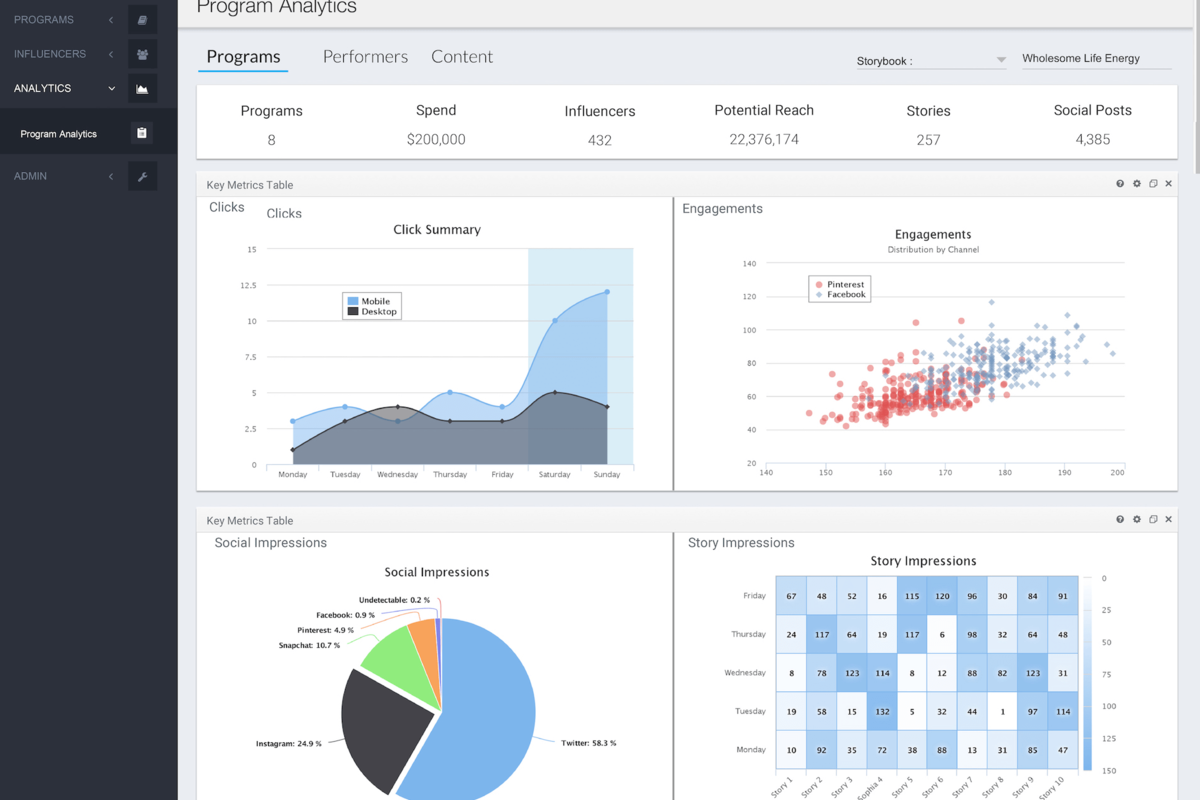 "Leading influencer market that generates results."
McDonald's, Nestle, Uniqlo, and Walmart are among the popular brands that work with Linqia. It's an AI-based platform that transforms the influencer market's traditional trend into a scaled media channel. Linqia also allows for creative freedom to tell your business story and encourages you to develop unique campaigns. When you want an influencer marketing software with content flexibility, Linqia is the one for you.
Entry-Level Price: Contact Linqia to obtain current pricing or get a custom quote.
Traackr
"Comprehensive platform and doesn't require too much training to get acclimated."
Traackr is a simple software with great solutions. It enables marketers to streamline campaigns, optimize investments, and scale global programs. With Traackr, you can easily organize and monitor large amounts of influencers while diving deep into their social activities. Apart from sharing the right amount of resources, this app also has the best support team. And Traackr keeps on improving its software for optimal user experience.
Entry-Level Price: Contact Traackr to learn more about their pricing insight system.
Upfluence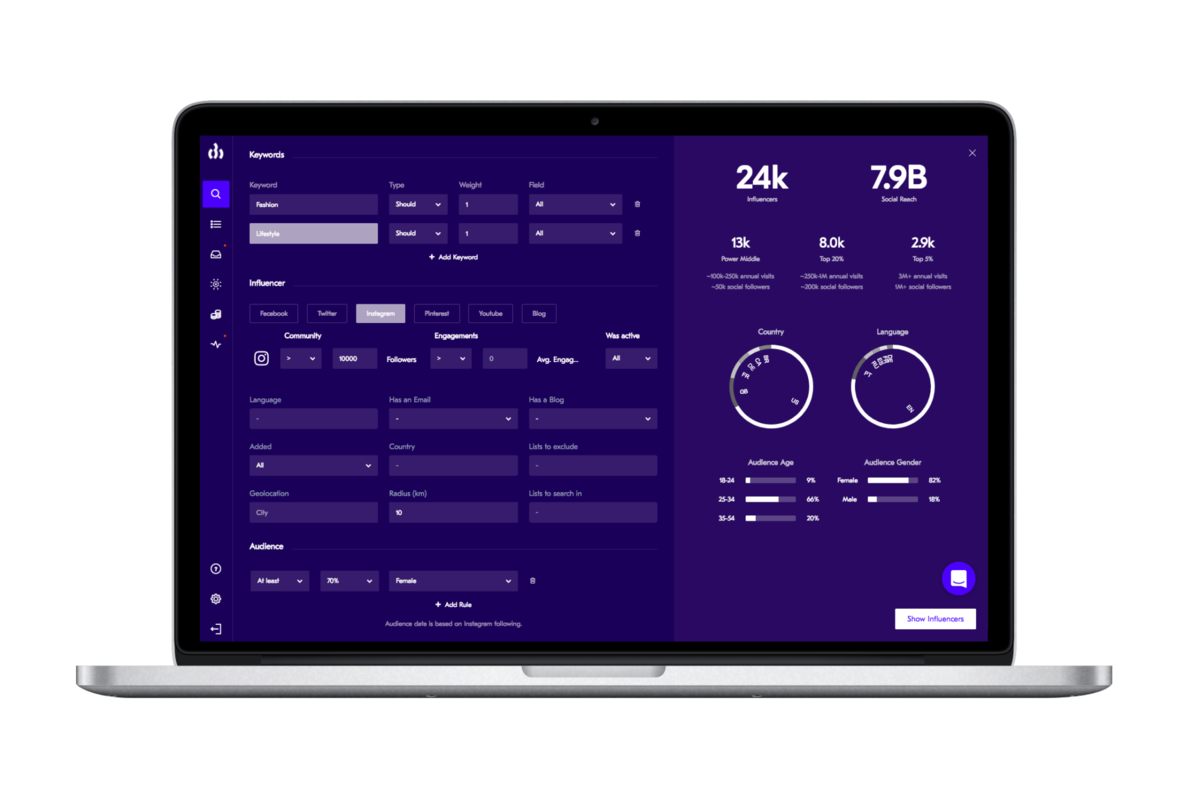 "Very simple to use – from influencer searching to campaign launching. Extremely helpful tool!"
Upfluence offers campaign management services, influencer search and discovery, relationship management, and third-party analytics. The software provides a massive database, with nearly 3 million influencers. It's flexible, and you can filter searches based on age, location, gender, etc. Moreover, Upfluence obtains quick and immediate results—it's like Google but for influencers. Once you're done with the influencer searching, you can start on your campaign right away.
Entry-Level Price: Contact Upfluence to learn more about their pricing insight system.
Have you chosen the best influencer marketing software yet?
We all have unique approaches when it pertains to influencer marketing. And different strategies come with varying goals. As much as we look for creators that match our niche, we also search for influencer tools that meet our business goals and needs. There are free influencer marketing platforms available online. However, if you want to get optimal results and stay ahead of the game, you shouldn't think twice about paying for subscriptions. Choose the most suitable platform and start your influencer campaign now.
Getting the best influencer management platform means you should know how to connect with the right creators. Read our tips on "How to Effectively Reach Out and Get the Best Influencers" to make the most out of your marketing campaigns.