Information is power, but the way you communicate it can affect your message immensely. Poor and ineffective communication will lead to confusion, and not many people will understand what you meant to say. One of the ways to communicate effectively is to make infographics using the best infographic tools. Infographics make the information easily understandable and digestible. 
Best Infographic Tools for Businesses and Non-Designers
How do you go about making infographics? To the uninitiated, it seems like a daunting task. Infographics, especially well-made ones, can be hard to make, depending on your skill level. One of the secret weapons to making a good infographic is having the right and best tools at your fingertips. They say a bad workman always blames his tools, but that isn't true in this case. Sometimes, using the right or wrong infographic software will matter. 
You may wonder: which tool is used for infographics? The definition of what's the best or correct infographic maker will depend on your needs. There's no one-size-fits-all, although there are many tools that offer various options. You might need to switch software depending on what you currently need to make. Thus, it's important to be familiar with not just one but many infographic makers to always keep your options open. 
Without further ado, here are some of the best infographic tools that small businesses and non-designers can use.  
Canva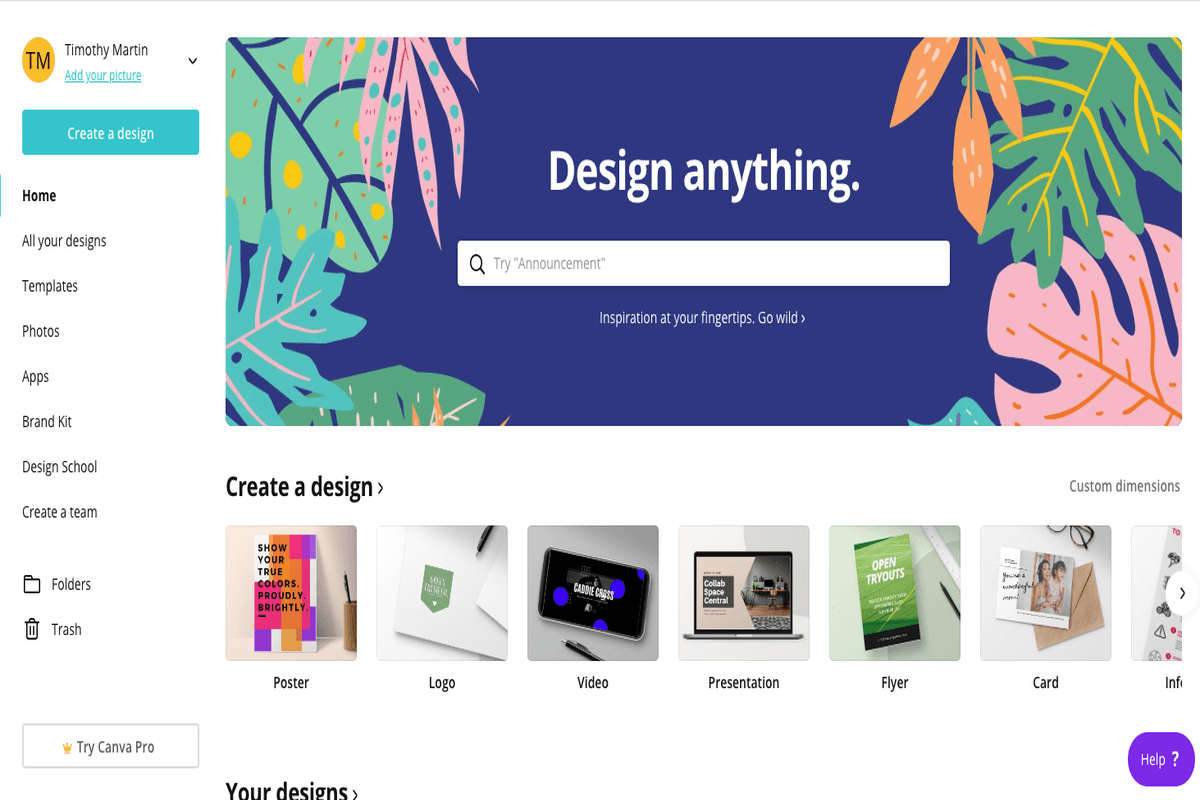 Canva is one of the best infographic tools available online, especially if you're measuring by the ease of use or cost. You don't have to do a lot of designing yourself (although that's still an option). You can choose from one of the pre-made templates, input your information, and produce outstanding quality work in minutes. If you want to make your own template, that's also fine.
Canva offers fonts, styles, graphics, and images that you can use to make your own design. You can even upload photos from your Google Drive, Facebook, and Instagram accounts. With Canva, you can be as creative and original as you want to be—with a watermark-free output. If you're looking for something that's hassle-free and won't leave you pulling your hair out, Canva got you covered. 
Free Services: Yes
Paid Option: $12.95/month
Venngage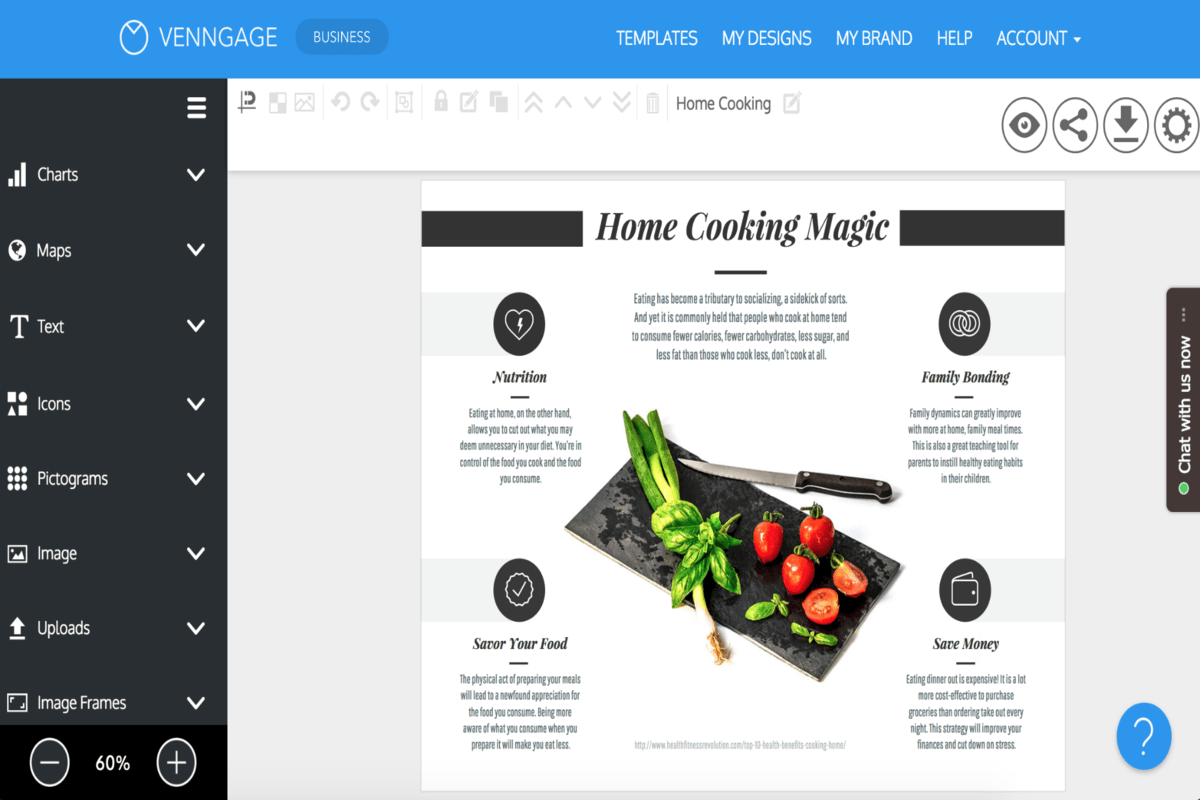 Venngage allows you to create beautiful and professional-looking infographics in three simple steps. All you have to do is to choose a template, add charts and visuals, and customize your design. Moreover, the software provides various templates—from presentations to social media visuals and reports.
You don't need excellent designer skills to use the software, the creation process is a breeze. If you want to maximize your Venngage use, you can opt for an Individual Premium Plan or Business Plan. You also have the option to pay monthly, quarterly, or yearly. Like any other infographic tool, you can enjoy Venngage's free version, but with limited options. 
Free Services: Yes for students, paid for other users
Paid Option: $19/month
Adobe Spark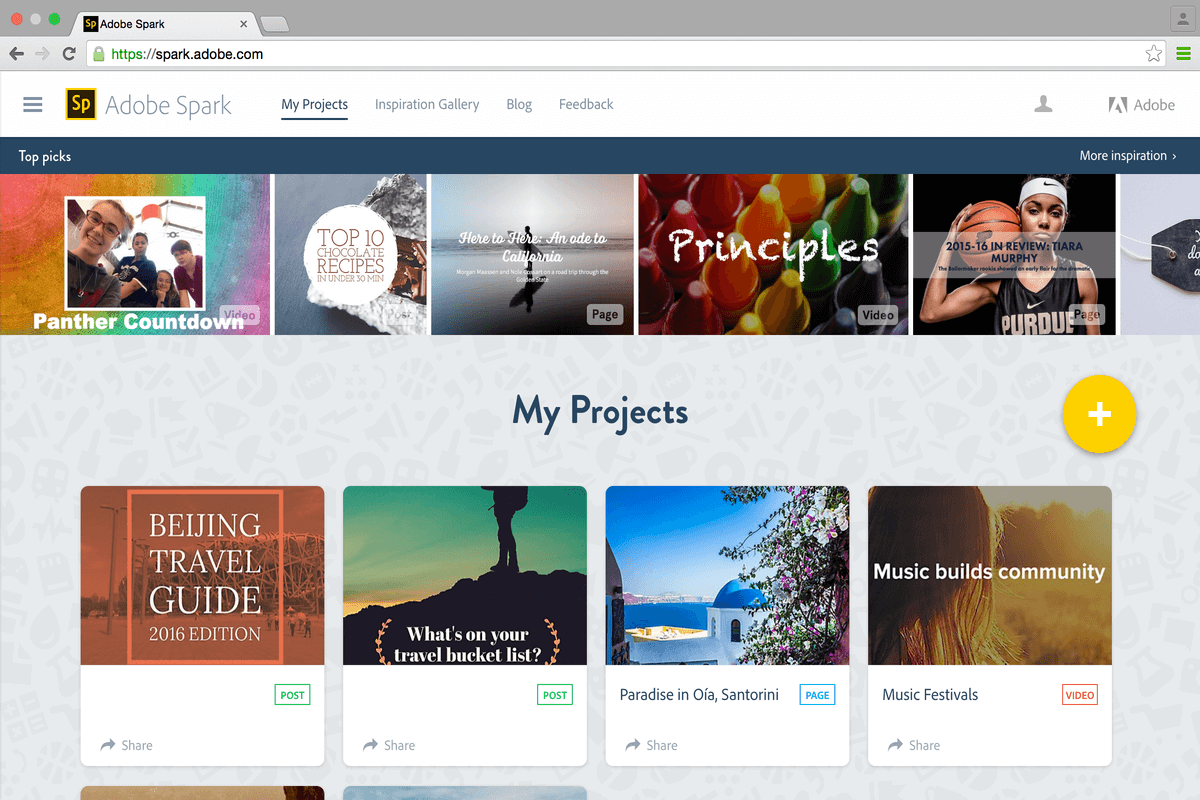 Adobe Spark is a mobile and online app that allows you to create photo and video infographics. It's easy to navigate, making it great for beginners and those who want to learn quickly. The software is also free, which is a huge plus for startups aiming to produce the best results but can't afford a premium subscription yet.    
Adobe Spark utilizes a drag-and-drop interface for creating infographics, making it flexible for phone or tablet use. It also offers a wide range of free assets, graphics, and fonts that you can use in your infographic. If you're not sure about your designing skills yet, you can use the software's pre-made templates. 
Free Services: Yes
Paid Option: $10/month (Individual) and $20/month (Team)
Piktochart
Piktochart is another good option for creating infographics. It offers free and premium services. The tool is great for entry-level infographic making—it's easy to use and provides a wide range of options for templates, fonts, and styles. Designers estimate that you can make an infographic at around 30 minutes using Piktochart, even if you're only a beginner. 
With Piktochart, you have the option of making an infographic from scratch or using the software's provided templates. The software also allows you to upload images and use them in your infographic. Like Adobe Spark, Piktochart utilizes the drag-and-drop method for ease of use and flexibility. 
Free Services: Yes
Paid Option: $12.50/month
Visme
Visme is ideal for educators and students. You can create interactive and professional-looking presentations using its graphics, tools, and fonts. You can also make banners, animations, and mock-ups—giving you varieties that aren't limited to infographics.
One good thing about Visme is that it lets you save your past work for future reference. In fact, the first thing you see after opening the software is a dashboard containing all of your previous work (if you haven't made anything with Visme yet, your space will obviously be empty). This feature is great, especially if you're worried about repetition and want to keep each infographic unique yet following a similar theme for all. 
Free Services: Yes
Paid Options: $19/month; $60/semester for teachers and $30/semester for students
Easel.ly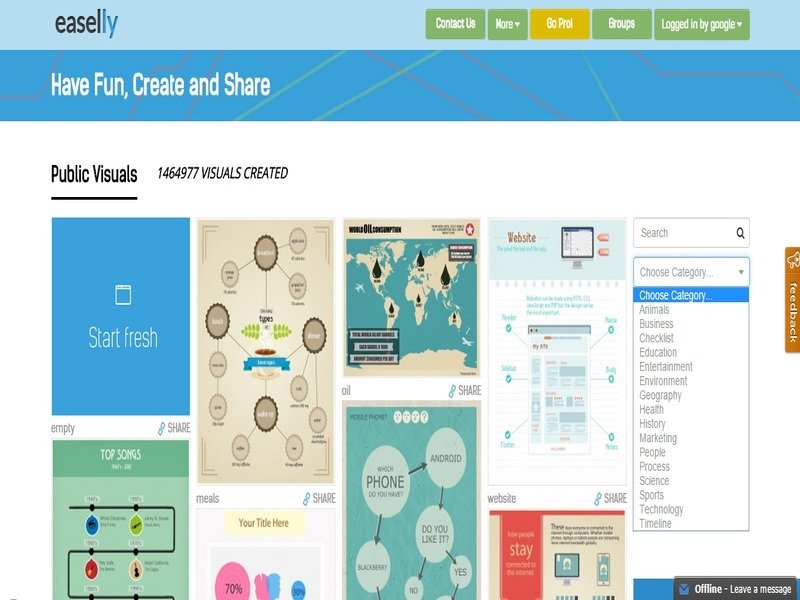 The name says it all—Easel.ly is a great option if you're looking for a convenient tool that produces quality professional artwork. Like the other infographic tools, Easel.ly provides users with many different templates. All you need to do is edit the text and images, and you've got a good presentation without doing much of the grunt work. You can also add shapes and styles to make the presentation more attractive. 
Perhaps one feature that makes Easel.ly stand out from the rest is that it offers its paid users design help. If you're not sure what you're doing, you can ask for design tips and ideas. Isn't that a great way to boost your online marketing and creativity?
Free Services: Yes
Paid Options: $2-$5/month
Infogram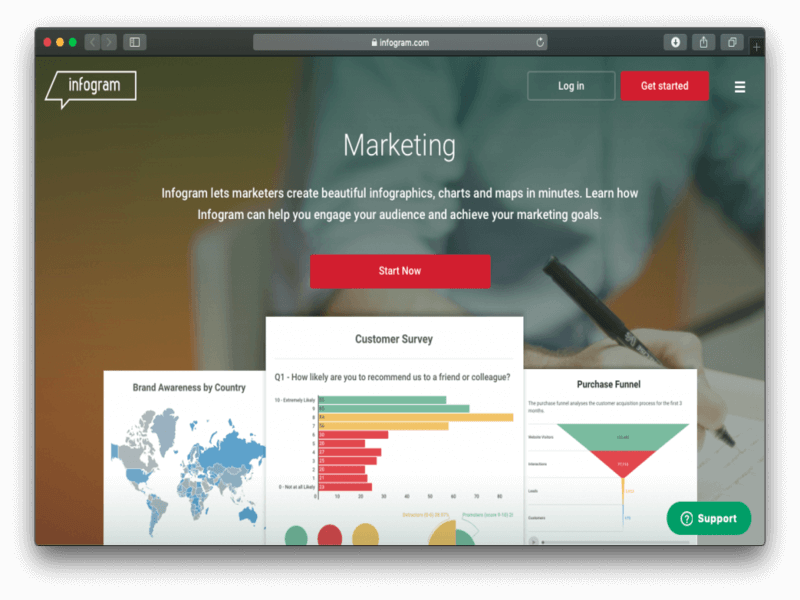 If you're into online marketing, you probably want to check your post's metrics and engagements. This is one key feature found in Infogram that other competing infographic tools don't have. Infogram gives you in-depth analysis and metrics on your infographic's engagements, allowing you to monitor which materials are effective and which ones need improvement. 
However, the metrics feature isn't available for free. You need to pay to maximize your Infogram use. If you think the paid version is a worthwhile investment, you can always upgrade your subscription. You may also use influencer tools to reach the right audience and boost your engagement. Check our Freachly review to learn how to do it. 
Free Services: Yes
Paid Option: $25/month
Animaker
Animaker is one of the best tools for creating personalized infographic videos. If you've noticed, most of the tools listed here are all about images, and Animaker is unique from the standard approach of making infographics. The software lets you create animation and live-action videos with ease. It has over 100 charts, 1,000 icons, 3,000 maps, ready-to-use templates, sound effects, and limited royalty-free music options. 
Worried that you don't have efficient video editing and animation knowledge? Don't fret; Animaker offers help and tutorials to make the creative process easier. It has a free trial but you have to purchase a subscription to take full advantage of this software.
Free Services: Yes
Paid Option: $19/month
Video Explainers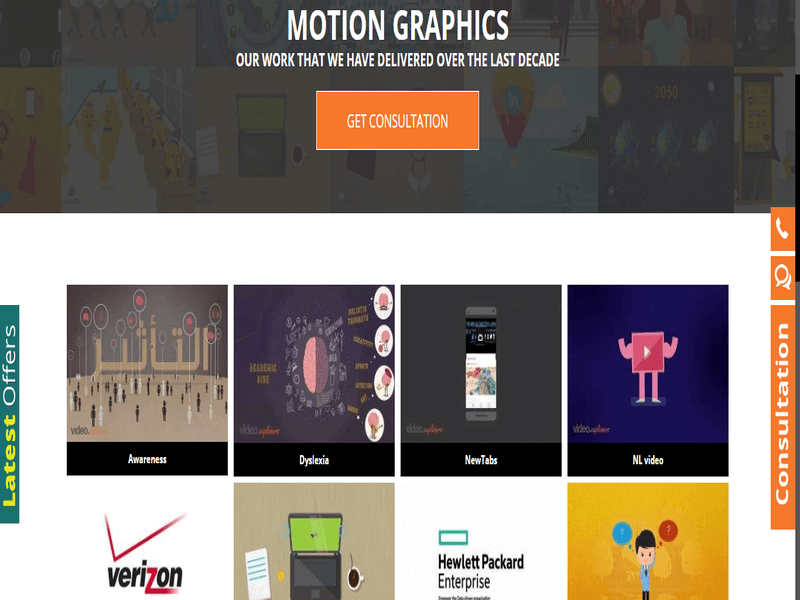 If you're looking for a tool that will help you communicate your brand's essence in a fun and engaging way, Video Explainers is the best solution. The software offers great options for storytelling—whiteboard animation, 2D animation, motion graphics, and so much more. It's easy to use, flexible for different businesses' needs, and produces high-quality outputs in just a matter of minutes.
Free Services: Yes
Paid Option: By quote
Whatagraph
Whatagraph is not just a simple infographic tool; it's the best software for reporting and performance monitoring. If your business is data-driven, Whatagraph has all the pre-made reports, metrics, widgets, and templates that you can share with your audience and team members. It's fast and easy to use—just connect your data sources,  choose a template, and you're done. The tool is also integrated with more than 30 channels, including Facebook Ads, HubSpot, and Google Analytics.
Free Services: Yes
Paid Option: $119/month
Vizualize.me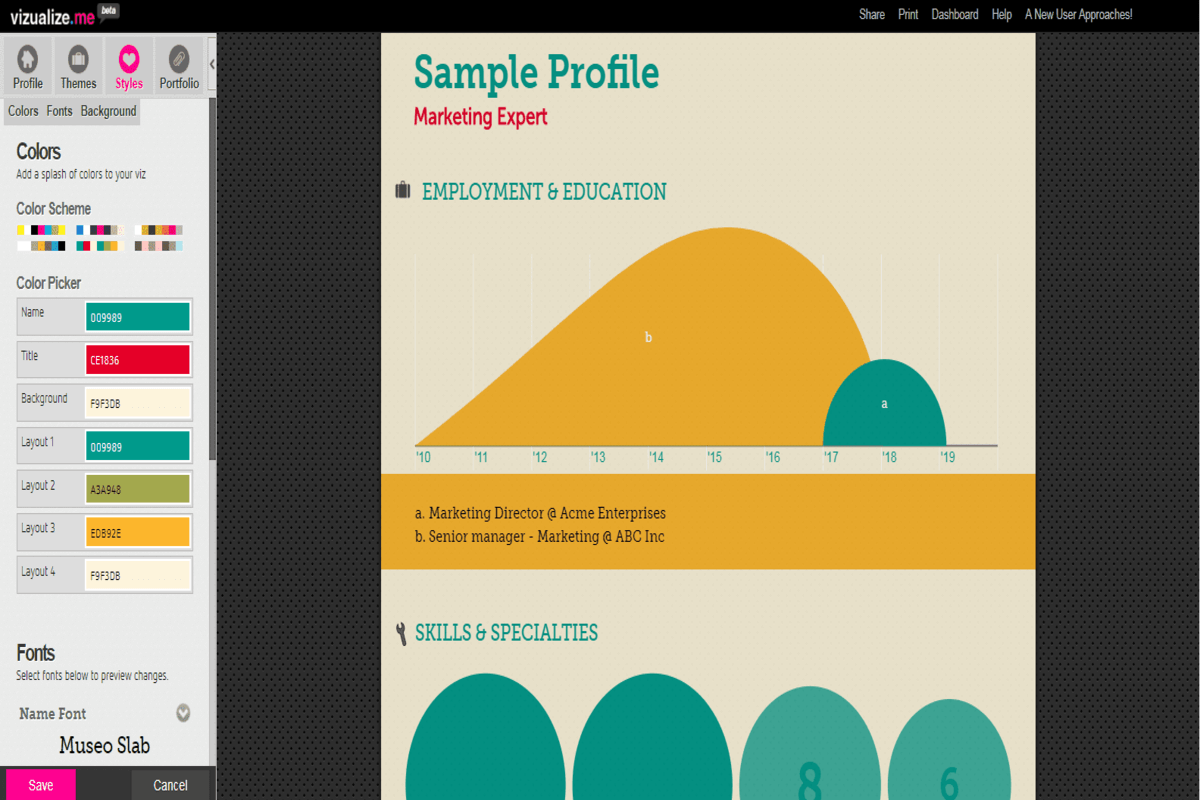 Compared to the other tools mentioned in this post, Vizualize.me has no paid options—it's completely free! The tool specializes in building infographic resumes and allows you to connect your LinkedIn account so you can fill in some information automatically. You can choose a variety of themes and templates on Vizualize.me—whether you want your resume to have a minimal or maximal look. Plus, you can track your resume's statistics, such as the total profile views and views in the past days or weeks.
Free Services: Yes, it's totally FREE!
BeFunky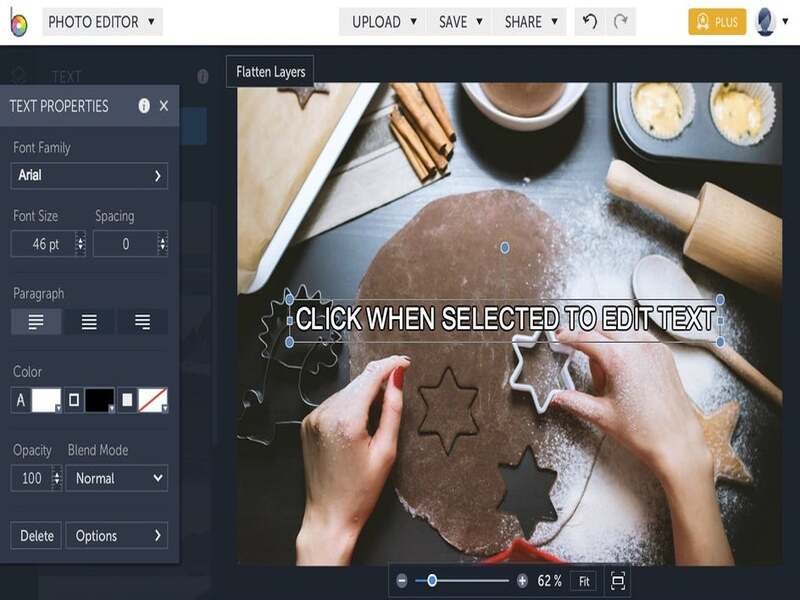 BeFunky is an all-in-one designer tool—from infographics editor to collage maker and web design. The software provides fully customizable templates and stunning design elements. It offers unique filters and allows you to magnify pixels to set the right tone for each photo. The best thing about BeFunky is its accessible interface, allowing users to edit on iOS and Android mobiles. The tool also comes with Google Photos integration to quickly locate and enhance your images.
Free Services: Yes
Paid Option: $6.99/month
Snappa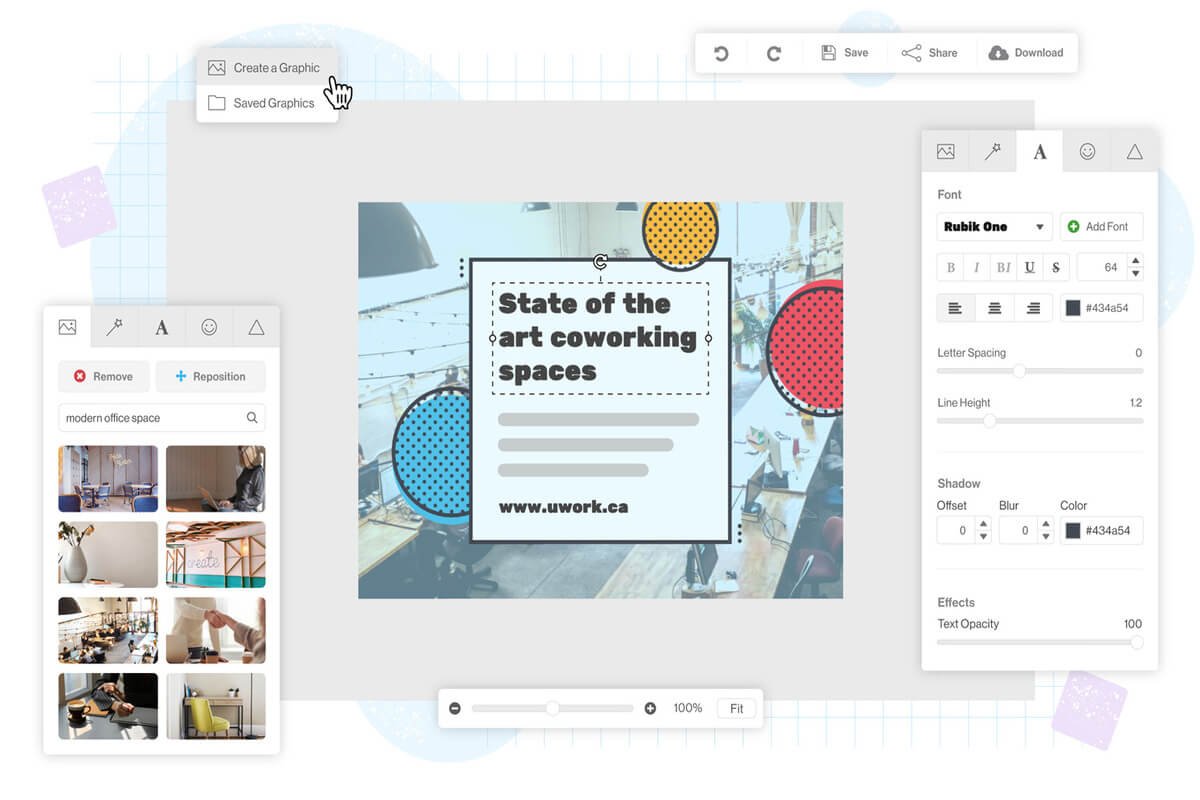 From the name itself, you can make illustrations on Snappa in a snap. The software is best for social media infographics and offers stylish templates in pre-set sizes, depending on the social platform you'll choose. Snappa is also good for web designs and blog posts, allowing you to create key banners and company logos for a more effective brand representation.
Maximize your Snappa experience by using an influencer tool that helps you connect with the best social media creators and a targeted audience. Check our Influence by Newswire review and see how it can grow your business in no time.
Free Services: Yes
Paid Option: $15/month
Biteable
Like Animaker, Biteable specializes in video and animated infographics. It offers free and paid services and comes with various icons, stock footage, fonts, animation styles, and other video elements. The software presents a simple interface—no need to have excellent video editing skills! Free users can directly upload infographic videos on Facebook and YouTube, while premium subscribers can download the content or upload them on their preferred social channels. Biteable also has the option to upload images from Unsplash, making it a more convenient and creative app.
Free Services: Yes
Paid Option: $29/month
Mind the Graph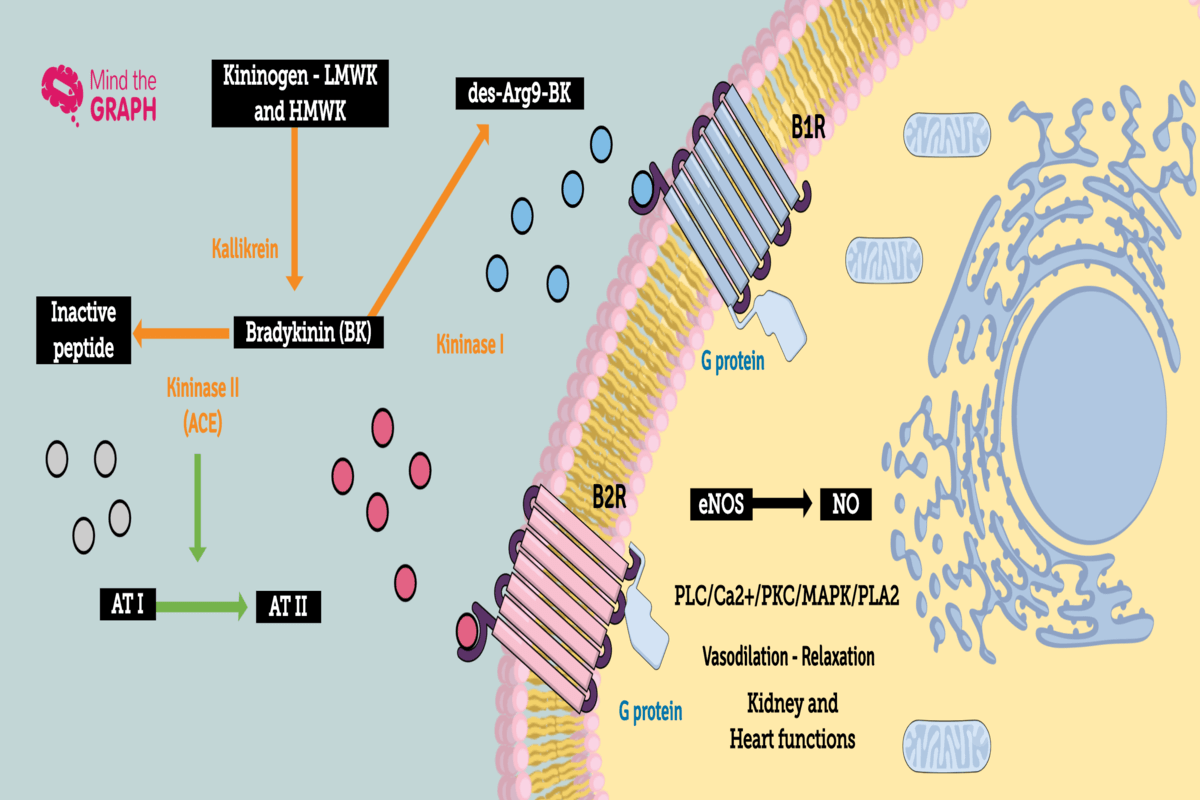 We've already discussed infographic tools that are useful for social media marketing, class presentations, and B2B interactions. Mind the Graph is a rather unique software for medical purposes—highly useful to doctors, scientists, or medical researchers. It provides plenty of scientific illustrations and graphical abstracts that you can choose for different presentations. If you want to create interactive graphics about cells, bacteria, or other science-related topics, Mind the Graph has all the designs for you. However, the software doesn't come with free templates—you need to pay for better customization and design options.
Free Services: Yes
Paid Options: $5-$9/month
DesignCap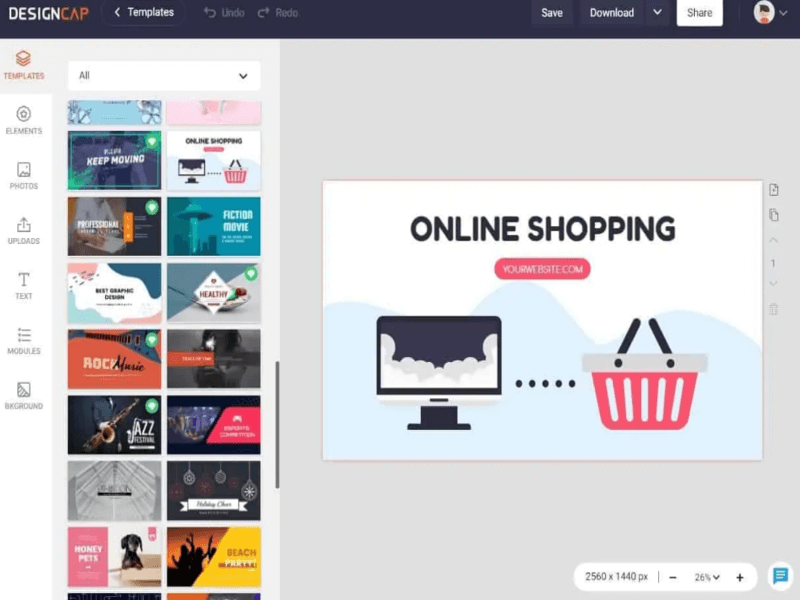 If your business is struggling with making stunning posters and flyers, DesignCap is the best tool for you. It allows you to customize your marketing collateral: size adjustment, positioning, font selection, color enhancement, background application, and photo alignment. DesignCap offers great icons, stock imagery, and illustrations to enrich your designing work. You can also make charts, graphs, and other pre-designed elements needed for your online and offline marketing.
Free Services: Yes
Paid Option: $4.99/month
Google Charts
Google Charts is a simple yet powerful tool for websites. It provides a variety of charts—line graphs, pie charts, bar graphs, 2D and 3D charts—that you can customize to match your site's design. Like Vizualize.me, the software is completely free. Plus, it allows you to connect your data in real-time for updated and more interactive content.
Free Services: Yes, it's all FREE!
MURAL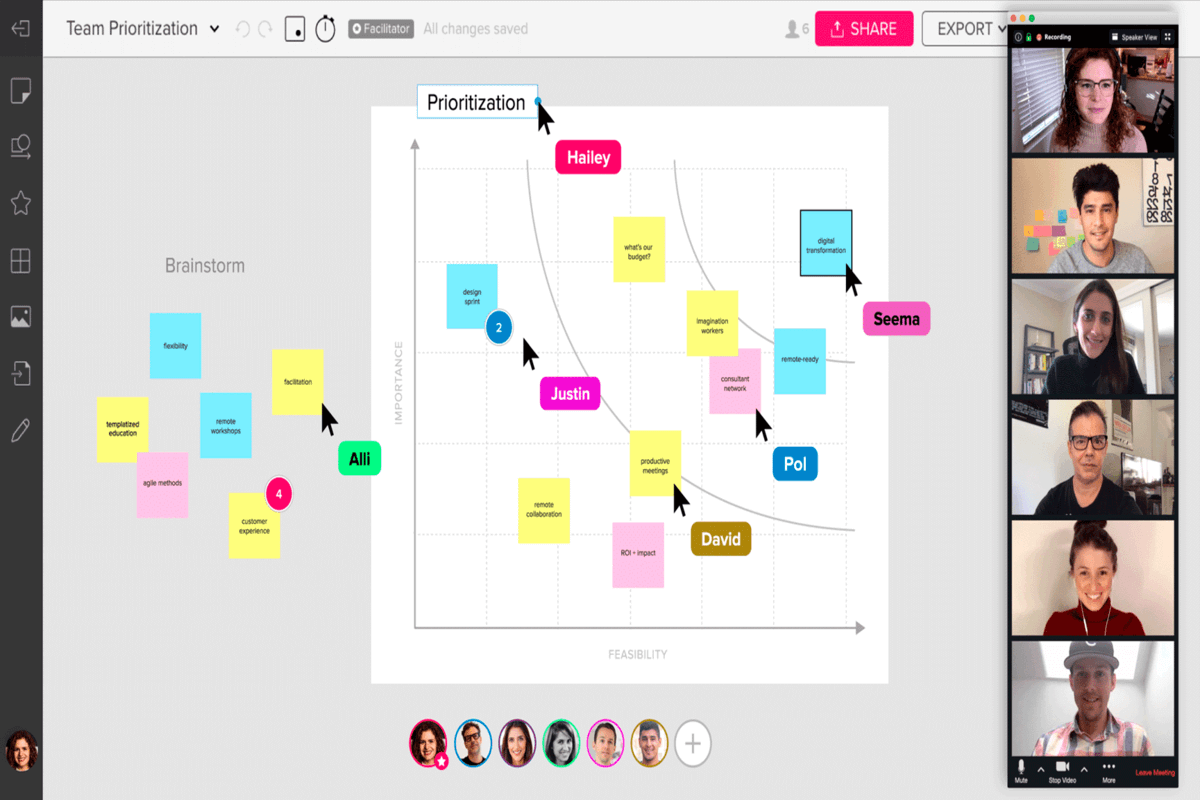 MURAL is more than just a design tool—it provides product strategy, planning, and problem-solving through visual methods. The program comes with a straightforward interface and is essential for remote collaboration work. The best aspects about MURAL is it makes whiteboarding super easy, it's intuitive, and offers sizeable boards that you can extend or zoom in during virtual team meetings.
Free Services: Yes, but only a 30-day trial period
Paid Option: $12/month
Kartograph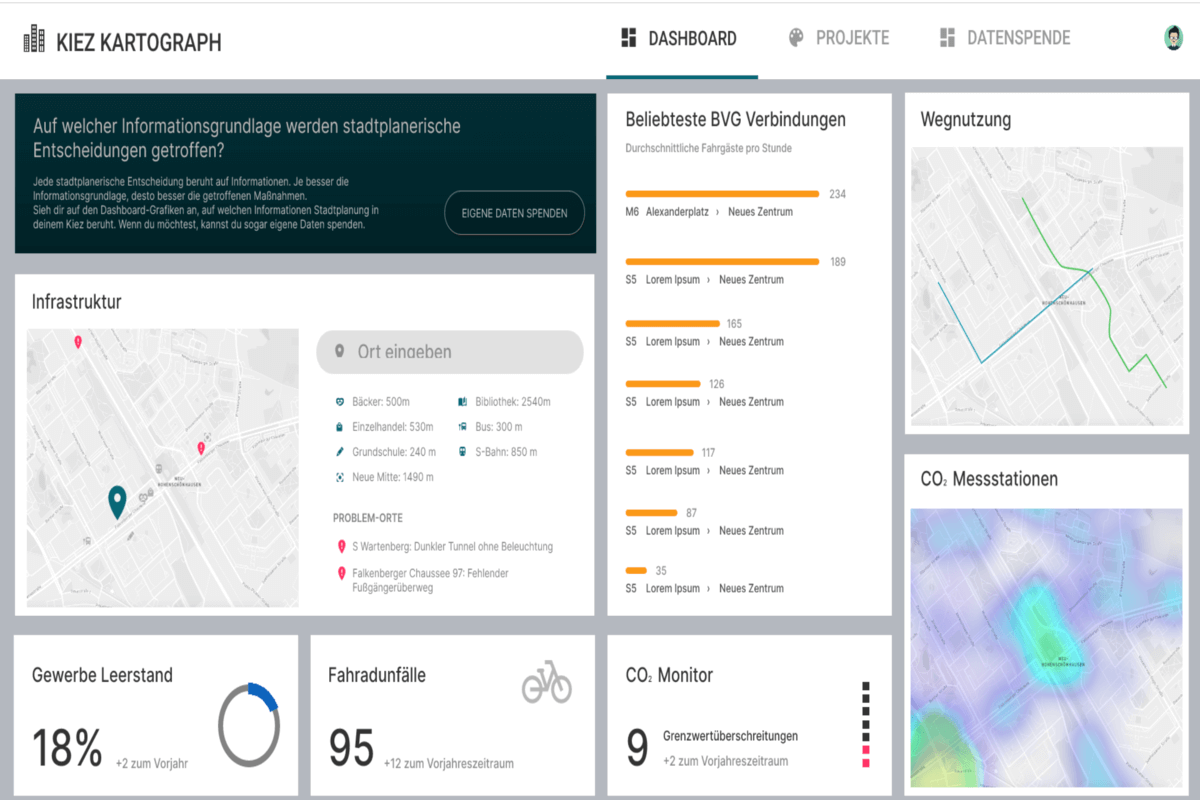 Some businesses need a tool for creating maps. In that case, you'll need to use Kartograph—an infographic tool that makes illustrative and interactive maps. Kartograph answers the needs of data journalists and designers; it can even be useful for building resort maps or property guides. The software is free and doesn't require Google Maps integration—there are plenty of map types that you can choose for your business. Lastly, Kartograph is powered by JavaScript, making it interactive across different browsers.
Free Services: Yes
Paid Option: $12/month
PicMonkey
PicMonkey's mobile app version offers a free way to create designs and edit photos. However, the desktop experience is a bit more expensive than the other infographic makers mentioned in this post. PicMonkey provides different tools for various projects—from portrait to landscape projects. It helps you produce stunning and high-quality images that are adaptable for website and social media uploads. If you pay for premium services, you can access the best templates, stock photos, and more editing options. You can also create a Brand Kit where you can upload your logos and customized templates to maintain your brand's design.
Free Services: Yes
Paid Option: $72/year
How do you make an amazing infographic?
There are many ways to make an amazing infographic. However, don't mistake using the best infographic tools for having a great infographic. Even the best software can only be as good as the person using them. 
Follow these tips to create awesome and engaging infographics:
Set the right tone, color scheme, and style (i.e. fonts, charts, image positions). Come up with a consistent layout and make sure all your infographics represent your brand correctly.

Use content-appropriate icons and original, high-quality images. If you'll use stock photos, make sure they're for free and without watermarks.

Add brand imagery to promote your business. Incorporate your brand logo or embed a website link on the infographic.

Customize the infographic layout for different platforms (i.e. website, Facebook, Instagram, Twitter, Pinterest).

Do your research and learn how to

create infographics that convert

. 
Where can I create an infographic? 
The answer is anywhere! You only need a gadget and a stable internet connection. With most infographic tools utilizing the drag-and-drop method, you can start designing through your phone, tablet, or desktop. You don't even need an office or a large area to create, you can access these tools in your most comfortable space!
Final Thoughts
Using the best infographic tools only assists you to reach your full potential; it won't do all the work for you. You can make amazing infographics but there's no one-size-fits-all. You may ask: which software is best for infographics? Do your research, decide on what you need, and use that as your basis in choosing what tools to use. 
Want to match your awesome infographic with the right social media post length? Check our post about "Size Does Matter: How Long Should Social Media Posts Be?"