Have you ever imagined a world where you can earn big sums of money while playing a game? And we don't mean casino games or e-Sports; we mean games like the good old Pokémon series. Well, you can stop imagining and start playing because Axie Infinity is now available on the internet (it's been available for the past few years already, in case you didn't know). Curious? You have to read more!
Axie Infinity: A Guide to A Popular Play-to-Earn Game
NFT collectibles, like digital artworks, videos, and music, became super popular in 2021, putting blockchain-based games hidden from the limelight. However, several blockchain-based video games have already been brewing and waiting for their rise to stardom. Shortly after NFTs hit the mainstream, Axie Infinity took off and became a major talk of the town, even after the NFT hype cooled down.
Axie Infinity is heavily inspired by the Pokémon series, where you can collect and nurture adorable monsters and have them fight each other in a typical cartoon-like combat. However, getting started on this game is costly and requires more than just investing in your average Nintendo Switch, PlayStation, or Xbox. Though on a better note, you can resell your Axie NFTs or get crypto token rewards that you can exchange for actual money.
So, how does Axie Infinity work, and how can you get started?
What is Axie Infinity?
Axie Infinity is a digital pet community and a battle game. In this game, you can buy your cute monster creatures called Axies and use them to fight or breed with other Axies. Sky Mavis, the game's developer, released Axie Infinity in March 2018. Axie Infinity runs on Ethereum alongside Ronin, the developer's own digital wallet that can help minimize transaction delays and other fees.
Items in the game are represented by NFTs or non-fungible tokens, and you can trade them in the Axie Infinity marketplace for real-world currency. On top of that, you can breed your Axies to forge a powerful team and produce more NFTs to sell on the NFT marketplace.
The game runs from two distinct assets or tokens — Small Love Potion (SLP) and Axie Infinity Shard (AXS). You can earn SLPs by completing daily quests, arena matches, and adventure games. You need SLP to breed your Axies, and you need to game hard to increase your supply. In the earlier parts of the game, your SLP rewards will still be low but increase as you progress in experience and fight better players.
The AXS tokens are Ethereum tokens and a finite resource, as there are only 270,000,000 of them in the game. Players who possess AXS tokens to carry with them governing rights permitting them to have a voice in the decision-making of the game's future should the time come. For now, it has limited uses beyond breeding Axies, but gamers and investors are looking forward to Axie Infinity's decentralization.
Why is Axie Infinity popular?
Some of the factors that contribute to Axie Infinity's widespread popularity include the following:
Play-to-Earn
This is primarily the reason why Axie Infinity rose to stardom. People love the idea of earning while playing games. Now, there are over 2.8 million active Axie Infinity players, and the sum transaction of all these players in the Axie Infinity marketplace is $3.6 billion.
Past Price Action
Between 2020 and 2021, AXS grew by more than a whopping 110000% making it one of the fastest-growing tokens in the crypto world. This increase caught the attention of speculative investors, who are the majority in the crypto community.
Future growth potential
Many analysts believe that the AXS price is bound to increase as Axie Infinity releases new upgrades and programs. Because of this, users are more and more enticed to invest in the platform.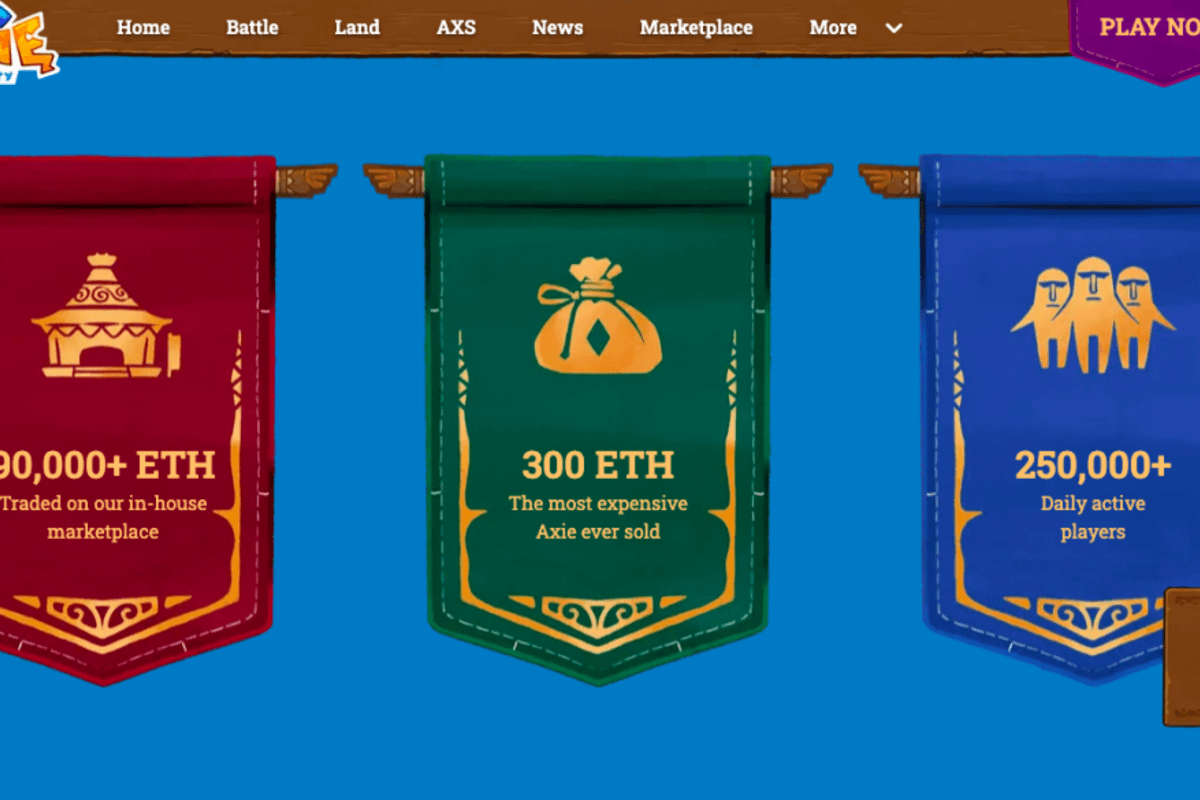 How much do you need to play Axie?
How much is Axie Infinity now, and can you play Axie Infinity for free? For interested gamers, the amount of investment is their primary concern. Some want to play but barely have the money to make the minimum investment of three Axies to be able to get started. The Axie Infinity price for three Axies with decent features and stats is around 0.8 Ether or $800.
Fortunately, aspiring players who don't have sufficient funds to start playing Axie have the option to join players who are using the scholarship scheme. Those in this agreement have a team composed of managers and scholars. Managers are referred to as players who have been in the game for a long time or wealthy users who are able to purchase lots of Axies, while the scholars are players who can barely afford the initial investment price. In this scheme, managers will give their Axies to their scholars, and, in turn, the scholars will use their borrowed Axies to play and earn SLPs and AXS tokens. The managers will then ask for a cut of their earnings.
Furthermore, these managers and scholars can form guilds with other teams of managers and scholars and compete on more significant challenges. This scheme is the most cost-effective method of playing Axie Infinity.
How do you play Axie Infinity?
Aside from Axie Infinity download, you need to follow these steps to play Axie Infinity:
1. Open a cryptocurrency exchange account.
You must get some on a cryptocurrency exchange if you don't have enough Ethereum to purchase your Axies. Some of the best Ethereum trading marketplaces include Coinbase, Binance, Gemini, Voyager, and Crypto.com. In setting up an account, you must provide your personal details, such as an address, social security number, and ID.
2. Purchase Ethereum (ETH).
After verifying your account, you can deposit fiat currency or any other cryptocurrency the exchange supports. Afterward, you look for the Ethereum trading pair and the asset you funded your account with. Then, complete your purchase.
3. Send the Ether to an ETH Wallet.
MetaMask is the most popular and reliable software wallet that you can use to interact with the Axie Infinity marketplace. You can download its application on Android and iOS or a browser extension on Google Chrome.
4. Deposit the Ether to your Ronin wallet.
As mentioned in the earlier part of this article, Sky Mavis developed a sidechain linked to Ethereum. This sidechain, called Ronin, can speed up your transactions or reduce fees on your Axie Infinity games. In addition to MetaMask, you can download your Ronin Wallet as a browser extension. After downloading the extension, enter the Ronin-to-Ethereum bridge, connect your MetMask wallet, and input your Ronin address and how much Ether you want to send.
5. Purchase Axies
Once you have transferred your Ether to your Ronin wallet, you can purchase your cute little Axie monsters. Two of the most important traits you must consider when purchasing your Axies are their purity and the number of times they've been bred. To do well in the game, you must build a team of Axies with high health and high damage resilience. Once you've purchased your Axies, you can breed them or start playing the game.
Does Axie Infinity make money?
If you properly read the earlier parts of this article, you would already know that Axie Infinity makes money. Axie Infinity is a play-to-earn game, so, obviously, Axie players are in the game to earn money and reap from their investment. You can make money and collect SLPs by playing daily quests, PvP battles, PvE arena, or by breeding your Axies. Since Axies are basically expensive NFTs, you can breed many of them and sell them on the Axie marketplace so you can earn a hefty amount of Ether. To be able to breed Axies, you will need to own at least two Axies that haven't been bred so much in the past.
Breeding is the most profitable way of playing the game. However, it can be pretty expensive. Breeding your Axies costs 4 AXS and a sum of SLP that scales on the number of times the two Axies have been used for breeding.
How much can you really make with Axie Infinity?
Axie Infinity has become a source of income for many of its players, particularly in the Philippines. Is the income really that high, and how much are we talking about here? Axie players can earn $10 to $15 daily while playing the game. Now, is it huge? You decide.
What are the risks of investing in Axie Infinity?
Every investment comes with risks, some high and some low. While investing in Axie can be highly profitable, it can also be very risky. Except for scholarships, the startup costs to earn in Axie are incredibly high. If you can only generate an income of $10 to $15 per day of playing the game, it will take you 50-80 days of long playing hours to compensate for the NFT price. If the prices increase or stay the same, you can still sell your Axies to regain your investment.
The prices are highly dependent on the value of SLP and AXS tokens as well as the demand for Axies. If the demand for Axies goes low and the game becomes less profitable, your NFT will most likely lose its value. If the worst happens and the game collapses, your NFT will become worthless.
How can you have a good start in Axie Infinity?
Despite the risks that come with investing in Axie Infinity, you can do several things to help cushion these. The following are meant to help new players hit the ground running.
Do your research.
Before putting in your money on the game, it is recommended that you do extensive research on available guides and resources, not just on Axie Infinity but on cryptocurrency as a whole. You can find an active subreddit where many users discuss the best combos, strategies, and overall insight on the game.
Choose the best Axies.
You will save a lot of financial and mental stress when you already know the game and its strategies before investing in a team. Hence, it pays to look at the leaderboard occasionally to find out what the top players are using before you decide on an Axie. You must also ensure that the Axies you'd purchase have top-tier cards so you can hardly get damaged in battles.
Know when to sell out.
Knowing when to sell out will help you save your investment. If your team is already performing poorly, you must know when to sell out and invest in a new team. Fortunately, Ronin has zero transaction fees, so you only have to pay for the Axie NFTs.
Is Axie Infinity a good investment?
After reading all this, we come to the final question: Is Axie a good investment, and should you consider buying in 2023? There's no black-and-white answer to this question. The game is now in a downward trend and is 70% below the all-time high, but many analysts and speculative investors believe it's worth buying this year and are hopeful that AXS can regain its former glory. Now, it is up to you to conduct extensive research before investing in Axie Infinity. Study statistics, trends, and predictions for this year and the coming years.
If you decide to spend your money upgrading your business and investing in digital marketing, you may invest in tools to make things easier. Check out two of our most recommended tools in this Mention review and Facelift Cloud review.