Instagram is undoubtedly one of the biggest social media platforms worldwide. Billions of people frequently visit Instagram. But do you know why this platform has become this famous? It provides an excellent user interface and allows users to share interesting and entertaining content without hassle.
The content range uploaded on the platform makes it much better than many other online and social media networks. For example, it allows users to share videos, reels, pictures, and text.
Out of all the types of content, Instagram stories, reels and videos are very popular among users and even content creators. These types of content allow users to showcase their creativity and share their moments and thoughts in a much better and more exciting way.
Moreover, users also love Instagram reels and videos. They not only watch them but also share them with their friends and family members.
But there is a massive issue with Instagram content. The platform doesn't allow users to download videos directly. So, users cannot save Instagram content on their devices.
However, many companies have developed tools and apps that allow users to download Instagram videos and reels.
Many Instagram video downloader apps let netizens download videos from the platform. However, either these apps are paid, or they show users a lot of ads that make the overall video downloading process very hectic. If you are looking for an alternative way to download videos and reels from Instagram, this article can help.
Let's see what options you have when downloading content from Instagram!
Web-based Downloaders
When downloading Instagram videos and reels without an app or software program, you have but one option. Use websites that provide Instagram video downloading facilities. These websites offer more exclusive features and benefits that can assist users in downloading Instagram videos and reels of the specified size quickly and efficiently. Many who use these tools are satisfied with them due to their extraordinary benefits.
These web-based tools are divided into two subcategories: Instagram video downloader and reel downloader.
Have a look at both categories.
Instagram Video Downloader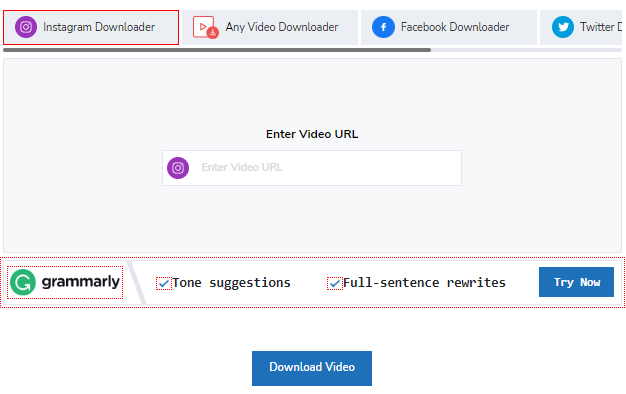 If you want to download Instagram videos and reels without an app, try a web-based Instagram video downloader. This video downloader will help you quickly download any public video within a few seconds. Many web-based Instagram video downloader tools are specially designed for users who don't know how to download videos without apps.
Most Instagram video downloader programs are exceptionally reliable at work. They let users download every single video they want to download. Moreover, many of these tools don't show many spammy videos that annoy users.
The best thing about these downloaders is that they are as easy to use as mobile applications. Even a person without experience in using such apps can learn using these web-based Instagram video downloading programs without any nuisance. They don't need to learn using them from anywhere. By following simple steps, they can download Instagram videos and watch them offline whenever they want.
Benefits of Using Web-based Instagram Video Downloaders
The web-based Insta Video Downloaders provide a lot of benefits. Here are some of them:
Easy to Use: Using Instagram video downloaders is very easy. No one needs to be tech-freak to know how to use these video downloaders. Anyone with a bit of web-browsing knowledge can easily download all the required data within a few seconds.
Free for Everyone: Most Instagram video downloaders are free to use. They don't charge anything from users for downloading videos. Moreover, they allow users to download as many videos as they want. However, they don't get the same facility when they use Instagram video downloader apps. Even if they are free, they annoy users with unskippable ads.
Compatibility with Every Device: Compatibility is these tools' best feature. No matter what device you use, these websites will work seamlessly. Apart from devices, these downloaders are compatible with different web browsers and operating systems.
Don't Show a lot of Spammy Ads: Spammy ads are one of the biggest factors that frustrates users with video downloading mobile applications. That's why most web-based downloaders refrain from showing them to their users. However, this is not the case with apps. Apps show a lot of ads to earn from ads revenue.
Instagram Reels Downloader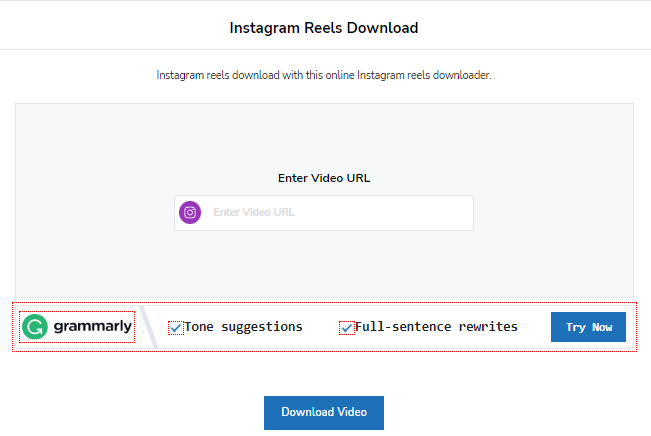 Instagram reels are more famous than videos. Many Instagram users want to download them to share with their friends on WhatsApp and other communication platforms. Moreover, they also share them on other social networks to entertain others. Some also share them as status. And lastly, many users also love to keep them on their devices to watch them when they have nothing else to do.
Instagram reels downloader also works in the same way that video downloaders do. It allows users to download Instagram reels within a few seconds.
Any reel uploaded on a public account can be downloaded using an Instagram reels downloader. So, it helps users download and save them on their devices.
Do you know what is the best thing about most Instagram reels downloader tools? They download them in their best available quality. Most Instagram reel downloaders show users a variety of quality options. So, Instagram users can choose the one they want, allowing them to download videos in the quality you want. Moreover, they are free and easy to use. And provide all the benefits that video downloaders offer.
Benefits of Using Web-based Instagram Reels Downloaders
The most notable benefits of Instagram reels downloaders are the following:
Provides Reels Downloading Option: These tools allow users to download Instagram reels. Unfortunately, apps sometimes don't allow you to download Instagram reels as they are not designed for that purpose. They just allow users to download videos, nothing else.
However, when you use a reel downloader, you can save such videos easily.
No Need to Install Any Software: The users of Instagram reels downloaders don't need to install any software or application. So, your device doesn't need to bear the burden of an additional application or software. Apps and software programs sometimes slow down the devices, especially those with low memory.
Also, such websites don't burden the memory as they are not installed on the devices.
No Sign-Up Required: To use these tools, you don't need to provide your data by signing up to the platforms. On the other hand, when you use an app to download Instagram videos or reels, you must sign up and permit them to manage your mobile gallery. As a result, these apps can pose data security threats. That's why it is better to use web-based downloaders that neither ask you to signup nor put your data at risk.
Download Videos in Original Quality: Most reel downloaders allow users to download reels in their original quality. They allow users to select the video quality they need. It is up to users which quality they choose.
Why Should Users Prefer Web-based Downloaders Over Apps?
After reading the whole article, you will know the reasons why web-based Instagram video downloaders are much better than apps. However, answering the question in detail is better for clarity.
Although video downloading apps are very efficient in downloading work as their developers use advanced algorithms to improve them and a few exclusive features to provide a great user experience, they are still unreliable for various reasons.
For example, with apps, your data isn't safe. These apps can impose severe data safety threats when accessing your phone gallery.
Moreover, they put an extra burden on your devices as they consume more space than their original size. Apart from that, many mobile apps only claim to be the best, but they aren't. They sometimes use false claims to get attention from users and encourage them to download these apps.
And lastly, the biggest issue with Instagram video-downloading apps is that if you use them without a subscription, they show you many ads that can waste your time and frustrate you.
Due to these reasons, many people prefer web-based solutions. Most web-based downloaders don't put your data in danger, show annoying ads, or pressure your device memory. You just use them, download videos, and close them once the video is downloaded. That's it.
Conclusion
Many internet users consider Instagram to be one of the best platforms when it comes to visual content. People love to watch, share, and download Instagram videos. And knowing the needs of users, many platforms, including software programs, apps, and web-based tools, have been developed to facilitate users.
However, not all these tools are created equally. Out of all of them, web-based solutions are considered the best because of the many reasons mentioned above. So, use them to download Instagram videos and reels, and you will fall in love with them.