What is BuzzGuru Influencer Analytics App in Semrush App Center?
While influencer marketing isn't a novel concept, it has become popular today. The past few years have seen a growth in the emergence of influencers across social media platforms. As users are gradually veering away from overly-produced ads, influencer marketing is taking center stage, and most brands now exert more effort and time on influencer marketing to propel themselves on social media than ever before.
However, research shows that one of the main concerns brands and marketers have about influencer marketing is finding the perfect influencer to work with. It wouldn't be right to pick out any influencer just because they are Instagram superstars or mega-famous. There are several factors to consider, so it pays to conduct thorough research.
With this, it is best to use an influencer marketing software suite as part of a cohesive influencer marketing effort. And one of the top influencer marketing software on the market is BuzzGuru Influencer Analytics App in Semrush App Center..
BuzzGuru is used by many marketers and brands looking to optimize the best influencers for their digital marketing efforts.
Here are the core features of influencer marketing software BuzzGuru:
Influencer Discovery.

 The influencer marketing analytics software enables users to source influencers, get the influencers' complete contact information, and understand their strategies and approaches. It allows users to discover the best influencers for a brand based on apps, websites, and games.

Influencer Analytics. 

It generates influencer data and analytics from widely-used platforms, including Twitch, YouTube, Instagram, and Tiktok. It provides accurate data on an influencer's performance and audience quality, so brands can better choose who to partner with.

Efficient Listing. 

It allows users to list and categorize influencers based on various metrics to make it easy to get the right influencer for their brand. The software also provides filter searches through over 30 data points.

Campaign Management. 

This feature enables users to run campaigns from beginning to finish, on top of real-time performance tracking. Its UTM builder allows users to track clicks from influencer campaigns.

Competitor Analysis. 

BuzzGuru lets users peek into their competitors' strategies and budgets, giving them a competitive advantage.

Market Research. 

This feature helps users get into the buzz and trends of the influencer marketing landscape in distinct niches, making way for the discovery of novel opportunities.

Campaign Reporting & Analytics. 

The platform's analytics lets users measure the success of ad campaigns and run campaigns wisely.
Pros and Cons of BuzzGuru
Like any other software solution, BuzzGuru has strengths and weaknesses. Here, we delve into the app's multitude of benefits while pointing out areas where it can use improvements. Read on to learn more.
Allows for Easy Influencer Discovery
Since BuzzGuru is one of the best influencer marketing software around, it's expected to let users seamlessly source the best influencer to collaborate in different campaigns. And in this area, the software does not disappoint, as it enables you to discover various influencers across categories and niches.
We know how time-consuming it is to go through a long list. Fortunately, BuzzGuru allows you to filter your search according to influencers' location, language, channel category or niche, and advertising fee. It also allows you to combine the filters for a more accurate search result.
Additionally, you can discover influencers related to apps, websites, and games or find them according to content, keywords, or brand mentions.
Has A User-Friendly Interface
BuzzGuru's interface is pretty straightforward, making it easy for users to navigate and explore the platform. First-time users of this platform would barely have difficulties getting the hang of it as it is so simple and highly intuitive.
If you purchase the BuzzGuru software, you won't need to spend lengthy hours studying how to get going with the platform. With BuzzGuru, you can automatically focus on looking for the best influencers instead of exerting much effort in learning to navigate the platform and its tools and features.
The product is still very fresh, and improvements may be needed occasionally, but its straightforwardness would make your overall experience impressive.
Aside from BuzzGuru, Postfity is another tool with a user-friendly interface that brands and marketers can use. You can learn more about it in this comprehensive Postfity review.
Enables Competitor Analysis 
One of the best things that the tool's users love about it is the competitor analysis function. You can view every influencer's ad collaboration with other brands and learn the ads' performance. This analysis feature makes it easy to identify the influencer cut out for your campaign.
With this unique tool, you can also identify which influencer or creative performs best, which influencer mentions are paid and organic, how much your competitors spend on influencer marketing and what platform they prefer to advertise on, and the calendar of publications, to name a few.
Utilizing the function gives you the cutting edge to perform better than your competitors and to unleash your influencer's best potential. Although, it would be great for the tool to provide more filters when searching for competitors according to their websites.
Gives Complete Influencer Info
BuzzGuru doesn't just list down the names of influencers. It provides you with influencers' complete information so you can better understand strategies and campaign success and get in touch with them. 
The platform collects relevant information to better leverage influencers for your campaigns. Information includes the games they often play and websites they often mention on their channels, making it relatively easy for you to check out your competitors.
This feature also provides you with their view dynamics and subscriber growth. Hence, you can be sure that if you collaborate with an influencer, your ads receive views and that the influencer isn't losing subscribers. 
Best of all, this gives you ad placement costs predictions, allowing you to make informed financial decisions.
Lets You Save Time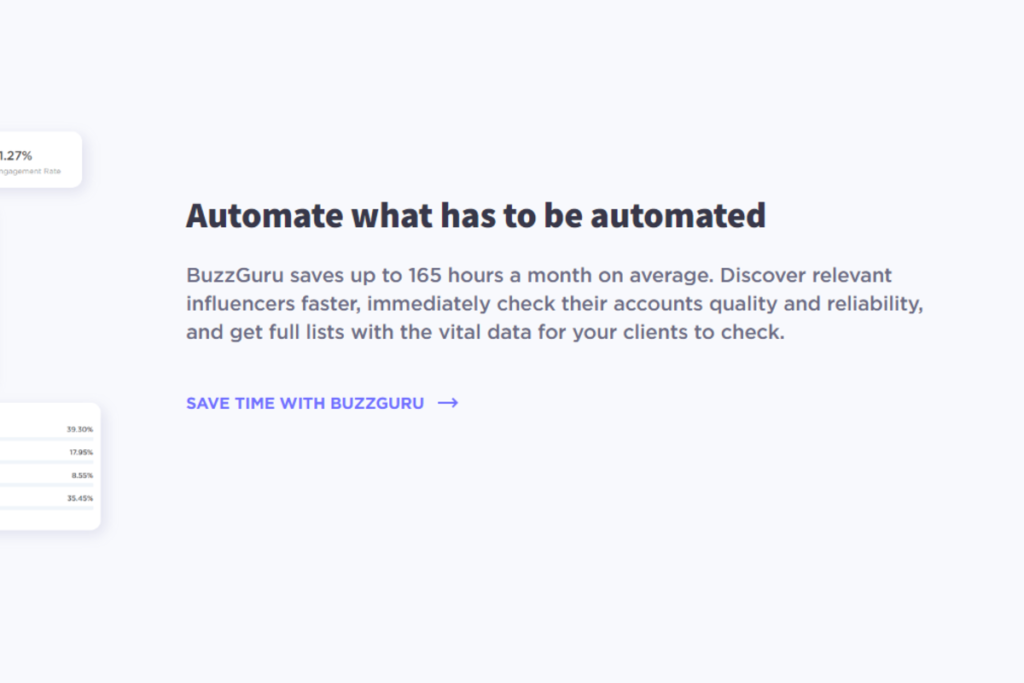 As per users with experience with the tool, BuzzGuru reduces manual work and allows them to save time. While the software doesn't automate tasks that must remain in a human worker's hands, such as creative tasks and building relationships, it automates manual tasks considered an additional burden to marketers and brands.
Marketers need to calculate and be aware of the CPM, ER, and other metrics of influencers' accounts and posts, and it can be taxing to calculate every metric by hand. 
Fortunately, BuzzGuru offers pre-calculated metrics that an influencer needs, and they can use these metrics to figure out how suitable an influencer is for an ad campaign and filter out irrelevant influencers early on.
Campaign Management Tool
What's a marketing tool without a campaign manager, right? Luckily, BuzzGuru allows you to manage your campaigns in one portal. You can create and arrange your advertising campaigns and invite other team members or clients to monitor the progress. 
You can manage a campaign's entire cycle in one place and add different roles for contributors. This feature allows every team member to accomplish one's part in the campaign systematically. 
It is efficient and saves everyone precious time. Best of all, you can track constant data updates whenever you want to. 
There are also great-performing social media management tools that offer an extensive campaign manager feature. One of the recommended tools is Social Flow. You may learn more about this on our Social Flow review. 
Involves No Middlemen 
With BuzzGuru, you don't have to involve any middlemen, such as freelancers or an influencer marketing agency. What does this mean for you? Simple: genuine partnerships! 
Since there aren't any middlemen between you and influencers, you can create and cultivate a genuine relationship with each other. You can focus on building an authentic and lasting relationship with your chosen influencer. Remember that your treatment of a relationship with the influencer you'd collaborate with will translate into the output. 
Thus, if you have a healthy and genuine relationship, expect the working environment and output to flourish. 
Aside from developing genuine partnerships, having no middlemen allows you to be hands-on and manage your campaigns from A to Z. You can trust BuzzGuru to organize the process of your influencer marketing campaigns smartly, so you don't need to hire an agency. 
BuzzGuru has it all! 
Earns Clients' Trust
It's imperative for marketing specialists to earn their client's trust, and the best way to earn trust is by maintaining transparency in all facets of the campaign to build a sturdy and long-term relationship with clients. 
You can preserve transparency by inviting your clients to track the performance of their influencer marketing campaigns, receive relevant reports, and monitor their influencer's performance in real-time. 
If you want to gain more clients, you need to earn the trust of your current ones. So, they will have nothing to say about you but good reviews. 
Has A Chrome Extension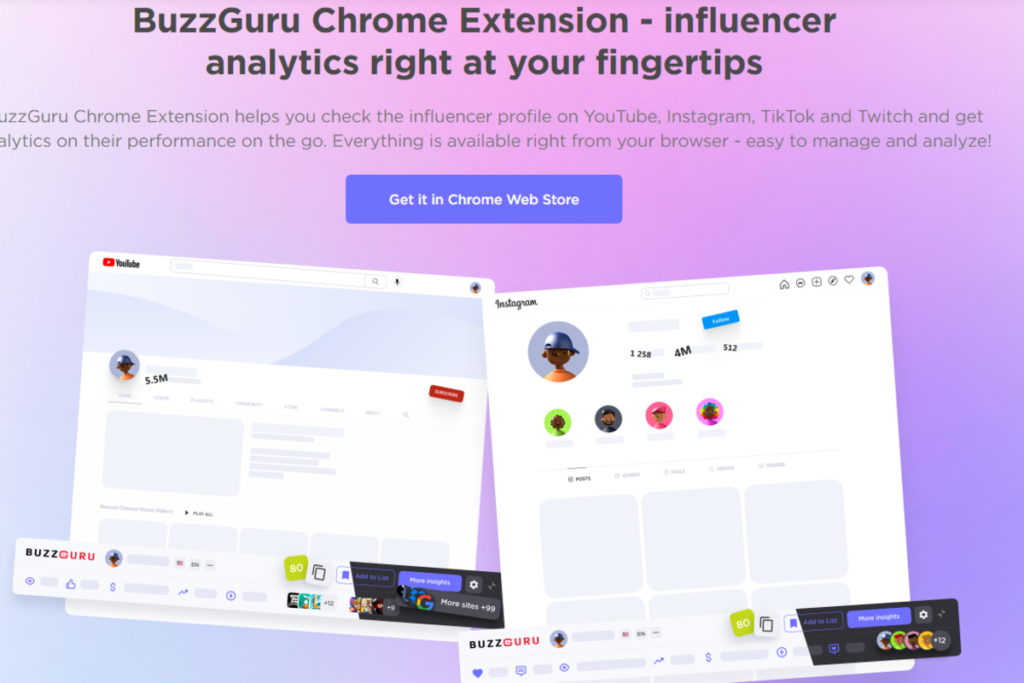 The Google Chrome extension of BuzzGuru enables you to check an influencer's YouTube, TikTok, Instagram, and Twitch profile and access analytics of their performance on the go. 
You don't have to hover around multiple tabs and windows because the extension makes everything available on your Chrome browser, making the campaign easy to manage and analyze. 
BuzzGuru definitely goes the extra mile to make everything easy, accessible, and efficient for its clients. Truly an A-lister among influencer marketing software. 
Offers Multiple Plan Options
BuzzGuru knows that all brands and marketers work within a set budget; hence, offering three premium plans to choose from—Professional, Business, and Enterprise. 
Professional Plan
BuzzGuru's Professional Plan is for you if you desire to launch a simple influencer marketing campaign. 
The Professional Plan is the most affordable in the listing and is priced at $399 a month, billed monthly. This plan features 500 influencer data reports on YouTube, TikTok, and Twitch and only 100 on Instagram.
It allows you to cover five influencer marketing campaigns but only a single seat without the option for add-ons. You can also access live chat and e-mail support in case of concerns and issues. 
Business Plan
Fast-growing businesses need a complete marketing solution, such as BuzzGuru's Business Plan. 
The Business Plan is billed at $699 monthly with 1,000 influencer data reports on YouTube, TikTok, and Twitch. Sadly, though, it only offers 300 Instagram influencer data reports.
Nonetheless, it gives bang for your buck as it gives you the privilege to manage 20 campaigns and three seats with the option to add more seats at $49 a month. 
Plus, it gives you access to live chat and e-mail support with the addition of an onboarding demo. 
Enterprise
BuzzGuru's Enterprise plan features custom pricing, so you must contact sales for a quotation. The Enterprise Plan is a powerful marketing toolkit designed to help every brand scale. 
It offers a custom limit configuration, expert guidance on the first campaign, and a personal support manager. 
Is BuzzGuru the right influencer marketing software for you?
The market offers numerous tools and software, so picking the right one can be overwhelming. To ensure that you invest in the right software, always revisit your influencer marketing campaign's goals and objectives, and figure out how the software can help you obtain those goals. 
It also pays to read reviews and testimonials, as well as articles that lay down the features, pros, and cons of the software fairly, such as the one you're reading now. Doing so gives you the confidence that your chosen tool helps you drive the best results. 
While the right influencer marketing software addresses your needs the most, we're confident that BuzzGuru is one of the best software. It has worked with major brands, including SEGA, WeHype, and IQ Option, so there's almost no reason to doubt its capabilities. 
Now that you know the pros and cons of BuzzGuru, you might want to check out the pros and cons of another software in this "Pros and Cons of Postfity: Analysis of a Popular Social Media Management Software" article.