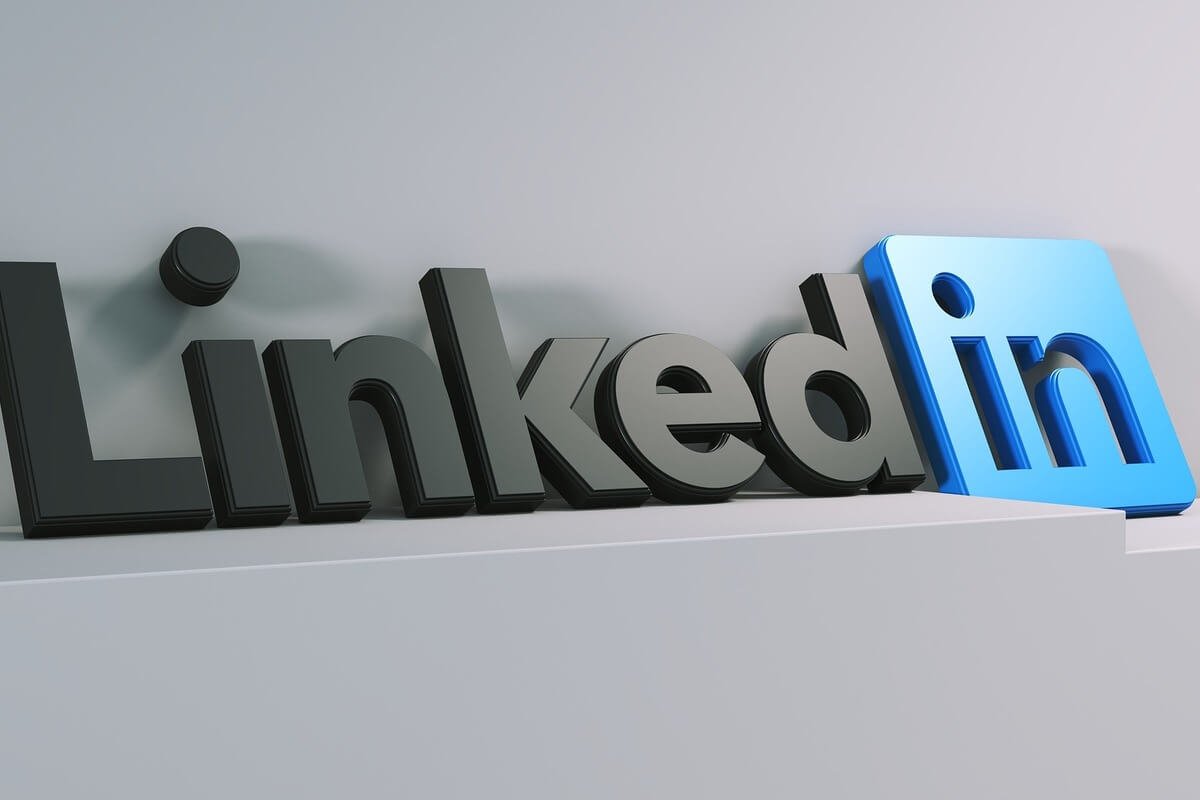 Best LinkedIn Automation Tools, 2022
Sharing is caring!
LinkedIn is a platform with multiple purposes. If not the best already, it is one of the best social channels for professionals. While LinkedIn focuses on interactions between employers and employees, it is also a social network where business-oriented and professional individuals can post content. Plus, it is also an enormous recruitment platform where thousands of businesses and individuals boast about their work successes and employment history. And the best part is that brands find tremendous sales opportunities in the platform by discovering leads and propelling them through the purchase funnel. All these various tasks can be well-managed and achieved via LinkedIn automation tools. However, the list of choices can be overwhelming, so we will narrow it down to the top LinkedIn automation tools because you deserve only the best tools.
Best LinkedIn Automation Tools, 2022
LinkedIn is known to be the most favorable social media platform for professionals. It isn't just a platform used for interaction with millions of like-minded individuals, but it is also an excellent tool to use for the achievement of your business goals and objectives. But your consistent presence on the platform is crucial if you want the best results.
So, to help you get started and make the most out of LinkedIn, we have curated some of the best LinkedIn automation tools 2022.
What is LinkedIn Automation?
LinkedIn automation simply refers to the practice of utilizing various tools to automate activities that take time to perform manually. Since consistency and active presence on the platform calls for a myriad of efforts, it can be quite a handful to do everything manually. Hence, automating your activities can save you so much of your precious time.
Some of the activities that you can automate using LinkedIn automation tools include messaging prospects, sending follow-up messages, generating leads, and others.
What are The Benefits of LinkedIn Automation Tools?
Do you know how you'd rather put all your dirty laundry in the washing machine than wash them manually with your hands? The same concept applies to using LinkedIn automation tools. However, it's much more than that. Using LinkedIn automation tools carry the following benefits:
Spares Your Time
As mentioned, LinkedIn automation tools spare you much time in doing the tasks that are crucial to hitting your objectives. And that's exactly why such tools exist.
Provides an Avenue for Personalization
Since you wouldn't want to sound bland and bot-like, you must aim to personalize your messages. An excellent way to give out a number of messages is through LinkedIn automation tools. Your prospects will receive messages with a human-like tone regardless of how many they are.
Tracks Your Performance
A feature and benefit of LinkedIn automation tools are that they track your performance. These include the number of conversions and replies you get.
What are The Two Types of LinkedIn Automation Tools?
Choosing the best LinkedIn automation tool can be confusing as there are numerous available tools. However, you may start by identifying the type of automation tool you want to use. Currently, there are two types—browser-based and cloud-based.
Browser-based LinkedIn Automation Tool
To utilize browser-based LinkedIn automation tools, you must first open LinkedIn using your preferred browser and use the tool as an extension. Browser-based automation tools may do the job, but they have several gray areas, such as the following:
First, you won't be able to run the tool 24/7.
Next, these tools can easily be detected since they rely on browser caching.
Lastly, browser-based automation tools utilize different IP addresses during log-ins.
Browser-based automation tools also have lesser features in contrast to cloud-based tools. Hence, investing in this type of tool might not be a smart move.
Cloud-based LinkedIn Automation Tools
Since cloud-based LinkedIn automation tools are integrated into your LinkedIn account, they are technically much safer to use. This type of automation tool allows you to log into your LinkedIn account via the automation tool and set filters and parameters for the activities you want to automate.
Cloud-based automation tools can be more expensive than browser-based ones. However, they provide more convenience and safety. They also have more advantages, such as:
A dedicated IP address
Access to features that can boost conversion rates
Security from easy detection since they don't function on the front end
What is The Best LinkedIn Automation Tools 2022?
Like other digital marketing tools, you can find plenty of paid and free LinkedIn automation tools online. Browsing through a long list can be challenging, and we tend to ask, "which platform is best for automation?" Hence, we have curated the best LinkedIn automation tools for 2022.
Loomly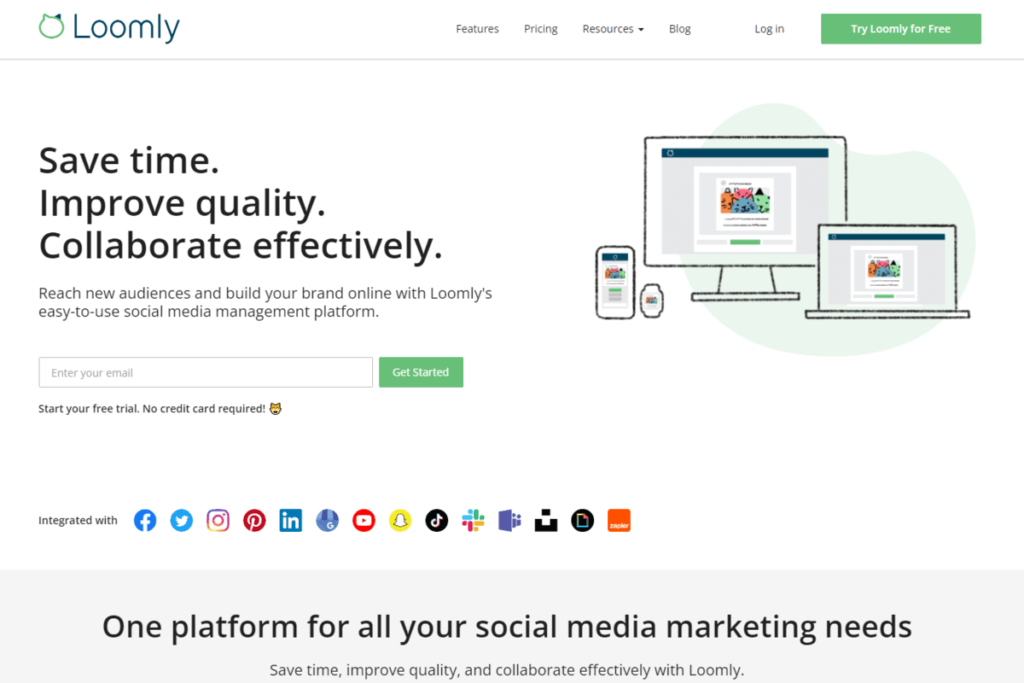 Loomly can be well integrated with different platforms, and LinkedIn is one of them. With Loomly, you can manage your social media content, both organic posts and ads, in one platform. Loomly allows you to organize your assets in one central library. And by assets, we mean your notes, videos, photos, links, and post templates.
Check out our Loomly review here.
Loomly provides you with a step-by-step guide to creating remarkable content, ads, and posts. It also includes Giphy and Unsplash integrations to help you source the best images to go with your posts. Most importantly, the platform allows for automated publishing on several platforms, including LinkedIn.
Brandwatch
Brandwatch, formerly known as Falcon.io, is popular for its social media listening, publishing, advertising, measurement, and customer data management features. Brandwatch is a LinkedIn automation tool and much more.
Brandwatch considers small businesses' needs through its Essentials plan. With this plan, you may connect a maximum of five social media channels and gain access to a social inbox, social media calendar, performance dashboards, message templates, and chat support. This tool is also tailored-fit for firms that are looking for a great LinkedIn automation tool to assist their social publishing.
NapoleonCat
Napoleon Cat is another social media management tool that can help ease your workflow. Its automation tools can help you save time, improve your customer service quality, and streamline your processes. You can integrate the tool with LinkedIn, Facebook, Instagram, YouTube, Twitter, Facebook Messenger, and Google MyBusiness.
Know more about the tool on our NapoleonCat review.
Napoleon Cat can automate your social sales, customer service, analytics and reporting, scheduling and publishing, teamwork, and moderating ads. Additionally, you can use the tool to publish updates on several LinkedIn Company Pages.
Expandi
With Expandi, you can easily locate and connect with relevant leads, as well as dodge spam penalties from LinkedIn. To help you avoid getting banned from LinkedIn, Expandi utilizes a country-based IP address, delays between actions, smart limits, an auto-warm-up feature, and black-listed contacts.
Expandi also has a Smart Inbox that you can integrate with your email and LinkedIn account and allows you to conduct all of your communication in one place. If you're a firm or an agency, you can manage all of your clients' LinkedIn accounts in a single dashboard.
Onlypult
Onlypult helps you save your precious time by providing you with a single control panel for LinkedIn, Facebook, Twitter, Instagram, Tumblr, WordPress, TikTok, Telegram, Pinterest, and Medium. It is another one-stop tool where you can manage all your accounts in a single panel without having to switch users.
Check out our comprehensive Onlypult review.
You can also auto-schedule your posts with Onlypult when creating a new post. The tool is jam-packed with excellent automation features and more that can help you simplify your marketing stints.
Iconosquare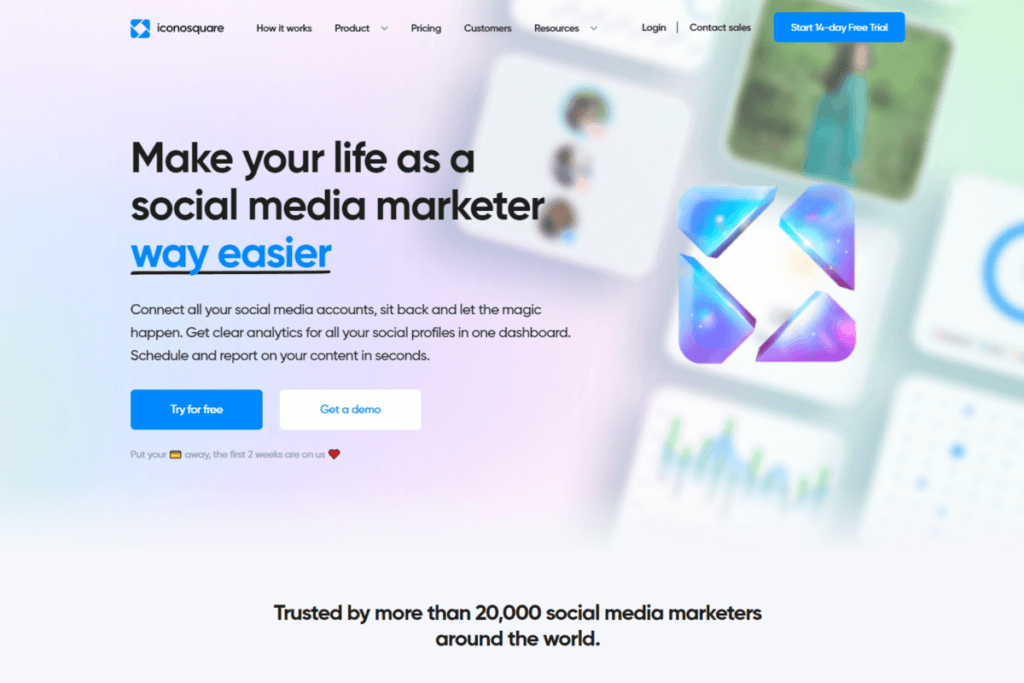 For your data-driven decisions on LinkedIn, Instagram, Facebook, and Twitter, you can utilize Iconosquare. While its social scheduling tools for LinkedIn are still unavailable, its analytics can already help boost your LinkedIn performance.
Read more about the platform in this Iconosquare review.
Iconosquare displays brand performance using easy-to-read graphs. The statistics also vary according to each social platform, but they give full and comprehensive insights.
ContentCal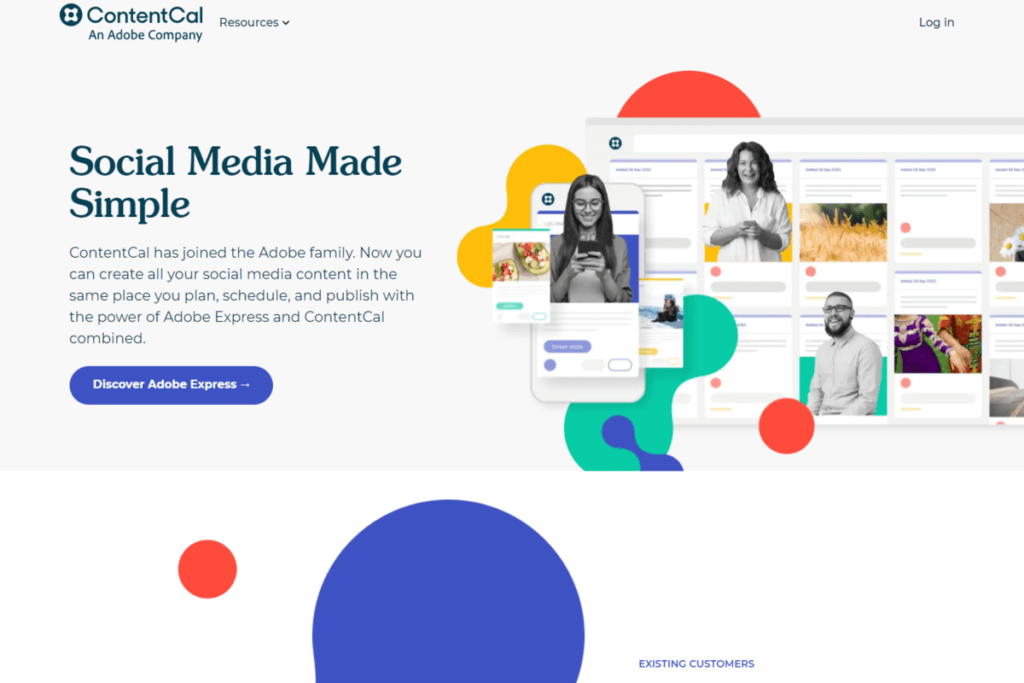 ContentCal is another user-friendly social media planning tool that you can integrate with LinkedIn, Facebook, Instagram, Twitter, Pinterest, Google MyBusiness, and Medium. ContentCal collects all your organic LinkedIn data so that you can ponder upon your performance using metrics like follower growth, engagement rates, and individual post analytics.
Check out this comprehensive ContentCal review.
You can maximize ContentCal for your campaign planning, idea sharing, and activity sequencing across different channels, LinkedIn included. It also has a Content Hub where you can make post templates, store images, media, and links, and save ideas.
Sendible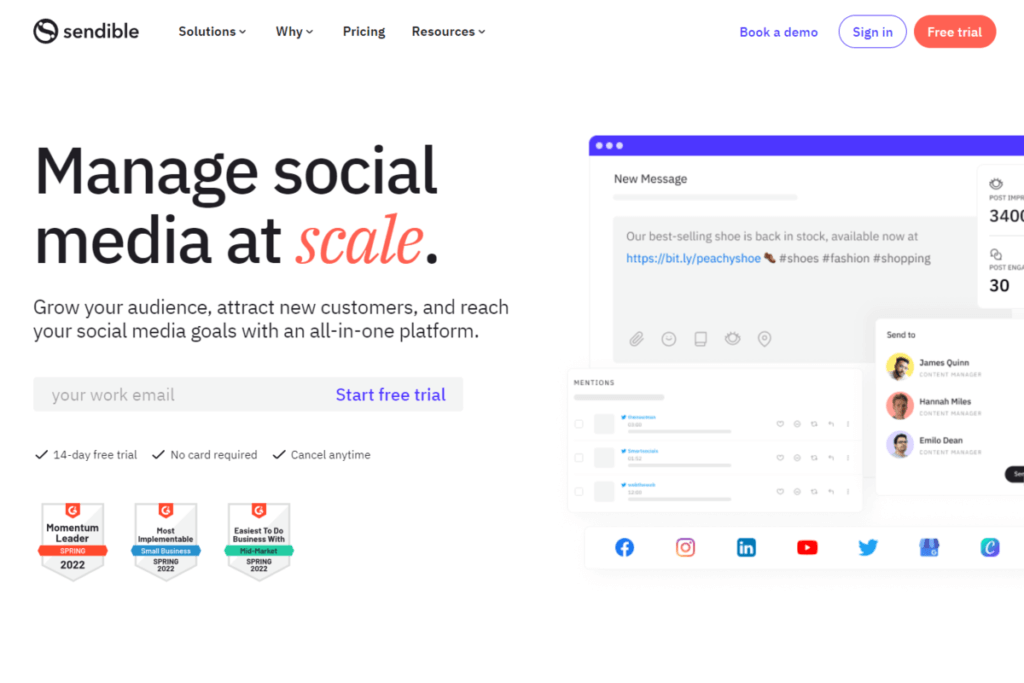 Sendible has always made life much easier for marketers. The tool's capabilities differ according to each social platform. But for LinkedIn, you can analyze your performance, respond to comments, and schedule posts to company pages and LinkedIn profiles.
Head over to this Sendible review for more details.
You can create posts for your LinkedIn followers and cross-post them to other social media platforms. Sendible is also very useful for creating content on your WordPress website or blog.
Meet Alfred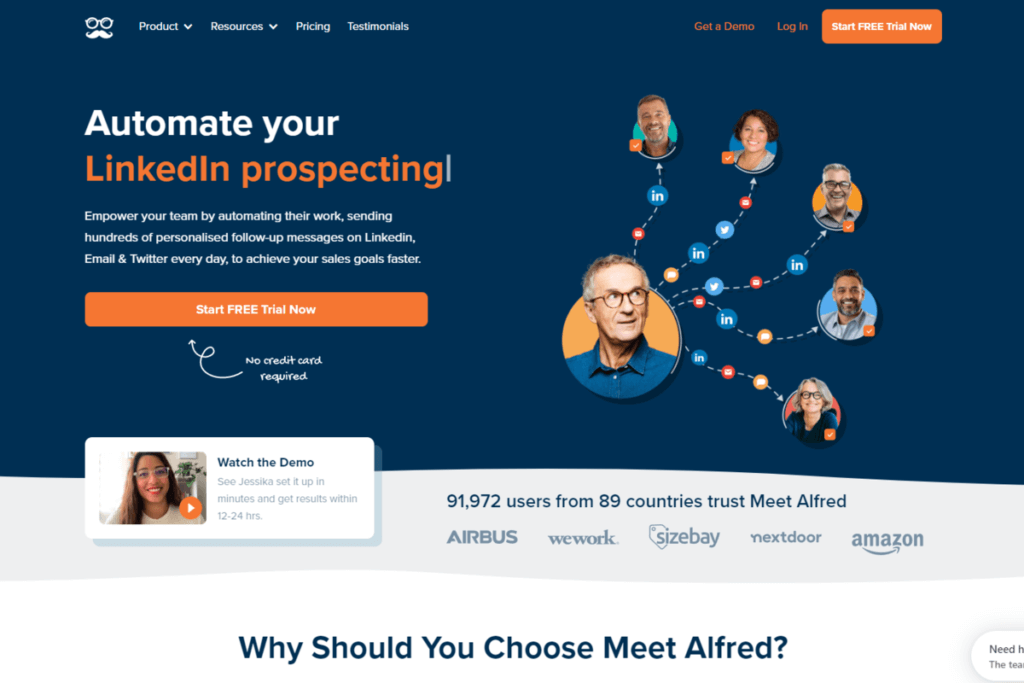 Meet Alfred, formerly known as Leonard, is a social-selling tool that simplifies the automation of your LinkedIn tasks. Its standout features include a built-in LinkedIn CRM that makes team and campaign management easy. You can customize this tool to work during specific hours and particular intervals.
Meet Alfred allows for multiple campaign sequencing, has a powerful analytics dashboard, and lots of integrations.
Zopto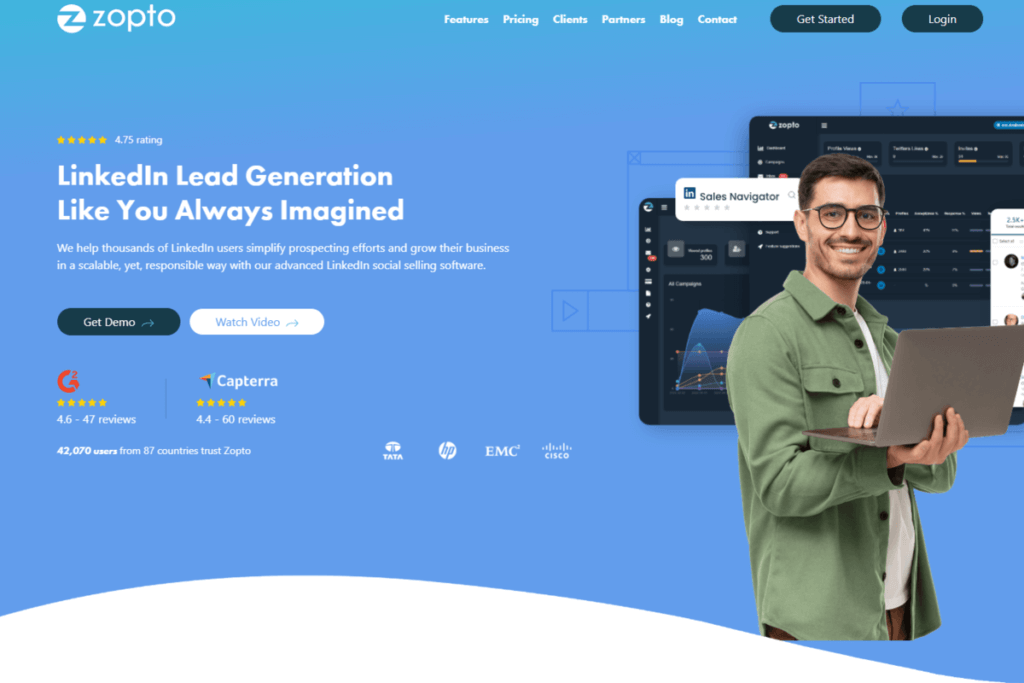 Zopto is another automation tool used to generate leads. A few automation features that Zopto has to offer include customizing engagement levels, filtering contacts, and managing data-driven leads. Whether you're a startup or not, Zopto is a must-have for you.
With Zopto, you can also easily customize your target audience. Plus, you can enjoy new features from time to time.
Lempod
Lempod is a browser-based automation tool that deserves your trust. While we've mentioned in this article that cloud-based tools are better than browser-based ones, Lempod is an exemption. With Lempod, you can automate one primary and crucial LinkedIn activity, and that is driving engagement.
Driving engagement is an integral LinkedIn activity because posts that receive the most number of engagements are shown to more audiences. And as an aftermath, your company enjoys the pleasure of increased profile views and connection requests. Hence, a growth in your LinkedIn network.
Salesflow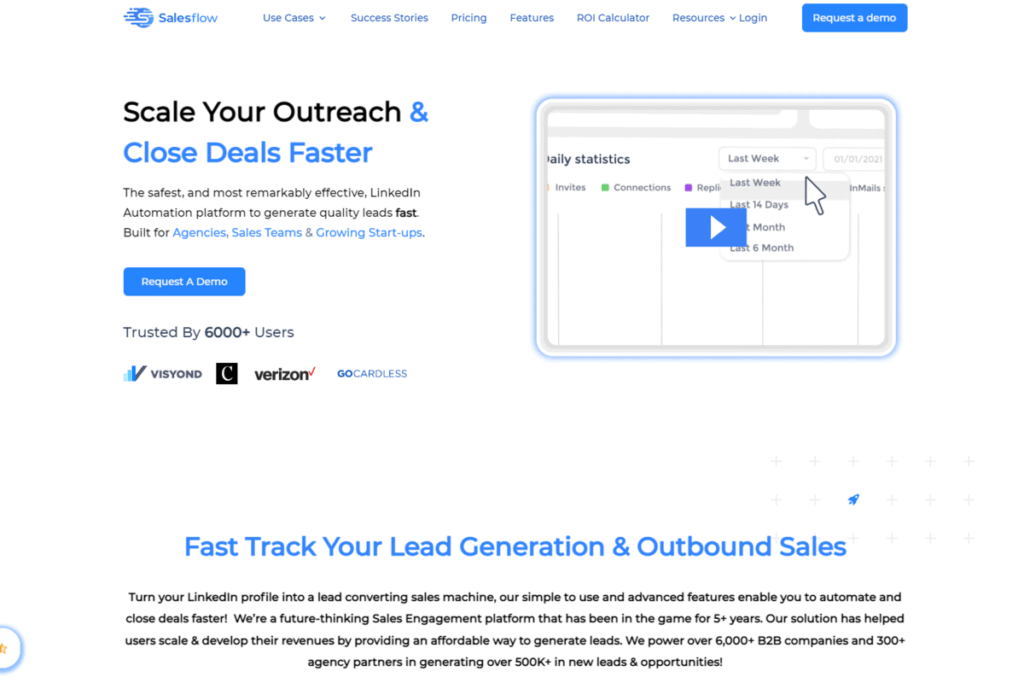 What is Salesflow? Salesflow is a relatively new automation tool, but it is one worth considering. The developers of this tool built this for LinkedIn prospecting. The tool has most of the things needed for filling your sales funnel with more leads, and it does this by creating a lead-attractive LinkedIn profile.
With Salesflow, you can schedule unlimited messages, run multiple campaigns, manage your activities in a single dashboard, expect advanced reporting, and relish excellent filtering credentials.
LinkedFusion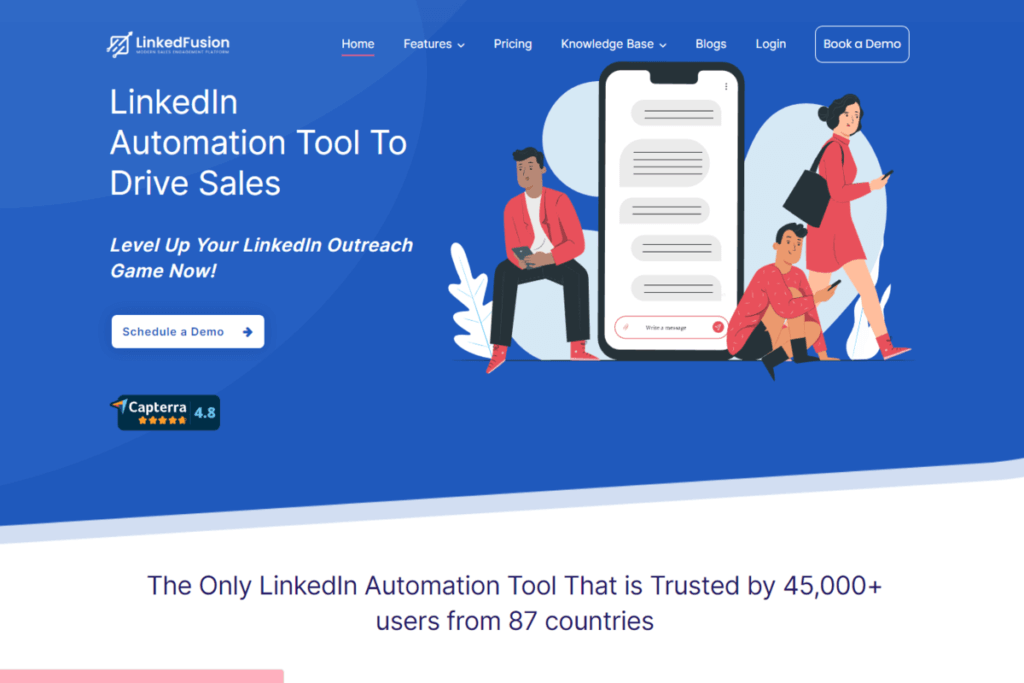 LinkedFusion is a lead automation and prospecting tool that can be integrated with other tools, such as Google Sheets and Hubspot. This tool is something you need to have in your tool stash since automating your lead generation process on LinkedIn is crucial to your company's success.
Some other features you can enjoy with LinkedFusion include a built-in CRM, detailed analytics and reporting, and unlimited sequences supporting all time zones.
What is Lead Automation?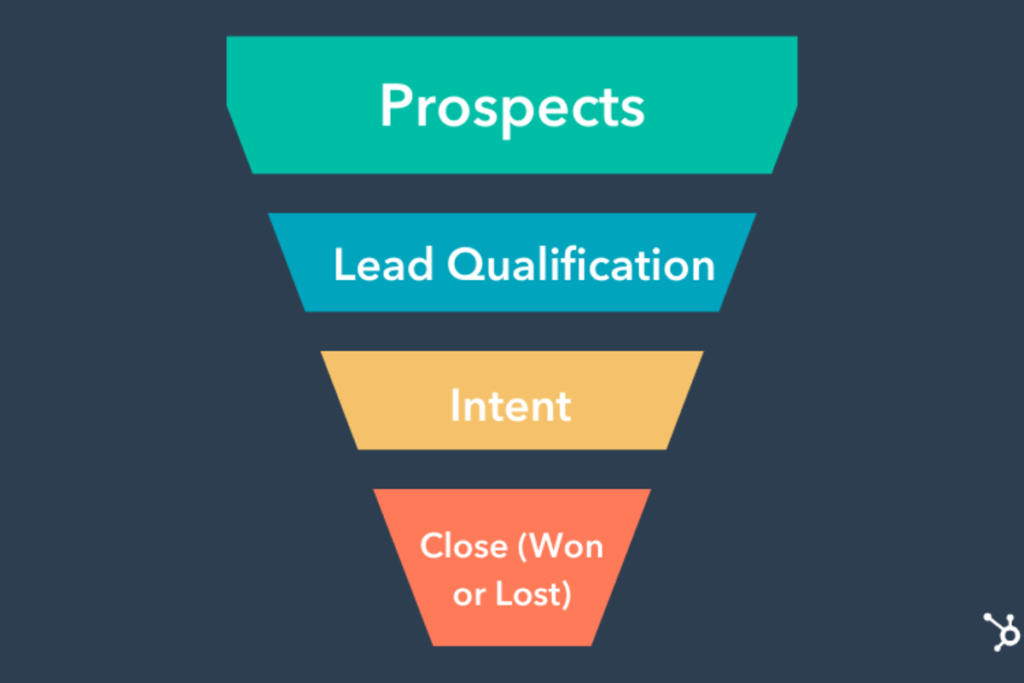 Lead automation involves streamlining various areas where leads can penetrate your sales funnel. Through automated lead generation, you can better analyze the characteristics of your leads and give them to the designated sales team at a precise time.
By automating your lead generation process, you can be sure that you are targeting the right leads while retaining the valuable ones in your CRM. And a great way to automate your lead generation process on LinkedIn is through LinkedIn Automation Tools.
Are LinkedIn Automation Tools Worth the Bucks?
It is a no-brainer that LinkedIn is a powerful platform for sealing deals and generating leads. However, the tasks needed for success can be quite time-consuming. And that is precisely why you should invest in an automation tool and leverage the right one.
Picking the best LinkedIn automation tool can be difficult and daunting. Hence, this list! So, go ahead and choose what you think is best for you and your company. But keep in mind that the perfect program is the one that would suit your requirements.
Now that you already know what the best LinkedIn automation tools are, find out the character limits for your LinkedIn profile in this "LinkedIn Character Limits: The Maximum Character for Your LinkedIn Profile" article.