It's a dog-eat-dog world out there, and if your company needs to be more aggressive with your influencer marketing campaigns, all that time, effort, and money will go down the drain. But with so many influencer marketing platforms claiming to be the best, how do you know which is right for you? This is where Modash comes into the picture.
What is Modash? Modash has over 200 million creators on the planet, from Instagram, TikTok, and YouTube. It will give you audience insights and influencer performance so you can confidently choose the right creator for your brand each and every time. But is the Modash pricing justified? Absolutely. But if you want to find out if it's worth your money, they have a 14-day free trial, no strings attached.
Modash Pricing Plans
What is your bottom line for getting Modash for your business? Sales, conversions. You can only do that if you have strong goals and a solid plan in place. Making sure you recruit the right influencers for your long-term ongoing ambassador program. You pay them based on their contribution to hard metrics such as app downloads, link clicks, or the number of new customers they helped generate.
Your company will convert many customers, and you will choose your new creators based on the audience data. You will continuously run small experiments to continue learning and optimizing your workflow processes. The last thing you want to do is hire and inflate a huge influencer marketing team to scale your efforts. Modash helps you save money and make money at the same time. That's why Modash pricing is all worth it.
Why Does the Modash Influencer Marketing Strategy Work?
Simply put, Modash has one of the best teams in the world, working with hundreds of consumer brands and scaling their influencer efforts. Starting from the fastest-growing European brands to some Fortune 10 brands, plus everything in between. They give you the best influencer marketing strategies for any brand starting its first creator partnerships.
Modash also ensures that you have a solid plan before starting, teaching you how to choose the best creators that match your metrics and the correct way to do outreach.
You will learn how to successfully handle negotiations to close deals and have your influencer recruits ready. Modash will also teach you everything about relationship management and how to reduce your labor from managing dozens of creators to almost zero. And finally, optimization so you can measure your returns and make sure everything is moving in the right direction.
Keep your creators converting by taking a very performance-oriented approach. And it doesn't matter if you have a few ideas of your own or you want to customize things because Modash's principles will apply to you. It doesn't matter if you're already a big company or just starting out. Everything you need to start, scale, and grow your business with influencers is in Modash.
How do You Find Influencers on Modash?
When it's your first time running a search for your first influencer to work on your brand, it's best to start with two primary filters. The first is the Follower Range, and the second is the Audience Location to know exactly where your audience is. If you have a global marketing campaign spanning many countries, try running your search based on the ideal city to target your influencer activation.
Know that you need to apply an audience location to broaden your search, and you will not be able to find the best influential creators to match what you're looking for. After adding these two filters, click on find influencers to see how your search is performing without over narrowing your search results. Still, if your results are too narrow, you can expand the follower range or reduce the target audience percentage.
Modash has every single creator on the planet, and we're talking about 200 million creators in your database. It's just a matter of tinkering with the search to find the perfect result. If adding these two filters and you feel there are still too many results, start adding a few performance-oriented filters, like a 1% engagement rate. And if there are still too many, you can put on less than 25% fake followers. This is how you maximize your reach to find a truly engaged audience. The key is knowing what is important to you and choosing an authentic creator to match your campaign.
Expert Tips for Using Modash Search Filters
Absolutely. So many things are happening in Modash's Discovery, so you must know how to use these filters so they don't feel intimidating. Here are 5 expert tips for doing just that.
Don't Use Filters Having Similar Meanings
When using the Bio Filter to look for yoga influencers and you've already put in the word yoga, you don't have to add the interest filter with health and fitness. Such redundancies in your filters may artificially narrow down your results. So make sure you use one filter at a time.
The Difference Between And & Or
Use "and" in filters when comparing one another and "or" when they belong to the same drop-down. For instance, when you have the influencer location Canada and the follower range, it will apply to both filters separately in your search results, matching both criteria. But if you put the influencer location as Canada and a filter for the influencer location as Estonia, it will show you results in a search that will match either.
Layering
This is a type of workflow where you add 2-3 of the most important filters, run your search, then add another filter and run your search. Watch out for how many results you are getting; if you are getting plenty of results, you should feel comfortable. However, be careful since adding too many can artificially restrict your search, thereby missing out on influencers who could be the perfect match.
Do not worry because your plan comes in with lots of searches and the process will help you learn and understand how these search filters work so you can get the best results possible. Remember that all the influencers are in there, and it is up to you to become a pro in using these filters.
Adding Handle Search
The username search works amazing if you already have these influencers' TikTok, Instagram, and YouTube, links or handles. However, utilizing the import button will be much more efficient if you have a very long list of them. In the List Page, you can find an import button to import a CSV with your list of creators.
If you have teams sending you many creators, you can import them rather than searching for them individually. Or if you have plenty of influencers who want to work with you coming into your social media or customer support team, you can upload an entire CSV file once a week or once a month instead of checking on them ad hoc.
The Sort By Filter
The Sort By filter is very beneficial in organizing your list of search results based on the filter you find most important. It will put that metric on the search result so you won't have to click through lots of summaries. For instance, you can put a Sort By filter for New York City, this way you can see which influencer possesses the highest follower percentage in NYC even if you add many other filters.
Using Lookalikes When Finding Influencers On Modash
Have you tried working with an awesome influencer that you wish you could clone them? Well, now you could—sort of. Inside Modash, put in their username in this @ handle field, then scroll down, and voila! You will see creators talking about the same topics as they do and usually have similar styles when it comes to content creation. Another powerful feature is that once you input their username and see the lookalikes, you can apply filters to these search results.
Speaking of content, wouldn't it be great to have a social media marketing platform to turn to help you publish effective content and increase your brand's online exposure? Learn more from our ContentStudio review.
So you can do just that if you want to find lookalikes of The Rock or Miley Cyrus, who have 10K-100K followers. Lookalikes can also be found in the summary sidebar, which you can add to your search. Or look for these lookalikes by topics in the full report, as well as by audience demographics. So if you're struggling to find the influencer you're looking for using the basic search filters, try this one out.
Searching for Niche Influencers on Modash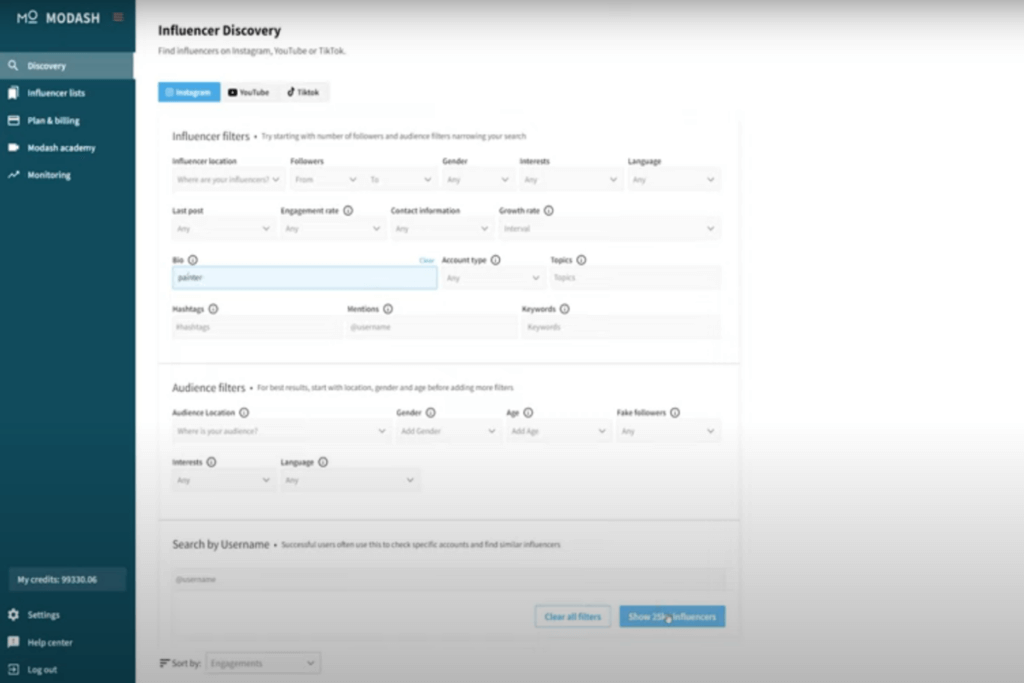 Empathy is the key to getting the perfect influencer to represent your brand. You have to put yourself in the target customer's shoes before you can create the best content that can convert views into actual sales. The important thing is that the followers find the content interesting and your influencer can highlight your product or service. You have several ways to do this inside Modash.
Bio
The biofilter is where the influencer identifies their interest in a certain topic, so much so that they put it on their social profile. For instance, if you put the word pinter here, you will see all influencers with "painter" in their bio. Be careful with the terms you use because they might surface different results, even if they're similar.
The terms they use in their bio are sometimes obscure, so it's better to use a layering technique. This way, you can slowly experiment with various terminologies until you hit one that works. Terms, phrases, and even emojis can be used in your biofilter, so feel free to explore
Keyword, Hashtag, and Mention
Next are the keyword, hashtag, and mention filters, which are very powerful and work the same way. For example, if you input "gallery," you will have matches for all the creators using that hashtag. Combined with a location and a follower filter, that will find you very relevant influencers.
The same principle applies to Mention and Keyword filters. So if you input a mention "therock," all the influencers mentioning "therock" in their previous posts will be visible. This also works perfectly for finding people who mention your brand keywords.
Topics
This can be your next option once you have exhausted the results from your bio, hashtag, and other filters. For example, putting in "hotel" can attach terms like Airbnb or resort to your search in various weights depending on how people talk about this topic on social media.
Think about it as a word cloud with a pillar topic, the keyword you put in the filter. And finally, there are the Interest categories which are Modash's way of grouping the topics for you. Here try and keep the percentages low, a soft nudge to lower your search results if you have so much to sift through. This will signal your target audience's interests, not the be-all and end-all of your search query.
What are the Modash Pricing Plans?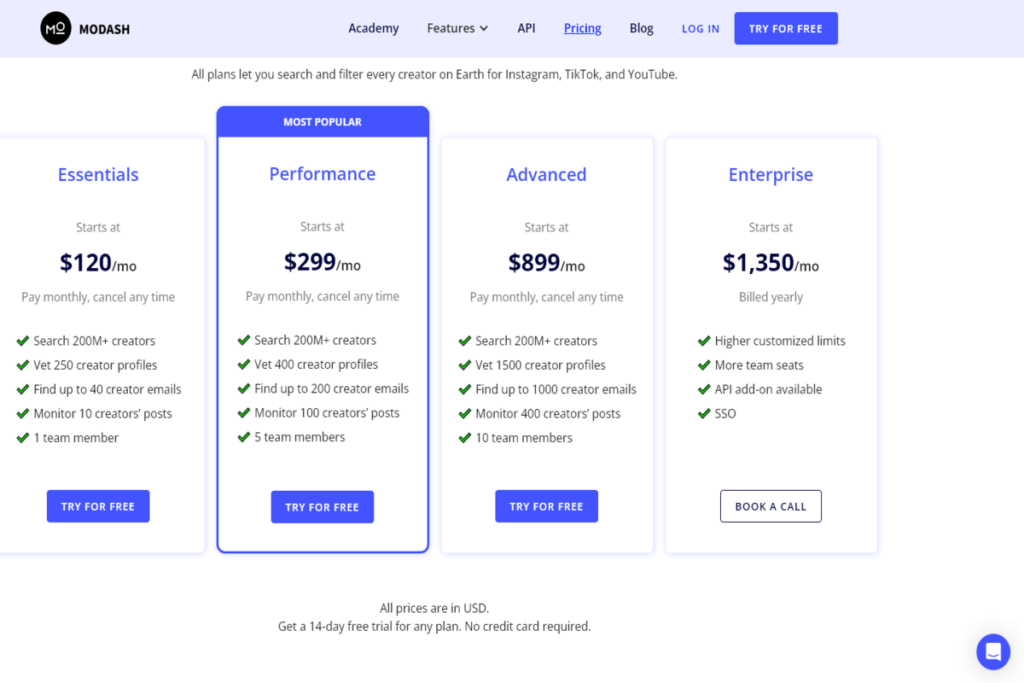 Modash pricing and plans work for projects of all shapes and sizes. Modash price starts at $120 a month, and you can scale up your plan as you grow with your influencers. They also have a Modash free trial for 14 days, risk-free for any plan. There's no credit card required, so you have total peace of mind.
Essentials
The Essentials plan starts at $120 a month. Here you can search for over 200 million creators, vet 230 creator profiles, find up to 40 creator emails, monitor 10 creator's posts, and have 1 team member. This is the best plan for companies starting influencer marketing and wishing to do more regular projects and campaigns, and wanting to take working with influencers further.
Speaking of starting out, it's best to utilize a social media management tool to suit your needs and budget. Specifically, an API tool to help your business drive more engagement on your social channels. Learn more from our SharedCount review.
Performance
The Performance plan starts at $299 a month. Here you can search over 200 million creators, vet 400 creator profiles, find up to 200 creator emails, monitor 100 creator's posts, and have 5 team members. This plan is best for teams sharing an account in multiple countries, agencies that work with or verify influencers, and brands focusing heavily on influencers or huge organizations with global campaigns.
Advanced
The Advanced plan starts at $899 a month. You can search over 200 million creators, vet 1500 creator profiles, find up to 1000 creator emails, monitor 400 creator's posts, and have 10 team members. This plan works best for you if you have already scaled influencer marketing and are currently using Modash to optimize your existing processes.
Enterprise
Unlike the other three plans above, this plan starts at $1,350 a month and is billed annually. You get higher customized limits, more team seats, an API add-on available, and SSO. If you need more, Modash will take care of you. Some of their results-driven marketers in growth-focused companies include Google, Bolt, Wolt, Perch, and Surfshark.
Modash Pricing: What More Could You Ask For?
Nothing. Everything you need to run an effective influencer campaign is here. With reasonable Modash pricing, outstanding Modash customer service, finding perfect partners, reaching out and negotiating deals, managing relationships at scale without needing a massive team, and so much more, there's really no reason not to jump in and get started.
For more tips and tricks on how to get ahead with influencer marketing, check out our post, Top 10 Influencers Gone Wild: How NOT to Go Haywire with Influencer Marketing.